NEW YORK ― Over the past two years, corporate giants have become some of the loudest voices calling for climate-change action. Automakers that once killed the electric car are racing to roll out zero-emissions rivals to Tesla. Even Exxon Mobil Corp., the oil behemoth that spent decades bankrolling a Big Tobacco-style campaign to discredit global warming, has named a climate scientist to its board. 
Now, Bloomberg, the titan of business and financial journalism, is adding a site devoted to climate science and the future of energy to its sprawling news empire.  
The data and media giant on Thursday launched ClimateChanged.com, a hub for coverage of how rising global temperatures are changing the planet and moving financial markets.
"Climate change is fundamentally an economic story, it's an economic problem," Eric Roston, Bloomberg's sustainability editor, told The Huffington Post in an interview on Tuesday. "It's naturally a business story and it's naturally a concern to rationally minded executives in any sized enterprise."
The site fits comfortably into Bloomberg's stable of products, anchored by its lucrative data terminal business. In December 2015, just before 195 countries reached the historic emissions-cutting deal known as the Paris Agreement, Bloomberg published its Carbon Clock, featuring a carbon dioxide tracker overlaid on satellite images of the Earth. The company owns Bloomberg New Energy Finance, a data firm dedicated to the energy industry. Michael Bloomberg, who returned to his namesake company after his third term as New York City mayor, is an outspoken climate advocate, who this week published a book with former Sierra Club chief Carl Pope on how cities and businesses can lead energy reform.
Droves of reporters at Bloomberg's more than 150 bureaus around the world regularly file stories on climate change. Climate Changed will collect those stories in one, sleekly designed location.
For the launch, the site will include a feature on how communities in South Florida are coping with rising waters; a short animated video series on heat, extreme weather and the cost of carbon; and a multi-part graphic on Russia's growing influence in the fast-warming Arctic.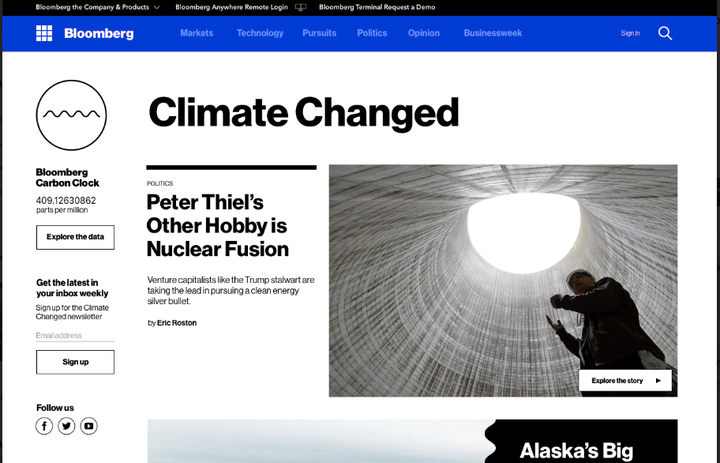 Climate Changed gives Bloomberg a leg up on The Wall Street Journal, arguably its chief competitor in the market for prestige journalism. The Rupert Murdoch-owned newspaper's hard-line conservativism appears to have bled over from the opinion pages to the news section. A study published in 2015 by researchers at Rutgers University, the University of Michigan and the University of Oslo found that from 2006 to 2011, the Journal's news reporting rarely mentioned threats or effects of climate change, compared with the country's other leading broadsheet newspapers.
But the new Bloomberg site isn't looking to make a political splash, necessarily. Sure, President Donald Trump has dismissed climate change as a Chinese hoax and has made gutting environmental policies a cornerstone of his agenda since entering the White House. And yes, his budget director called efforts to mitigate or halt climate change a "waste of your money." But at Bloomberg, raw, hard data trumps political rhetoric, and the editors there don't buy the billionaire president's bombast.
"There is a difference between Trump the politician and Trump the investor," Jared Sandberg, senior executive editor in Bloomberg's digital division, told HuffPost. Trump is already building a wall around his seaside Irish golf resort, Sandberg noted, a sign the risk of rising sea levels is too high to ignore.
"It's the mother of all risk," Sandberg added. "If you have intelligence agencies around the world identifying climate change as one of the great, destabilizing forces, there's a massive risk to contend with for any business and any investor behind it."
Comparing what people say to data, then stepping out of the room, is sort of the best thing journalists can do.

Eric Roston, Bloomberg's sustainability editor
Climate Changed won't be focused on debunking fringe voices ― the sort that might show on the pages of the far-right news site Breitbart ― who seek to undermine climate science by depicting it as some kind of conspiracy.
"Comparing what people say to data, then stepping out of the room, is sort of the best thing journalists can do," Roston said. "We don't have a social mission other than transparency and fact-checking."
Climate change, at its core, is a story of skewed pricing in the global economy, he said.
"Throughout the economy, fossil fuels being only the most obvious example, new information has come to light that challenges whether historic price levels of these things are appropriate given what we've learned about their impact on society," Roston said. He admitted, in a media environment that rewards sensationalism and factual manipulation, the approach may seem a bit bland. "We're not going to win the internet by going out and saying everybody is doing it wrong, it's just a pricing story. But from a Bloomberg perspective, it's helpful for me to think of in terms of repricing events."
The site has yet to lock down advertisers to sponsor the launch. But it shouldn't have much trouble finding bidders. Nearly every company in the S&P 500 now issues regular reports on sustainability efforts.
"The business community absolutely demands this, the investor community demands this," Sandberg said. "You don't go through the quarterly quarterly results from Coke, Levi's or anyone else and not come away thinking that they don't have concerns over limited resources, like water." 
"The question isn't 'why now,' it's why haven't we all agreed to do this sooner," Sandberg added. "We've always had this kind of coverage, but I think it's high time we do something better to admire it, organize it and make it easier for people to discover."
Calling all HuffPost superfans!
Sign up for membership to become a founding member and help shape HuffPost's next chapter
BEFORE YOU GO
PHOTO GALLERY
Climate Visuals For The Climate Change Denier In Your Life