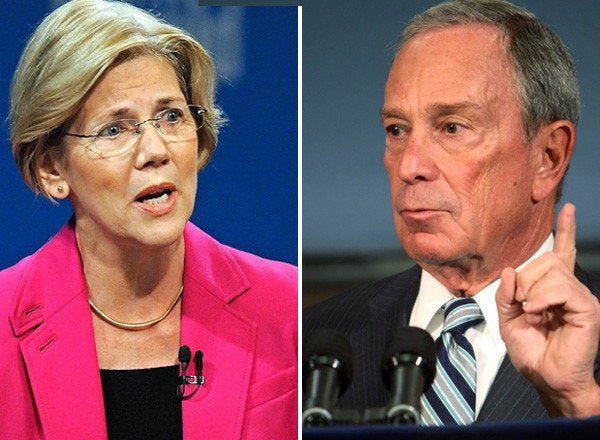 New York City Mayor Michael Bloomberg explained Friday why he is supporting Sen. Scott Brown (R-Mass.) over Democratic challenger Elizabeth Warren, invoking "socialism" and the Soviet Union in the process.
In a wide-ranging interview with the New York Times published Sunday, Bloomberg defended his support for Brown, citing the senator's tough stance on concealed weapons.
"What I've tried to do is find liberal middle-of-the-road Republicans and Democrats," Bloomberg said. "In the Senate, Scott Brown, who single-handedly stopped the right-to-carry bill. You can question whether he's too conservative. You can question, in my mind, whether [Warren is] God's gift to regulation, close the banks and get rid of corporate profits, and we'd all bring socialism back, or the U.S.S.R."
Bloomberg continued: "Now, I don't have to agree with [Brown] on a lot of other things, although he's certainly no crazy right-wing – he's just more conservative than I am – but here's a guy that really made a difference, and if we don't support people like that, nobody's going to take risks."
It's not the first time the label has been used against the Democratic candidate. Last year, Warren was heckled as a "socialist whore" by a Tea Party supporter, and the likes of Ron Paul and Karl Rove's super PAC have also used the term in reference to Warren.
Bloomberg's camp has previously remained quiet on Warren's tough banking stance. However, considering Bloomberg's ardent support for the financial services industry, it's unsurprising that the mayor would be critical of Warren's advocacy for Wall Street reform. Brown, meanwhile, has been heavily backed by Wall Street's big names -- the financial services sector is the top industry donating to Brown's campaign.
Calling all HuffPost superfans!
Sign up for membership to become a founding member and help shape HuffPost's next chapter
BEFORE YOU GO
PHOTO GALLERY
Elizabeth Warren