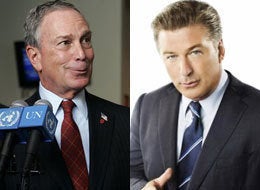 There will be a new face on 30 Rock when it returns from its strike-induced hiatus on April 10: Mayor Bloomberg. "It was just me and him," said Dean Winters, who'll be reprising his role as the "Beeper King," Liz Lemon's sleazy ex, at a screening for Sleepwalking on March 11. "He was fun, he was cool. And he's a natural--I think you have to be to be mayor of New York." The episode is called "Subway Hero," and Bloomberg plays himself in a scene shot in City Hall. "30 Rock is a 'Made in NY' show," says City Hall spokesman Matthew Kelly, "and is part of an industry that generates $5 billion in economic activity and supports 100,000 jobs, so the mayor was happy to make a cameo."
REAL LIFE. REAL NEWS. REAL VOICES.
Help us tell more of the stories that matter from voices that too often remain unheard.