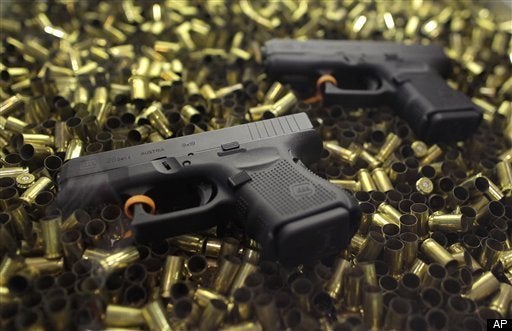 WASHINGTON -- Citing findings from a recent investigation of Arizona gun-show sales, New York City Mayor Michael Bloomberg offered a harsh indictment Monday of Congress' failure to close gun-control loopholes that allow individuals to buy weapons from private sellers without a background check.
"We have demonstrated how easy it is for anyone to buy a semiautomatic handgun and a high-capacity magazine, no questions asked," Bloomberg said.
Over the weekend, the mayor's office announced that a team of investigators found they could easily purchase firearms in Arizona without a background check -- even if they volunteered to the sellers that they "probably couldn't pass a background check anyway." The city sent its team to the "Crossroads of the West" gun show in Phoenix from Jan. 22-23 and recorded their attempts to buy firearms without proper clearance.
On Monday, Bloomberg trumpeted the findings as proof that current gun-control regulations are ineffective at keeping firearms out of the hands of criminals, the mentally ill and others who are barred by law from purchasing them.
Private gun merchants are not required to run background checks when they sell firearms, but are barred from providing them to individuals who the seller "has reason to believe" are prohibited from purchasing weapons. In one video, however, a seller at the gun show tells the investigator, "Just need to see an Arizona ID and that's it with me." When the investigator replied that he "probably couldn't pass one," the seller looks down, shakes his head and proceeds with the sale.
The investigators also purchased a Glock 9mm -- similar to the gun alleged Tucson shooter Jared Loughner used -- without a background check from a private seller at the gun show, which is legal under a loophole in federal firearms laws. Although federally-licensed gun-dealers are required to make background checks before selling guns, private and supposedly "occasional" dealers are not required to conduct such checks.
Critics of the current sales law say the gun-show loophole allows criminals and other prohibited buyers an easy avenue for purchasing guns, but legislation to change that has stalled in Congress. After the Tucson shooting earlier this month, several lawmakers introduced bills to strengthen gun laws, including a bill that would require background checks for all gun sales, but they are unlikely to pass.
Even mandatory background checks would not necessarily prevent guns from falling into the hands of criminals or the mentally ill, however, given massive holes in the background-check system from states that have entered few or no records into federal databases. Bloomberg, whose gun-control advocacy group listed in 2009 40 ways President Barack Obama could rein in illegal gun use without new legislation, argued that the investigation proved Congress needs to appropriate more funding to help states bring the background check system up to date.
"This country must take two simple steps to stop more of the 34 murders that occur with guns every day: make every gun sale subject to a background check, and make sure the background check system has all the required records in it," Bloomberg said. "Congress should act now, but gun show operators shouldn't wait. They can do the right thing today by making sure that every gun sale at their shows is subject to a background check."
He shouldn't expect the White House to step in, though. Obama has signed into law bills that permit the carrying of concealed weapons on trains and in national parks. Last January, the Brady Campaign to Prevent Gun Violence gave him an "F" for his first year in office.
Lou Fascio, who owns the largest casino in Reno, Nev., and Bill Goodman, who owns gun shows in Tennessee and Ohio, told New York they will end sales without background checks after New York City investigators targeted their shows in a 2009 undercover operation.
Popular in the Community