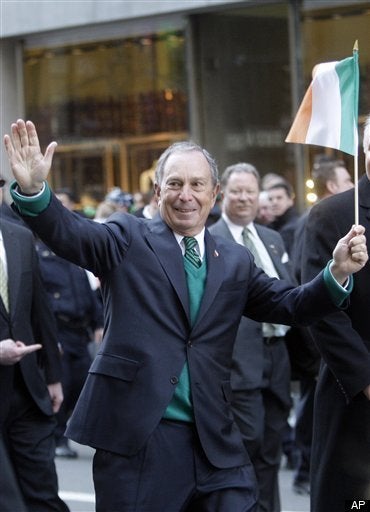 Mayor Bloomberg picked a tough crowd to try his new material on.
Mr. Bloomberg, speaking extemporaneously at the American Irish Historical Society on Wednesday night, said he was used to seeing "inebriated Irish hanging out the windows" at the society, according to a report in Irish Central, an Irish-American news site.
His remarks elicited boos from the crowd of about 100 people.
Criticism of Bloomberg's statement came from Irish-American advocates and fellow politicians.
John Dunleavy, chairman of the city's annual St. Patrick's Day parade, was dismayed by the mayor's comments.
"In this day and age for the mayor of the city of New York to make comments like that is outrageous and totally uncalled for," Dunleavy said. "He wouldn't make a joke about any other ethnic group."
Council Speaker Christine Quinn wasn't laughing either.
"Because of the mayor's long history of support for the Irish community, his remarks last night were both surprising and inappropriate," Quinn, the granddaughter of Irish immigrants, said in a statement.
Bloomberg issued a statement saying, "I apologize. I certainly did not mean to offend anybody."
Popular in the Community