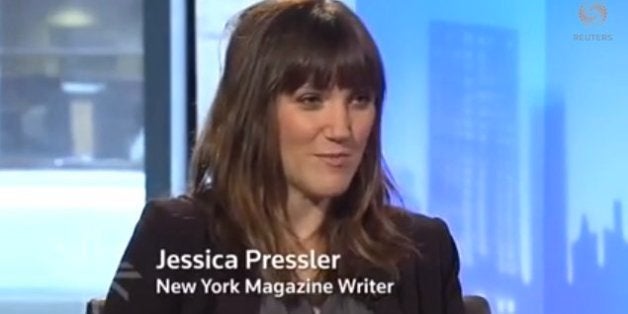 NEW YORK -- Bloomberg News rescinded a job offer this week to New York magazine writer Jessica Pressler after her profile of a teenage stock-picking multi-millionaire proved to be a hoax, according to a source familiar with the matter. The student had lied about making tens of millions of dollars on Wall Street.
Pressler, who was expected to join Bloomberg's investigative unit early next year, will stay on at New York, according to a memo sent Friday afternoon by Editor-in-Chief Adam Moss. The memo, first reported by Capital New York, did not mention the stock wiz story or Bloomberg.
A Bloomberg spokesman and Pressler both declined to comment.
Pressler profiled the student, Mohammed Islam, for the magazine's recent "Reasons to Love New York" issue. The story ran with the accompanying headline: "Because a Stuyvesant Senior Made $72 Million Trading Stocks on His Lunch Break."
Pressler didn't specifically confirm the "$72 million" rumor in the piece, but did report Islam was worth in the "high eight figures." That detail was later revealed to have been verified by a New York magazine fact-checker based a fraudulent bank record supplied by Islam.
The story got picked up by the New York Post, which splashed the news on Sunday's cover. But it began unraveling Monday, as Business Insider raised questions about the story, and it fell apart that night when Islam admitted to the New York Observer he made it up.
"We were duped," read a Tuesday statement from the magazine. Our fact-checking process was obviously inadequate; we take full responsibility and we should have known better. New York apologizes to our readers."
While New York magazine appeared contrite, Pressler initially seemed dismissive of scrutiny on Twitter, saying she'd only reported his net worth as a "rumor" all along. She also suggested in an interview that her profile of Islam shouldn't be held to the same standard as a deeply reported financial story.
"Holding it to the standard of a financial publication? It's just a different thing," Pressler told CNN. "That's not to say it isn't important if he lied."
Pressler similarly tweeted that New York -- which has long covered Wall Street, a key power center in Manhattan -- is "not a financial publication." The remark was picked up by The New York Times in its story on the controversy.
On Tuesday morning, Pressler began protecting her tweets so they could no longer be viewed publicly.
Several journalists defended Pressler online, but to some, her initial comments suggested nonchalance in the face of an unraveling story.
"The price of being cavalier about your mistakes when that cute story you did for @NYMag turns out to be fiction," tweeted NYU journalism professor Jay Rosen, linking to a Romenesko item on how Bloomberg wouldn't comment Tuesday on her job status.
Related
Popular in the Community