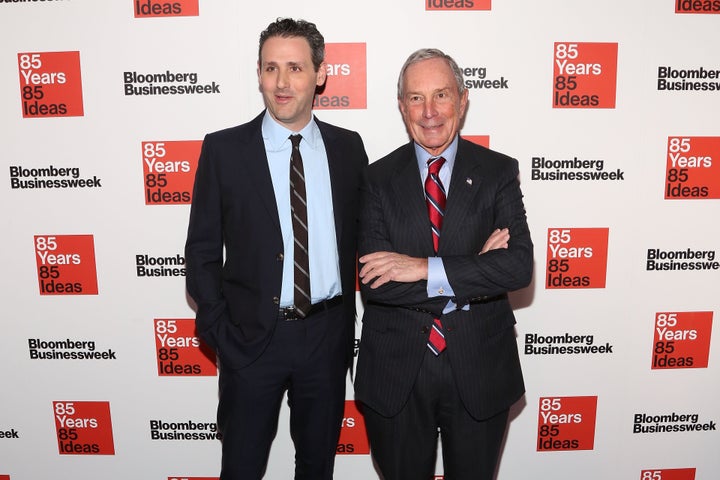 NEW YORK – Bloomberg is bracing for layoffs in the coming weeks, the latest shake-up at a media company where editorial priorities and executives' power have shifted greatly over the past year.
The New York Post first reported Thursday that 100 cuts were expected around Labor Day, with political and government coverage the primary target. The Huffington Post has confirmed through sources that cuts are coming, and staffers expect the Washington bureau will be hit the hardest.
A Bloomberg spokeswoman declined to comment on the expected cuts.
But Josh Tyrangiel, Bloomberg's Chief Content Officer, pushed back on any suggestion of the company retreating from government and politics.
"We will continue to cover all aspects of government and politics in Washington, New York and beyond," Tyrangiel said in a statement. "Any reporting that indicates otherwise is blatantly false."
The layoffs come as the still very-profitable Bloomberg is hiring reporters for a new operation devoted to fast commentary and analysis on the day's news, with a focus on business and finance.
The "new Bloomberg" of last summer — digital, consumer-facing — has clashed with the realities of the old Bloomberg, a $9 billion company that makes the bulk of its revenue through financial data provided to terminal subscribers.
Founder Michael Bloomberg returned in September and brought in The Economist's John Micklethwait to lead the editorial operation two months later. Micklethwait has said the company needs to refocus on core parts of its business, and a July profile of him noted that executives were assessing "redundancies" in political coverage between New York and Washington.
There's a perception inside Bloomberg that there are areas of overlap within the news operation.
Bloomberg News reporter Dawn Kopecki, in a June letter to two high-ranking executives, described having "never seen morale lower" in Washington. But she also wrote of having "never seen the organization more bloated, never seen more redundancy and unnecessary overlap on beats, among editors and across platforms."
Kopecki suggested the news operation could get by with a 20 percent staff reduction, while acknowledging that her colleagues didn't share her point of view.
Layoffs in Washington would mark the latest blow for a bureau that has already gone through a tumultuous year, resulting in Micklethwait installing a new bureau chief and top executive in Washington earlier this month. Micklethwait reassured staff in a memo that government and politics remained one of Bloomberg's six core subject areas, along with business, finance, markets, technology and economics. Much of the frustration in the bureau over the past year has stemmed from the company's focus on webbier initiatives rather than on existing staffers who supply news to the terminal. Last year, Bloomberg hired Mark Halperin and John Heilemann, reportedly for $1 million each, to helm a new site, Bloomberg Politics. Many employees who worked out of Washington began to feel marginalized as the center of gravity shifted to New York, where Halperin and Heilemann are based, and resources were poured into their daily political talk show, "With All Due Respect.
Justin B. Smith, chief executive of Bloomberg Media, said in a statement that the company is "fully committed to Bloomberg Politics, including the bold new site, TV program and digital video operation that we launched last October." He said traffic had doubled and noted that 17 presidential candidates appeared on "With All Due Respect."
"The brand is a key pillar of our strategy to build the leading global multi-platform media company," Smiths said.
The staff of Bloomberg Politics is expected to be spared from the coming layoffs, according to sources, though the site will be shifting its focus in the coming weeks.
Bloomberg Politics will likely relaunch with a Twitter-like news feed covering the churn of the day's political news, accompanied by around five analytical pieces or features each day that take a broader view of the political landscape, according to a Bloomberg executive familiar with the plan.
The shift appears in line with Heilemann's early goals for the site. The Washington Post in a February article described his ambition as less "inside baseball" and more focused on publishing "sophisticated" takes on political events.
This piece has been updated with statements from Tyrangiel and Smith.
Related
Popular in the Community