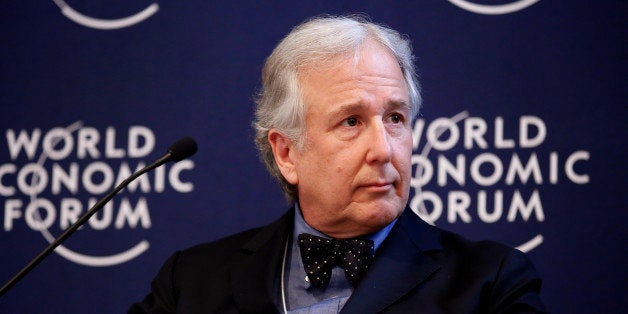 NEW YORK -– The Economist's John Micklethwait was named editor-in-chief of Bloomberg News on Tuesday, succeeding founding editor Matthew Winkler.
Winkler, who co-founded the news organization 25 years ago, will take on the new role of editor-in-chief emeritus and work directly with Michael Bloomberg, who returned to the company this year following three terms as New York City mayor. According to a release, Winkler will work with Bloomberg "on strategic initiatives, conducting high-profile interviews of global newsmakers and bringing his insights and expertise to the most important and market-moving stories."
In a statement, Bloomberg said hiring Winkler "was one of the best decisions I've ever made."
"He has accomplished more than either of us thought possible back then, and thanks to his exceptional leadership, Bloomberg has set a new standard for journalistic excellence," Bloomberg continued. "His experience will be enormously beneficial to me as I re-assume full-time leadership of the company."
The editorial leadership change came as shock to many in the financial media world on Tuesday, given Winkler's key role in founding a news organization, now with 2,400 journalists worldwide, and his longevity in the top job. Winkler's presence is felt throughout the news organization, having authored "The Bloomberg Way," a strict financial reporting manual that journalists have long been expected to follow.
This is the second shake-up since Bloomberg returned to the company. He resumed his old position as CEO in September when Dan Doctoroff stepped down. The former mayor has lately been trying to making his presence felt around the newsroom after 13 years away.
"Mike's view has always been to make changes to the business when you're growing and things are going well," said Kevin Sheekey, a senior executive at Bloomberg LP, in a statement to The Huffington Post. "He would rather prepare for the future than react to it."
Sheekey added that when Bloomberg left City Hall, "he said the only two publications he would read are Bloomberg Businessweek and The Economist," and he has "enormous respect" for its top editor.
Micklethwait, who has worked at The Economist since 1987, was named editor-in-chief in 2006.
In a statement, Bloomberg called Micklethwait "one of the world's smartest thinkers on the forces of globalization."
"[H]e is a perfect fit for Bloomberg. We are thrilled that he will be joining our leadership team," Bloomberg said.
Micklethwait will oversee editorial "across all Bloomberg platforms, including its news, newsletters, magazines, opinion, television, radio and digital properties," according to a release. Bloomberg Media Group CEO Justin Smith, who is overseeing new consumer-facing sites for the company like Bloomberg Politics, will continue reporting to Michael Bloomberg.
Here's Michael Bloomberg's memo to staff Tuesday on the leadership changes:
Dear Colleagues:

Hiring Matthew Winkler 25 years ago to create a news service that would allow Bloomberg to bypass the wire services and provide market-moving information more quickly to our customers was one of the best decisions I ever made – and it worked out better than either of us could have hoped. Today, thanks to Matt's relentless pursuit of excellence, Bloomberg News is the fastest, most reliable, and most insightful news organization in the world – and the value added for our customers cannot be overstated. I have always believed that organizations benefit from internal change, and that is one of the reasons I stepped away in 2001. Now, as I resume full-time leadership of the company in 2015, Matt will take on a new role as Editor-in-Chief Emeritus, working directly with me on strategic initiatives, while also conducting high-profile interviews of global newsmakers and bringing his insights and expertise to the most important stories. His experience will be enormously beneficial to me, and he will play an active and vital role at Bloomberg.

As part of this transition, I am excited to announce that, early in the new year, John Micklethwait, Editor-in-Chief of the Economist since 2006, will succeed Matt as Editor-in-Chief of Bloomberg. His background makes him the perfect fit for the job. John began his career in banking at Chase Manhattan. He moved to The Economist in 1987 to become a finance correspondent and worked his way to the top. He has done an exceptional job leading the Economist into the digital age and expanding its audience. As a leading authority on globalization, he has appeared on television and radio programs around the world, and he is the co-author of numerous books. He's as hard-working as he is talented, and we are thrilled that he has decided to join Bloomberg.

His arrival early in the new year will give us the chance to unify the editorial side of our company, which has grown rapidly in recent years. John will oversee editorial content across the company, including our news, newsletters, magazines, opinion, television, radio and digital properties. He will also oversee our research, including Bloomberg Intelligence and Bloomberg Brief. The incredible diversity of our content presents opportunities for greater collaboration and coordination among different teams, and the more we can capitalize on those opportunities, the better we can serve our clients – and expand our audience and influence. John will work closely with Justin Smith, CEO of the Bloomberg Media Group, who will continue to report directly to me on all business and strategy matters across Bloomberg's diverse media properties.

I've never been more optimistic about Bloomberg's future. I've loved being back, and I'm looking forward to a great 2015.
Support HuffPost
The Stakes Have Never Been Higher
Related
Popular in the Community