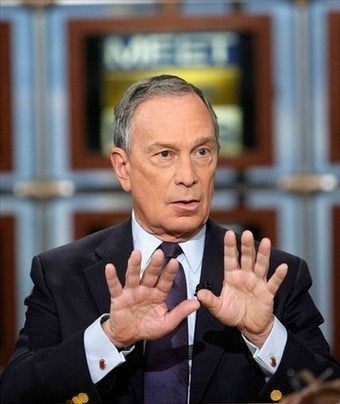 NEW YORK -- Will Bloomberg View ever diverge from Bloomberg's view?
Executive editor David Shipley, tapped in December -- along with former assistant secretary of state Jamie Rubin -- to run Bloomberg News' forthcoming editorial page, says he believes Mayor Michael Bloomberg would be "comfortable going to the podium in City Hall and having Bloomberg View express something different" that same day.
In an interview with The Huffington Post, Shipley spoke for the first time about Bloomberg View's editorial board, as well as how the forthcoming section fits in with Bloomberg News' long-running goal to be the "most influential" news organization in the world.
Late next month, Bloomberg View will begin publishing editorials online at Bloomberg.com and on the Bloomberg Professional, the organization's lucrative financial terminal service that helped the company amass $7 billion in revenue last year. Bloomberg View editorial board members and columnists, such Newsweek veteran Jonathan Alter and ex-Obama budget director Peter Orszag, can be expected to also contribute to other company platforms, such as its DC-based Bloomberg Government service, Bloomberg TV, Bloomberg Radio and in the pages of Bloomberg Businessweek.
Each day, Bloomberg View will publish two unsigned editorials -- one domestic, one foreign policy -- that promote an institutional point-of-view. And what will that be exactly? Let's just say Shipley doesn't want to be pigeonholed.
Shipley, who previously served as deputy editorial page editor and op-ed editor at the New York Times, says readers will "see some times when we're in sync with the Times."
So it will lean left? Not exactly.
Shipley said Bloomberg View might be in sync with the right-leaning Wall Street Journal on other instances. The page may also align on occasion with the Financial Times, the Washington Post or none of the above.
(So maybe "beyond left and right?")

"I don't think we're going to define ourselves in relation to everyone else," Shipley said. "We're going to go issue by issue and see where our analysis of each issue takes us. We have tremendous resources in that we have all the information Bloomberg has at our disposal. I think that will give us a tremendous advantage in approaching issues from an analytical standpoint."
When pressed, Shipley said that if you wanted to paint with "the broadest of brushes," the editorial page may be considered "fiscally conservative and socially liberal." But Shipley argues that Bloomberg View can't be so easily defined and will not be "constrained by any type of orthodoxy."
"I'd love for people to define us after we come out, rather than beforehand," Shipley said. Later, he added, "I just hope that we will define ourselves by being smart and being wise on a wide range of issues."
So Bloomberg View hopes to avoid dogmatic left or right political philosophies while tapping into a wealth of data to formulate opinions about how to best tackle the day's pressing domestic and international issues. That sounds a lot like a certain technocratic, "post-partisan" mayor who's voted as a Democrat, Republican and independently.
The New York Times recently characterized Bloomberg View as an opinion vehicle for Mayor Bloomberg to stay involved in political and policy debates after he leaves office in 2013.
Bloomberg remains the majority shareholder in Bloomberg LP, the financial data service he launched three decades ago, and is permitted to act as an advisor on strategic matters while mayor. Although the Times noted Bloomberg personally met with potential job candidates in his Upper East Side townhouse when considering ideas for Bloomberg View, according to Shipley, the mayor will not have "day-to-day involvement" with the editorial team but "can involve himself from time-to-time."
While Mayor Mike won't be on hand daily, Shipley and Rubin have brought on 11 others to form the editorial board, revealed here in full for the first time.
Michael Kinsley, who's worn many hats in the media world -- New Republic editor, CNN "Crossfire" co-host, Slate founding editor and Los Angeles Times editorial page editor -- will be joining. (Kinsley was spotted in the office Tuesday and FishbowlDC confirmed he will work on Bloomberg View but didn't specify what capacity). Although Slate's Jack Shafer offered Kinsley suggestions for his first column, the veteran journalist will actually be editing and writing unsigned editorials rather than having his own column, as he did at Time and Politico.
Two of Shipley's deputies from the New York Times, Mary Duenwald and Tobin Harshaw, left the paper shortly after he did and will also join Bloomberg View's editorial board. So will another ex-Times staffer: Paula Dwyer, a former Times deputy business editor who decamped to Bloomberg in 2009.
A few other editorial board members have been in the Bloomberg orbit, such as Max Berley, former political enterprise editor, and James Greiff, former opinion leader.
The rest of the board is as follows: Lisa Beyer, former assistant managing editor and Jerusalem bureau chief for Time; George Anders, former editor at the Wall Street Journal and Fast Company; Timothy Lavin, a former senior editor at The Atlantic; Francis Wilkinson, former executive editor at The Week, and Stuart Seldowitz, previously a career diplomat in the State Department.
Whether or not Bloomberg View is perceived as a promotional vehicle for Mayor Bloomberg, the page does serve as another way for Bloomberg News to exert its influence. Although Bloomberg boasts 2,300 journalists in 146 bureaus worldwide, including a Washington, D.C. bureau roughly six times the size of The New York Times, the news organization still doesn't generate significant buzz outside of the financial world to match its size.
Shipley described Bloomberg's relaunch of Businessweek, a venerable yet money-losing magazine, as "a sign that the company is interested in being in the center of the conversation -- not just the [Bloomberg] terminal conversation, but the wider world."
Bloomberg View, he said, is "part of that continuum."
UPDATE: The Huffington Post has now also learned who'll comprise Bloomberg View's full columnist roster.
Popular in the Community