Michael Bloomberg revived his fight against the National Rifle Association Friday with the release of a new ad to coincide with the the NRA's annual convention in Indianapolis.
The ad, from the Bloomberg-backed group Everytown for Gun Safety, comes a week after the former New York City mayor announced a $50 million campaign aimed at taking down the NRA. The spot, "Not Our Words," features families of gun violence victims, as well as gun violence survivors, reading words from NRA President Wayne LaPierre and other top officials at the agency.
One woman in the ad repeats LaPierre's words a couple months after the 2012 elementary school shooting in Newtown, Conn.: "We will buy more guns than ever." As she speaks, a gun violence victim flashes a scar from a bullet wound on his arm for the camera. The ad makes the case that the gun lobby is out of touch with those who've suffered due to gun violence.
A spokeswoman for Everytown for Gun Safety would not disclose the amount of the ad buy, but said the spot will run on broadcast and cable networks in Washington, D.C., and Indianapolis through the weekend, as well as online. An estimated 70,000 people are expected to attend the NRA convention, where gun rights advocates will offer a forceful defense of the Second Amendment and hope to rally voters to get to the polls this November.
LaPierre spoke at the convention Friday and accused President Barack Obama and the media of colluding to turn the country against guns.
"One-hundred million gun owners will not back down, not now, not ever," LaPierre said. "Freedom has never needed our defense more than now."
Bloomberg, a leading advocate for stricter gun laws, said earlier this month he would shift his tactics to bring down the NRA by combining field operations and campaign contributions. As part of that work, other anti-gun violence organizations, including Bloomberg's better-known advocacy group Mayors Against Illegal Guns, were consolidated under Everytown for Gun Safety.
The group also released a report alongside the ad titled "Not Your Grandparents' NRA." The report highlights some of the more extreme pro-gun bills for which the NRA has lobbied, arguing that the association's leadership has put Americans at risk.
Before You Go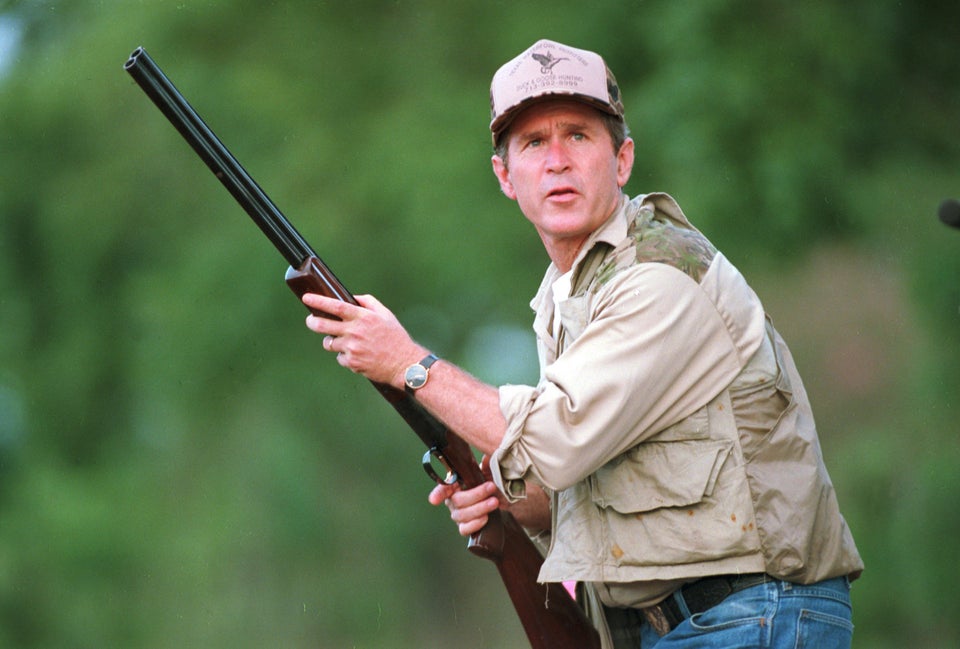 Politicians Holding Guns
Popular in the Community