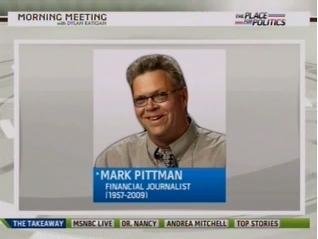 On today's "Morning Meeting", Dylan Ratigan closed the show by paying tribute to his former Bloomberg colleague, Mark Pittman, who passed away over the weekend.
I don't have a long history of monitoring business coverage, but when last year's financial collapse sent me more fully down that path, I frequently came across Pittman's reporting. I found what many of his more devoted fans and long-time colleagues have attested to in the days since his death: that Pittman was one of the guys who consistently got it right.
And as Ratigan points out, he really exemplified the open-source ethos at Bloomberg, where reporters work hard to demystify Wall Street culture and hold it accountable.
RATIGAN: I want to take a minute to salute a former colleague of mine and a reporter who had the guts not only to take on the Federal Reserve, but to take on the entire banking system. Mark Pittman passed away last week in New York at the too young age of 52. Nobel Prize-winning economist Joseph Stiglitz called Pittman one of the great financial journalists of our time. He did a tremendous job explaining and laying out the layering of subprime. But Pittman's final legacy is yet to be written. Just three months ago, Pittman and Bloomberg News won a key legal victory in the efforts to get the Fed to open its books to the public so we can see the back door bailouts that they are providing to American banks. But, unfortunately, Pittman did not live to see the end of the battle he started. The Federal Reserve appealing a decision that went in Pittman's favor. Bloomberg's response to the Fed appeal due next week. A hearing expected the first week in January. So from all of us at the Morning Meeting, we want to take a minute to pay our respects to a man who led the charge, trying to use the freedom of the press to fight for the American principles of fairness and punishing those who would cheat them. We would be all better off if there were more reporters like Mark Pittman looking out for America's interests against those in our government and banking system that would seek to exploit the taxpayer for their personal enrichment. This can be stopped. It's in the process, I believe, of stopping and it will be done through quality information in the hands of every voter and consumer in this country.
Zero Hedge staffers met with Mark days before his death at which point we discovered he was working on a major financial expose. We would be humbled to pick up the torch and bring his last opus to closure.
It's a sad loss, leaving big shoes to fill. We wish Pittman's colleagues and loved ones all the best.
Calling all HuffPost superfans!
Sign up for membership to become a founding member and help shape HuffPost's next chapter