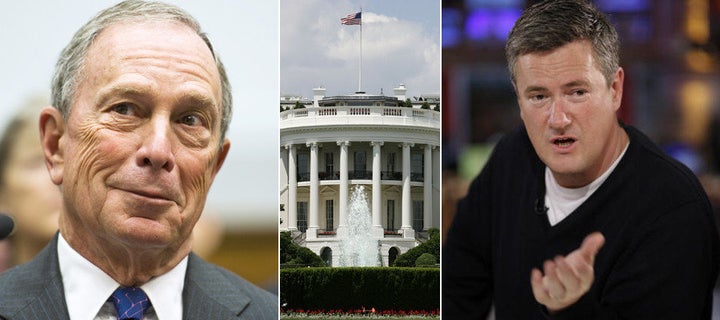 WASHINGTON -- There's no campaign yet, and there may never be, but New York Mayor Michael Bloomberg and MSNBC's morning talk-show host Joe Scarborough have begun trying to figure out whether they could be an independent presidential ticket in 2012 -- and who would be better to be on top if it happens.
They're the Odd Couple of Guys Outside the System.
The two are friends and, in both public and private, mutual admirers. They spent the day before the midterm elections complimenting each other at a Harvard symposium -- Vanity Fair was there to document it all for a spring issue -- bemoaning the same political rift they may try to exploit to win the White House.
Well-placed sources tell The Huffington Post that the mayor and the host have talked about running together, with Bloomberg in the top spot. In an interview, Scarborough, a former GOP congressman from Florida, issued a firm yet carefully-worded denial. "We haven't discussed it directly," he said, adding, "Have people discussed it in his sphere and in my sphere? I think so."
Bloomberg's chief political lieutenant, Kevin Sheekey, did not respond to repeated requests for comment.
On "Morning Joe," Scarborough has repeatedly praised the mayor and talked up the likelihood -- and the necessity -- of an independent presidential bid by someone, even if it isn't going to be Bloomberg leading it.
It can get effusive. "I don't know anybody who has seen what Bloomberg's done for this city," the host said on his morning program in October, "who would not say that he is one of the best administrators we have had in American politics in quite some time."
Bloomberg, with a net worth of $20 billion and a net self-confidence of infinity, has denied that he's running for president, but he and his advisers continue to closely monitor the possibility of his doing just that. "He's all about the data," said a close friend, "and if the data ever show that he could somehow get 270 electoral votes, he'll be in it in a New York minute."
Of course, this may all be an act of spectacular Manhattan vanity, but the sense that our politics is broken is so widespread that the breakfast talk at the Regency and the lunch talk at Michael's can't be dismissed.
While no one in Manhattan doubts that Bloomberg wants to be president, the consensus among his friends and confidants is that several things have to happen between now and next fall to move him to declare.
The already-bitter partisan divide in Congress has to widen; the Republican Party has to become a subsidiary of the tea party; the Democrats must become a rump parliament of liberals; the tone of politics must get even nastier, Jon Stewart notwithstanding; and the economy has to remain enfeebled.
It doesn't take a political rocket scientist to see that this isn't a far-fetched scenario, but timing is everything.
"My gut is that it is going to get more polarized," said former GOP Rep. Tom Davis, a Virginia moderate, Bloomberg acolyte and one of the brainiest and best strategists of his generation. "And if it does get more polarized, the situation is made for a 'fixer' -- and that's Mike."
The question would be how to win enough states outright, because no independent candidate would stand a chance against the two established parties if the contest went to overtime in the U.S. House of Representatives.
Bloomberg has a lot to recommend him, besides his money. He is indeed regarded as an effective mayor; he is one of the great entrepreneurs of the age and presides over a news empire; and, at 68, he is as vigorous and breathtakingly ambitious as ever.
His roster of advisers, ready to answer the bell if it is rung, includes an all-star cast of Democratic operatives such as media man Bill Knapp and pollster Doug Schoen.
But Bloomberg is also a provincial Upper East Side New Yorker, though a Boston native, with a penchant for making gratuitously nasty, politically costly remarks. He recently took a thinly-veiled swipe at tea partiers, for example, suggesting that some new members of Congress "can't read" and probably "don't have passports."
That's what makes even some of his admirers skeptical. "I'm not sure a Bloomberg campaign makes any sense," said a friend in New York. "I'm not sure that it doesn't get to the tunnel and die right there."
That said, Scarborough's candidacy would not seem to be in the same league. He has no serious money. He can be as abrasive as Bloomberg when he wants to be. He is one of those Southerners who thrives in Manhattan by making locals nervous about their ignorance of the country.
It works on New Yorkers, but his success in the Big Apple wouldn't necessarily be a calling card elsewhere -- and ironically, could prove a real handicap in his native South, where it's not necessarily a political plus to hang out on an MSNBC set at 30 Rockefeller Center.
"Joe really wants to be the VP candidate if Mike runs," said a source very close to the mayor. "But whether Mike feels the same way about Joe -- that's not clear." A pro-life, pro-gun running mate is, well, a pro-life pro-gun running mate, some Bloombergers worry.
But Scarborough doesn't lack for ambition, contacts, or leadership qualities -- or debate and survival skills.
No slouch in the confidence department, the talk-show host might regard himself as the more electable, and conclude that the way to advance the independent cause would be to spend the mayor's money -- friends say Bloomberg would be willing to spend $3 to $4 billion -- to get a new-age good ol' boy into the Oval Office.
A key member of his "sphere" is Mark McKinnon, a mavericky media man who worked for Sen. John McCain in 2008, George W. Bush in 2000 and Democrats before that.
Scarborough, originally a lawyer by trade, represented the Florida Panhandle, went to Catholic school but is a Protestant, and has now spent years on television and radio learning the issues and how to debate them.
He also kept his pledge to term-limit himself in Congress.
The White House is nervously watching what is going on, so closely that President Barack Obama's chief adviser, David Axelrod, made sure to attend a dinner hosted by Bloomberg in New York City in September.
Axelrod told The Huffington Post that he did not question the mayor about a possible independent bid. But the mayor has said to others in private what he has said in public - that he isn't running.
Asked flatly "Are you running?" by the Random House editor and former Newsweek chief Jon Meacham at a Harvard symposium on November 1, Bloomberg curtly answered "no."
Asked a few days later in Hong Kong whether he might run, Bloomberg said, "Definitely not. I have a job for the next 1,152 days, and I plan to serve out every one of them."
Key word: "plan." Plans change.
With reporting by William Alden
Howard Fineman is Senior Political Editor at The Huffington Post and an analyst for NBC News and MSNBC. He occasionally appears on "Morning Joe."
Popular in the Community