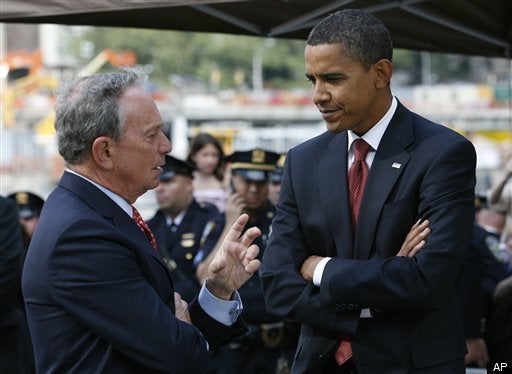 New York City Mayor Michael Bloomberg -- who at one point was considered an Independent ally of the White House but has proven to be a somewhat reliable critic -- is going hard after the president, accusing Obama of dragging his feet on gun control.
In a letter sent earlier this month from his coalition -- Mayors Against Illegal Guns -- Bloomberg comes intriguingly close to assigning blame for ongoing gun violence to the Obama administration. The mayor and his co-signer, Boston Mayor Thomas Menino, point to a separate report they sent the administration in early August 2009, which laid out 40 recommendations to "improve enforcement of existing gun laws" that simply required enforcing existing statutes. That report was apparently given only a perfunctory response from the Department of Justice and little tangible political action -- prompting a harsh follow-up letter from Bloomberg and Menino.
"We appreciate the Department's consideration of the report, but this is an urgent matter: further delay will almost certainly result in the needless loss of innocent lives, including many children. Mr. President, the time has come for action," the mayors write. "Over the past six months, approximately 6,000 Americans have been gunned down in intentional acts of violence. The 40 recommendations in our Blueprint, many of which could be enacted immediately, offer the best hope we have for making our country safer over the next six months - and the years ahead."
The authors go on to point to specific recommendations that they argue could have proven invaluable in preventing or stemming some of the recent cases of gun-related violence -- such as the shooting of two Pentagon police officers earlier this month. Specifically, they cite the need for better information-sharing methods for law enforcement units and "proactive enforcement and undercover operations" by the ATF.
"Had [these recommendations] been implemented," Bloomberg and Menino write. "ATF would have undertaken proactive enforcement and undercover operations to identify problematic gun shows and the sellers who break the law at those shows."
The White House did not immediately return a request for comment.
In all, the letter is telling as much for what it says about the president's somewhat frayed relationship with Bloomberg (who was sought out for advice on both health care reform and civilian trials for 9/11 terrorists -- both of which he ended up opposing), as for what it says about the White House's approach to the gun control debate.
The president and his team have made what appears to be a tacit decision to keep their distance from Second amendment issues -- undoubtedly wary of how politically divisive it can be. And while the strategy has helped dispel the always-erroneous notion that Obama was hell-bent on taking away people's guns, it's also earned the administration a host of critiques from editorial boards to gun-control advocates -- who argue that the political will is there for basic but important reforms.
"In your recent State of the Union Address, you reminded Congress, rightly, that the American people sent you to Washington to take on the tough issues - to worry about the next generation, not the next election," writes Bloomberg and Menino. "But not all issues that are controversial in Washington are controversial in the rest of the country."
"We respectfully request a meeting with you and the Attorney General to discuss how these reforms can be implemented over the next several months."
Related
Popular in the Community