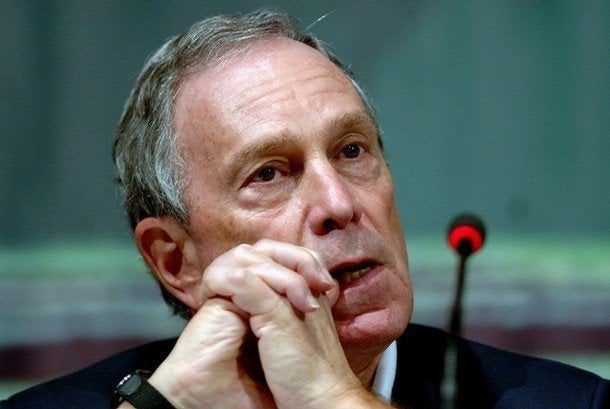 The state of Virginia is, for the first time in many decades, a toss up in the presidential election. And with its 13 electoral votes and polls showing a tight race, the commonwealth should host a fierce competition between Barack Obama and John McCain.
This past week, however, a small but potentially significant ripple was introduced to that equation. On Friday, under the radar, the Independent Green Party of Virginia successfully gathered enough signatures to put New York City Mayor Michael Bloomberg's name on the presidential ballot. They did it all without the mayor's knowledge or consent. Moreover, they wrote in as his number two Texas Rep. Ron Paul, a hero to an impassioned group of libertarians, online activists, and U.S. foreign policy critics.
The "Indy Greens," as they are known, still have a few more hoops to jump through before Bloomberg's name will officially be put into the presidential queue. Some of them, according to state officials, are relatively minor matters, including getting the party's electoral representatives to provide contact and home address information. Others are very much major, like seeing to it that Bloomberg doesn't object and ask for his name to be removed.
If the Indy Greens have their way, however, one of the most widely known Independent politicians in the country -- joined by a running mate with a cult-like following -- will be positioned to siphon off votes from the two major party candidates.
"Indy Greens started the presidential petition drive on January 1, 2008 in Independence, Virginia," explained Carey Campbell, chairman of the party. "Eight months, 15 days later, the cake is baked. The deed is done. We're happy hillbillies. Since January 1st, Indy Greens collected 70,000 petition signatures. Seven successful petition drives to put five candidates on the ballot for U.S. House, and 2 statewide petition drives... and now Michael Bloomberg on ballot for president. We made a promise to Mr. Bloomberg, and now we have kept that promise."
Virginia state law requires that a candidate receive 10,000 signatures of qualified voters, including 400 in each of the state's 11 congressional districts, in order to gain access to the presidential ballot. The Indy Greens, over the course of many months, collected far more than the minimum.
But they also did it without Bloomberg signing off. When contacted over the weekend, an aide to the mayor said his boss was "unaware of the effort." As such, the possibility exists that Bloomberg could publicly ask that his name be removed from the state's ballot, something that Virginia officials say would be cause, at the very least, for an investigation.
"If it is an issue that a candidate is put forth, we assume that the internal communications have happened. But if we were to receive a letter from Mayor Bloomberg that he doesn't want his name on the ballot, we would have to look into the matter to see why the nominee for a party doesn't want to be that nominee," said Matthew J. Abell, the Assistant Manager at Virginia's State Board of Elections. "It is a free country and if chooses to not have his name on the ballot he has every right to do so."
Campbell acknowledged this possibility and said he would not feel slighted if the mayor, simply by asking for his name to be removed from the ballot, were to undermine months of efforts.
"Yes, Bloomberg must consent to this and it will be up to the Board of Elections," he told the Huffington Post. "But we made a promise and we wanted to keep it and we have."
UPDATE: Bloomberg's spokesman Stu Loeser emails: "He hasn't made any decisions and hasn't had a chance to speak with [party chairman Carey] Campbell yet... But this is a call for post-partisanship that Mayor Bloomberg hopes the major parties will hear."
LATE UPDATE: Turns out Liz Benjamin had this report up for the New York Daily News earlier today. We did our own reporting but she still deserves credit.
Support HuffPost
The Stakes Have Never Been Higher
Popular in the Community