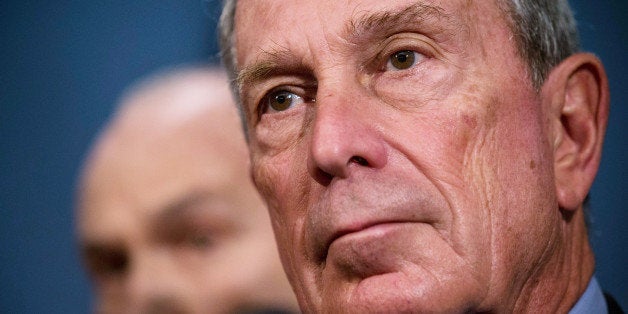 (Bloomberg has two adult daughters, Georgina and Emma.)
"If I had a son who was stopped, I might feel differently about it, but nevertheless," Bloomberg said. "Maybe I was inelegant, but I don't think anybody thinks I am anything but—I hope not, anyway—supportive of trying to help all people. With my own money as well as time, thank you very much. I've spent s of my life doing this."
Black and Latino men account for an overwhelming majority of those stopped and frisked by the NYPD so, as New York's Joe Coscarelli points out, "for Bloomberg to have a son that would be stopped, odds are he'd have to at least appear to be a man of color."
Bloomberg also emphasized his support for the stop-and-frisk program to The New Yorker.
"I would suggest to the next mayor, whoever it is, that saving lives is the most important thing, more so than pandering," Bloomberg said. "Stop and frisk has been shown to be—not the only, but the most effective, tool in getting guns out of the hands of kids."
Bloomberg has since angrily criticized both the ruling and Judge Scheindlin.
"What does she know about policing? Absolutely zero," Bloomberg said after the ruling. "Your safety and the safety of your kids is now in the hands of some woman who does not have the expertise to do it."
REAL LIFE. REAL NEWS. REAL VOICES.
Help us tell more of the stories that matter from voices that too often remain unheard.
BEFORE YOU GO
PHOTO GALLERY
Stop And Frisk Goes On Trial In NYC