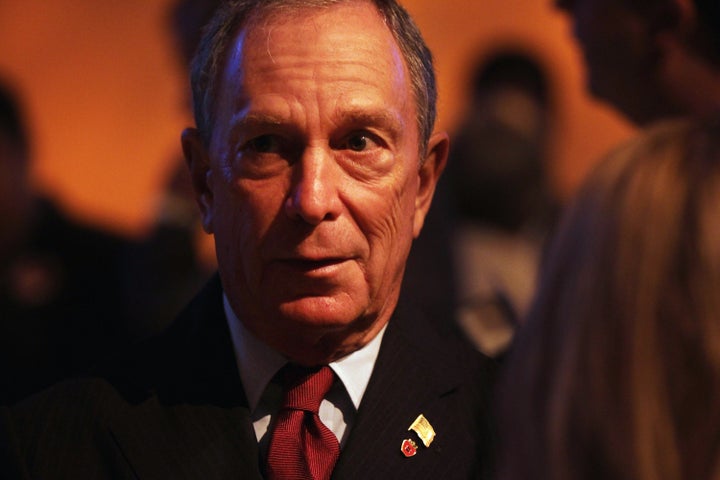 NEW YORK — New York City Mayor Michael Bloomberg believes Occupy Wall Street protesters have a right to freedom of speech at a Manhattan park, but not to keep the owners of the public space from cleaning it.
Officials say Bloomberg visited with protesters Wednesday to tell them of plans to clean Zuccotti Park by the end of the week. Deputy Mayor Cas Holloway said in a statement the protest has "created unsanitary conditions and considerable wear and tear on the park."
The park is owned by Brookfield Properties (for whom Bloomberg's longtime girlfriend, Diana Taylor, is a board member), which has asked the police commissioner Ray Kelly for help from the NYPD to clear the park so it can be cleaned. In a letter to Kelly (see below), Brookfield Properties wrote, "The situation continues to worsen and we need your assistance to ensure public safety."
Holloway said the cleaning will be done in stages Friday. Protesters will have to leave, but will be allowed to return after it's cleaned. (UPDATE: Ray Kelly confirms that the protesters will not be allowed to return to the park with camping gear or any other equipment that has enabled the occupation.)
Protesters have begun to pre-empt the city, however, vowing to clean Zucotti Park themselves. Kobi Skolnick, 30, who has been working at the park since the second day of the occupation, said 50 to 60 activists have begun cleaning the park this afternoon. "People are cleaning very hard," he said. Without running water, Skolnick said the Park denizens have had to transport water from different places in large containers. There are clean-up crews at all corners of the park.
Contrary to what Brookfield Properties or Bloomberg might think, Skolnick asserts that the occupation has been grueling work; he said that he has been working 16-hour days on site. "It's not a picnic here," he said. "I'm not here for a picnic. We are here to change society nonviolently."
According to a new Facebook event, "Operation #WallStreetCleanup", the Sanitation Committee of #OccupyWallStreet is currently soliciting donations for "brooms, mops, squeegees, dust pans, garbage bags, power washers and any other cleaning supplies."
And once they've cleaned up the park Thursday, well, there could be more mass arrests:
Then, Friday morning, we'll awake and position ourselves with our brooms and mops in a human chain around the park, linked at the arms. If NYPD attempts to enter, we'll peacefully/non-violently stand our ground and those who are willing will get arrested.

Afterwards, we'll march with brooms and mops to Wall Street to do a massive #wallstcleanup march, where the real mess is!
Protesters appear weary of the attempts to clean the park. One demonstrator told CBS, "I think the mayor and some of his 'cronies' are trying to use tactics to get us to move out of the park."
Skolnick insisted the occupation isn't going anywhere. "We will not just let them kick us out," he said. "We are not going to give in easily at all. We are here to stay. We will continue to do what we are doing here...There is not even a question about tomorrow. Not even a question. It's clear we are staying."
Joshua Stephens, a 33-year-old activist, said he plans on being at the park in the morning. Of the police threat, he said: "It's obviously an attempt to dampen the movement and to dampen the presence in the park. The problem that I see with it, it's actually a provocative and dangerous escalation."
Stephens thinks it's just bad politics to mess with the activists. Occupation Wall Street is doing well in national polls, and has gained support from major unions and top Democrats. He described the move by Bloomberg as unncessary. "They're basically flipping everybody the finger," he said, adding that tomorrow's standoff could hurt the mayor. "It could result in Bloomberg's goons being on national television clubbing union workers. It just looks like a stunningly stupid and arrogant provocation. It's bound to backfire and bound to make him look like an asshole."
By 6 p.m., boxes of donated flowers had arrived at the Park. Piles of blankets were awaiting transport to laundry facilities. The major clean up had been completed. "The flowers look amazing," Skolnick said.
Bryan James, 23, one of the heads of the sanitation crew, said that cleaning has always been a round-the-clock operation. "Bloomberg's claims of [unsanitary conditions] are a farce," he told HuffPost. "They are propaganda."
But today at least, James said the group gathered all the personal belongings off the ground and went to work. "We got on our hands and knees," he said, "and scrubbed the ground." They also repaired flower beds and electrical outlets.
Lauren Digioia, 26, is also a member of the sanitation crew. She described a fairly complex and efficient operation where recycling is collected and transported off site every evening, and city sanitation pick up trash from all four corners of the park. She added that the crew has "every necessity from brooms and brushes, bleach, gloves, tarps, bags."
Bloomberg, who said earlier this week that protesters can stay in Zucotti indefinitely, was greeted with "chants, jeers and Bronx cheers" Wednesday night. Someone screamed "About time." And someone else asked Hizzoner if they could get a permit for amplification equipment. Bloomberg said no.
Previously Wednesday, the 26th day of Occupy Wall Street, police arrested four protesters outside JP Morgan Chase, where they were demanding a meeting with Chairman and CEO Jamie Dimon.
A spokesman for OccupyWallst.org issued a statement reaffirming the protesters' desire to maintain control over the park:
Tell Bloomberg: Don't Foreclose the Occupation.Join us at 6AM FRIDAY for non-violent eviction defense.

Please take a minute to read this, and please take action and spreadthe word far and wide.

Occupy Wall Street is gaining momentum, with occupation actions nowhappening in cities across the country.

But last night Mayor Bloomberg and the NYPD notified Occupy WallStreet participants about plans to "clean the park"—the site of theWall Street protests—tomorrow starting at 7am. "Cleaning" was used asa pretext to shut down "Bloombergville" a few months back, and to shutdown peaceful occupations elsewhere.

Bloomberg says that the park will be open for public usage followingthe cleaning, but with a notable caveat: Occupy Wall Streetparticipants must follow the "rules". These rules include, "no tarpsor sleeping bags" and "no lying down."

So, seems likely that this is their attempt to shut down #OWS for good.PLEASE TAKE ACTION:

1) Call 311 and tell Bloomberg to support our right to assemble and tonot interfere with #OWS. If you are calling from outside NY use thisnumber 212-NEW-YORK.

2) Come to #OWS on FRIDAY AT 6AM to defend the occupation from eviction.

Occupy Wall Street is committed to keeping the park clean and safe —we even have a Sanitation Working Group whose purpose this is. We areorganizing major cleaning operations today and will do so regularly.

If Bloomberg truly cares about sanitation here he should support theinstallation of portopans and dumpsters. #OWS allies have been workingto secure these things to support our efforts.

We know where the real dirt is: on Wall Street. Billionaire Bloombergis beholden to bankers.We won't allow Bloomberg and the NYPD to foreclose our occupation.This is an occupation, not a permitted picnic.
Related
Popular in the Community