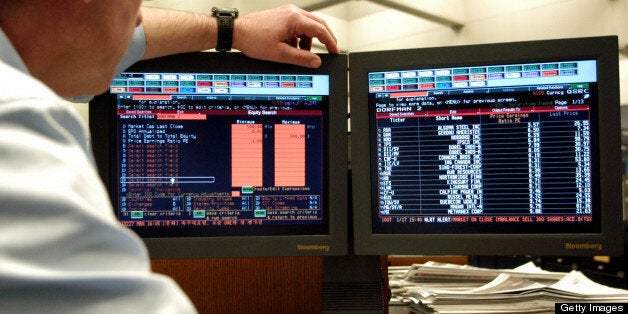 NEW YORK -- The financial-news giant Bloomberg built its fortune and reputation on the combination of a voracious news-gathering outfit and a proprietary data-delivery system that has become an essential Wall Street tool. Now Bloomberg has put its reputation at risk by carelessly mixing the two.
According to news reports on Friday, journalists at Bloomberg News have been spying on some of the 315,000 customers that use the market-data terminals, sold by a separate unit of Bloomberg and the primary revenue source for the company. Those customers include Goldman Sachs and JPMorgan Chase, whose traders and bankers are reportedly furious with Bloomberg for what they perceive as a violation of their privacy.
But some Bloomberg employees, interviewed outside the company's glass-and-steel headquarters in midtown Manhattan Friday, said they were concerned about the damage the news could do to the firm's reputation.
"It's not good," said an employee who identified herself as working in marketing and asked that she not be named for this article. "You never want to show up in the paper for something like this."
Faisal Yaqoob, a programmer with the firm, said clients "were most upset that reporters were able to see the stats on what they did."
Bloomberg News reporters were able to access a few different kinds of data that are not available to other terminal users. These included the ability to see how often customers had logged onto terminals and the ability to track some of their activities. They could see how many times in a month a client had entered specific commands on a terminal to, for example, look at information about foreign currencies or pull up economic indicators.
With these tools, Bloomberg reporters could keep loose tabs on terminal users, which include government officials and high-profile investors and traders. Though the tools were limited, they were potentially useful enough to give reporters leads to news scoops -- the ultimate goal at an organization that prides itself on its news-breaking abilities.
Though Bloomberg's customer base on Wall Street seemed mostly to react to the news with calm and Twitter jokes, there were jitters nonetheless.
"At one level, it kind of bothers me, I guess, because, geez, I didn't know they were doing that," said David Ader, head of government-bond strategy at CRT Capital, a Bloomberg customer in Stamford, Conn. "And if you're looking at what senior executives or merger-and-acquisition guys are looking at, maybe that gives you insight into things that were never meant to be seen."
On Friday afternoon, Bloomberg CEO Dan Doctoroff sent an email to all of the firm's 15,000 employees to allay some of their concerns. Doctoroff announced that the company was appointing Steve Ross, currently Bloomberg's COO of the Core Terminal Business, to the newly created position of Client Data Compliance Officer.
"Although we have long made limited customer relationship data available to our journalists, we realize this was a mistake," Doctoroff said in the email, which noted that the customer data in question did not include specific trading or portfolio information.
"Client trust is our highest priority and the cornerstone of our business, and we are deeply committed to ensuring the complete integrity and confidentiality of our clients' data in all situations and at all times," Doctoroff wrote.
Though Bloomberg reporters did not go nearly as far as some News Corp. employees, who allegedly hacked phones and bribed officials to access private information for stories, their use of proprietary information seems to violate the trust Bloomberg's customers placed in it.
Several people interviewed said it was unlikely the snooping was mandated from top editors, but it was widely known.
"Reporters were using it," said Yaqoob, the Bloomberg programmer. "It was available."
-- Mark Gongloff contributed to this report.
Related
Popular in the Community