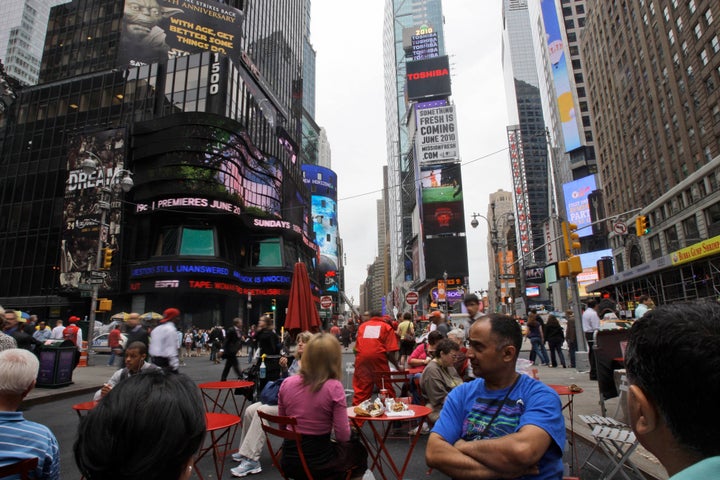 Mayor Bloomberg has a new report from the Health Department to rub in the faces of those who oppose Times Square's pedestrian plazas.
The report found a more than 40 percent decrease in vehicle-caused pollutants in the Times Square area since plazas were put in.
"The air quality improved slightly throughout midtown, but really significantly in Times Square where we've been able to reduce the number of vehicles, and that cleaner air makes a huge difference in the health of more than a quarter million pedestrians who pass through Times Square every day," Bloomberg said at a press conference.
Opponents of the plazas claim they cause traffic problems.
Those same concerns caused the city to ax a plan to put pedestrian plazas on 34th street.
On Wednesday former President Bill Clinton joined Mayor Bloomberg at Gracie Mansion for a press conference on climate change. Clinton remarked on the new report, and recounted his first visit to Times Square in the 1960's.
When I was 18 years in November of 1964, a freshman at Georgetown, I first went to Times Square. I bought a steak at Tad's Steakhouse. I heard a guy ream his mother out, poor working woman, because she'd given him a hi-fi instead of a stereo speaker. I remember everything about it. I saw a hooker approach a man in a gray flannel suit. Pretty heavy stuff for a guy from Arkansas. My view is it's way better now. You have to look at the overall numbers. Yes, look, I still have vivid memories of it. Romantic, fascinating.
Popular in the Community