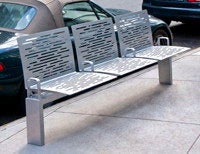 New Yorkers, rejoice! The Department of Transportation announced plans to install 1,000 new benches designed by the renowned industrial designer, Ignacio Ciocchini, who is also the director of design at the Chelsea Improvement Company.
The CityBench program is aimed to make life more comfortable for pedestrians, especially those waiting for public transportation and areas with a higher number of senior citizens in the neighborhood.
If that wasn't exciting enough, the department is encouraging New Yorkers to participate in the city's plans to decide where benches should be located. If you'd like to make a request, simply fill out the form on their website. Priority seating will go to bus stops without shelter, hospitals, and more.
The estimated $3 million program will be largely funded by a $2.4 million Bus Livability Grant from the federal government in order to:
...help integrate transit into a community through neighborhood improvements and enhancements to transit facilities or services, or make improvements to areas adjacent to public transit facilities that may facilitate mobility demands of transit users or support other infrastructure investments that enhance the use of transit for the community.
The installation of all 1,000 benches will be made on a rolling basis starting March 2012 through 2015.
REAL LIFE. REAL NEWS. REAL VOICES.
Help us tell more of the stories that matter from voices that too often remain unheard.