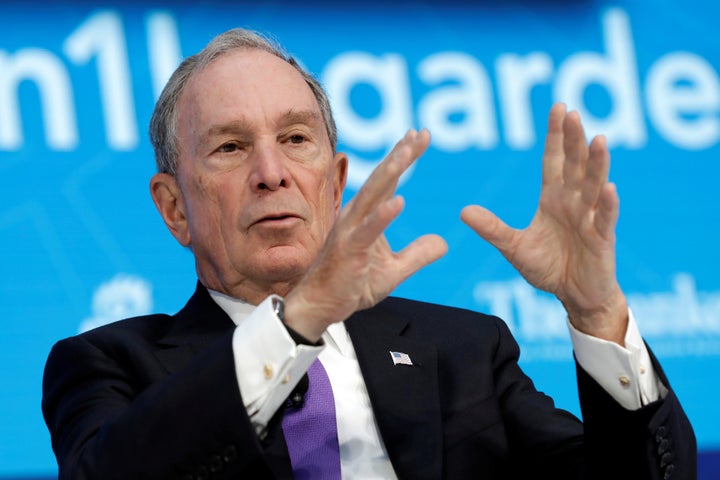 Potential presidential contender and former New York City Mayor Michael Bloomberg accused President Donald Trump on Monday of "inciting" violence and hate instead of "unifying" the nation as a president should.
"When he goes around getting people to scream and hate, bad things happen, and you saw the results here," Bloomberg told CNN, referring to the spate of violence and threats that besieged the United States last week.
"A lot of people think it's just rhetoric, but you don't use the bully pulpit as the president of the United States to rile up people and say things as a joke or as a campaign promise," Bloomberg told the news outlet. "That's not what the president should be doing. The president's words matter. He's not an average person ― he's the president, and with the presidency comes an obligation to set a moral standard for this country and to unite people."
The president has continued to use and encourage violent language during his rallies, throwing out disparaging nicknames like "Crooked Hillary Clinton" and egging on crowds as they chant "lock her up" in reference to the former secretary of state. Clinton was one of the intended recipients of the mailed bombs.
Trump has also railed repeatedly against one of his favorite targets: the media. He's blamed the press for the division in the country, calling "the Fake News Media ... the true Enemy of the people" in a Monday tweet.
Bloomberg told CNN that Trump "should be unifying, and instead he is exciting people, inciting people."
The 76-year-old billionaire, who recently registered as a Democrat after spending about a decade as a political independent, is believed to be eyeing a 2020 presidential run. 
Bloomberg reportedly spent more than $110 million to support Democratic candidates ahead of the 2018 midterm elections. 
"It's clearer than ever that we need a new Congress," he said last week.
BEFORE YOU GO