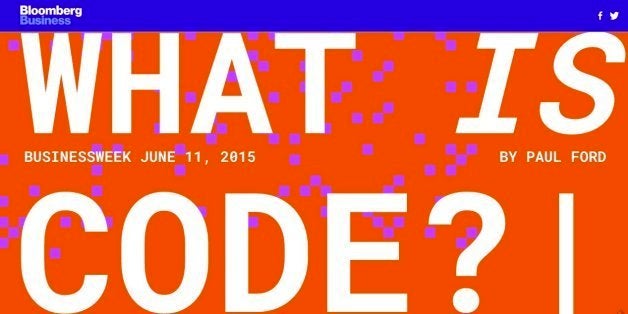 The conventional wisdom is that Internet users have the attention span of a goldfish -- the shorter, the better. That's what makes the runaway success of Bloomberg Businessweek's "What Is Code?" -- a 38,000-word opus on software engineering that took up an entire double issue of the magazine -- all the more surprising.
"People seem both excited and surprised by it," Josh Tyrangiel, the editor of Bloomberg Businessweek, told The Huffington Post. "The risk going in was that it was very long and technical. The big question mark was, 'Would anyone read it?'"
But read it they have. On newsstands, the deep dive has sold more copies than any other issue to date this year, a Bloomberg Businessweek spokeswoman told HuffPost.
The online response, though, has dwarfed the reception in print. The digital package is accompanied by supplementary multimedia and interactive elements -- a retro-looking avatar guides readers through the piece (and tells them to slow down if they're scrolling too fast), and readers can try out coding as they go along. In the three weeks since the online version of the story went live, it has generated more traffic than any other article since the launch of Bloomberg's business site, according to the spokeswoman.
And lest you think readers are simply navigating to find out what all the fuss is about before clicking off to read about, say, the "13 Things You Didn't Know About Nutella," "What Is Code?" is also number one in terms of (non-idle) time spent on the page.
"I'm just completely floored by the reaction," said Bloomberg Digital Editor Joshua Topolsky, who worked with two other editors, two developers and a designer to present the piece online. "We knew it was a great story and put a lot of time and effort into Web execution, but it would have been hard to predict such a strong reaction."
Online publishing often involves guesswork; for everything that's neither breaking news nor clickbait, it's a gamble. The sheer scope and ambition of the coding essay, which Tyrangiel described as "taking an entire civilization and boiling it down into a story," are enough to raise eyebrows on their own.
But in retrospect, one can see why the piece -- which covers a topic that affects everyone but is poorly understood by the general public -- garnered the attention it did. It's beautifully written and accessible, allowing it to have crossover appeal. Slate's senior technology writer Will Oremus said the essay was "a wonderful achievement," though he questioned its relevance for a broader audience. Motherboard writer Clinton Nguyen called it Bloomberg's "Snowfall moment," referring to a 2012 New York Times interactive feature that generated substantial buzz.
"It reached a few different communities," Tyrangiel said. The piece made a splash among coders, as well as non-coders who work in business and are familiar with the software world. But the bulk of the interest, he noted, has simply come from general-interest readers curious about software.
This isn't to say "What Is Code?" hasn't invited criticism. The pushback has been strongest from the software community, which has taken exception to the piece's various omissions -- one observer pointed out, for instance, that the piece barely mentions software security.
"There are some people who think it's too long, some who think it's too simplistic, some think it's a stunt," Tyrangiel said. "All of those critiques are in their own way valid, but we were true to the way in which we had to tell this story."
The package was originally commissioned as a single-topic issue of the magazine that would consist of multiple articles. But through its various iterations, the backbone essay by self-described "middling programmer" Paul Ford kept growing. As the months went by, Tyrangiel says it became clear: "Nope, we have one great story here." While that meant jettisoning the early work of a dozen or so people, according to Tyrangiel, everyone who worked on the project demonstrated "fidelity to the story."
As a publication that has both a print and an online component, Bloomberg Businessweek also avoided a common pitfall. Often, long magazine pieces are simply posted online in all their text-heavy glory, but in this case editors on the print side worked in tandem with the digital team for months in advance, holding joint meetings to discuss how the work would live online.
"When you want to bring a completely immersive experience, planning really matters," Tyrangiel said. "We can't be thinking a week, six weeks out. We have to be thinking six months, even 12 or 18 months out."
The forethought is clear when reading the piece online. The interactive components seem almost timed to anticipate when the reader's attention span will drop off -- just when you're about to tune out, for instance, the avatar pops up to coax you along.
"One of the things I've said is, 'I don't want to see a magazine page on the Web," said Topolsky, the digital editor, who described the relationship between the print and online operations as "fluid."
But the ultimate key to drawing an online audience, Topolsky says, has less to do with length than with quality.
"The Internet reflects reality; a big audience is going to have shorter attention span," he said. "But when you can give people something they can't get anywhere else and it's interesting and edifying, people will stay for it."