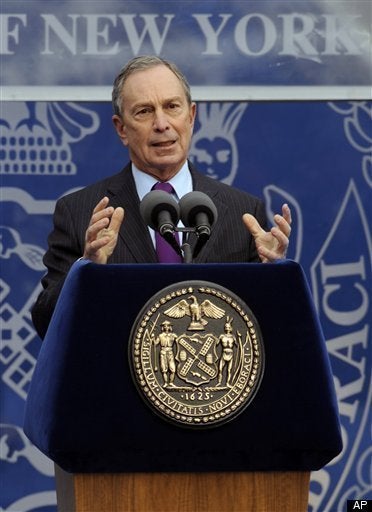 You've probably never heard of Thomas Meskill, who was a very successful governor of Connecticut in the early 1970s -- until a huge snowstorm clobbered the state. Meskill was on a skiing vacation at the time. He did not immediately return home.
The public never, ever, forgave him. The outcry was so ferocious that Meskill dropped his plans to run for another term the following year and retired from politics. He later found happiness as an appellate court judge - a job which does not require a keen sensitivity to people's feelings about snow.
When snow falls in much-larger-than-usual amounts, people are inconvenienced, irritated and uncomfortable. The job of elected officials is twofold: 1) Get rid of the snow and 2) Sound sympathetic. The first takes a while, but the second is a no-brainer. Be on the scene and never let anybody sound more concerned than you are about getting things back to normal. Never, ever let the public suspect that you think they're over-dramatizing their suffering.
As in: Mayor Michael Bloomberg. "The world has not come to an end. The city is going fine. Broadway shows were full last night," the mayor said in his famous initial response. "There are lots of tourists here enjoying themselves. I think the message is that the city goes on."
This has to go down as one of the worst snow responses in political history. Every single sentence is terrible beyond belief. The tourists are happy? Tens of thousands of actual voting residents are stranded. Their cars are buried. Their subways aren't working. And you're exulting over the ability of the tourists to get to a Spider-Man preview?
In one day, the Bloomberg mayoralty became a Spider-Man preview itself, thanks to terrible snow politics.
It is true that the storm was an unusually evil combination of snow and wind and cold. It's possible that the Sanitation Department did the best it could. The department has suffered from budget cuts lately, but sometime down the road cooler heads may decide that the cuts were reasonable and that the city is in no economic condition to maintain its snow-removal system at a level that will only be called for once every decade or so.
We can have an excellent discussion about that later. Preferably in May or June.
But this was no time for the mayor to be defensive, especially since the snow removal situation has played into many of the city's longstanding neuroses, including the conviction of Queens, Brooklyn, the Bronx and Staten Island that Manhattan always gets the best of everything while the "outer boroughs" get ignored.
It was probably not possible for the mayor to arrange to have every primary street in Manhattan cleared except the one he lives on. But he should have been in Queens, preferably on a snowplow, by Tuesday at the latest.
The best snow politician in the region was, hands down, Mayor Cory Booker of Newark who was out there personally shoveling snow off cars, delivering pregnant women to the hospital, taking diapers to stranded mothers. And Twittering about it like crazy.
"People far 2 rough on @mikebloomberg - still fighting 2 clear snow in NWK & we are 1/29th size of NYC," Booker wrote supportively. Nice gesture, but it didn't help.
The worst snow politician, by the way, was not Mayor Bloomberg but New Jersey Governor Chris Christie. He didn't come back from Disney World? Disney World??
Calling all HuffPost superfans!
Sign up for membership to become a founding member and help shape HuffPost's next chapter