At this time of year in the U.S., the sunlight suddenly seems less vibrant, summer fruits give way to root vegetables in farmers markets and it feels as if the holidays and winter's chill are just around the corner. Don't you wish you could step into a time machine and head back to spring, with the first splash of green and the promise of summer? That's what we've done for the past few winters, while researching our book, "Wines of the Southern Hemisphere," and there really is something special about springtime in the Barossa.
When we are taking our notes, we can visit up to seven wineries in a day, but you can move at a more leisurely pace. Take time to notice the possibility of vintages yet to come, as the first signs of bud break appear on the vines and enjoy the literal fruits of the labor of vintages past, as winery tasting rooms (called "cellar doors" here) reveal their newly released wines. Fields of wild flowers are bursting into bloom, creating a vibrant patchwork amid rolling hills dotted with almost 150 wineries, some dating back to the Barossa's first settlers in the 1840s.
The Barossa Farmer's Market is held every Saturday, featuring seasonal produce and tender spring lamb. The wide array of winery cottage accommodations means that after shopping here you can cook your own dinners to pair with the amazing Shiraz, Riesling and Rhone-style blends you've picked up from historic houses such as Yalumba, Peter Lehmann and Jacob's Creek, or newer players like Ben Glaetzer, First Drop, Kaesler, Schild, and Standish. Settled by German, Irish and Scottish immigrants, the Barossa retains the charm of yesteryear, and no spring weekend is complete without at least a few hours touring wineries, visiting markets and enjoying the field to fork movement that never left this part of the world.
The Barossa is 35 miles from South Australia's capital, the Victorian-era city of Adelaide. Its more than 25,000 acres of grapevines grow within two distinct regions, the Barossa Valley and neighboring Eden Valley. The towns of Nuriootpa, Lyndoch, Angaston and Tanunda offer local charm in the way of bakeries, markets and restaurants. Winding country roads and a series of cycling and hiking trails are wonderful for working off some of the calories you are sure to encounter at winery tasting rooms and restaurants.
One of our favorite stops is at Chateau Tanunda, which was established in 1890 and lovingly restored by the Geber family, who bought it in 1998. The large visitor center and tasting room feature not only Chateau Tanunda's excellent Cabernet Sauvignon, Shiraz, Riesling and Chardonnay but also the Barossa Small Winemaker Center, where wines from smaller producers are also available. The large outdoor terrace affords views of the Barossa Range.
Jacob's Creek Winery was founded in 1846; founder Johann Gramp's historic home is now a tasting room where guests can sample a wide range of wines from their portfolio, including refreshing Chardonnay from Adelaide Hills, Barossa Shiraz and Cabernet Sauvignon from Coonawarra. Onsite Jacob's Restaurant is a lovely stop for a lunch of grilled lamb chops or glazed pork belly.
Visitors to Elderton's Cellar Door will be rewarded with estate-grown Shiraz, Cabernet Sauvignon and lush red blends. For a more comprehensive experience, you can make an appointment for one of Elderton's Master Classes, held on Thursday, Friday and Saturday mornings, and enjoy a thorough exploration of their wines.
In the early 1990s winemaker Dave Powell found a vineyard filled with almost useless vines bearing red Rhone varieties, nurtured them back to health and eventually bought the property, naming it Torbreck after a forest in Scotland. Travelers stopping in to Torbreck for a tasting can sit in the garden and even bring their own picnic. Dave specializes in Rhone blends -- the reds are Shiraz, Grenache and Mourvedre, and the whites are Rousanne, Marsanne and Viognier.
Two Hands' cellar door is housed in a renovated old stone building with leather couches and a fireplace and a large fishpond out back. The "Two Hands" involved in the project are Michael Twelftree and Richard Mintz, who are known worldwide for their outstanding red wines, with an emphasis on Shiraz. Depending on how long you have to spend, you can taste through a flight at the bar or sign up in advance for a guided master class presenting a wide variety of single-vineyard offerings.
One could spend an entire day visiting Yalumba, savoring Cabernet Sauvignon, Shiraz, Viognier and Riesling (the latter from partner winery Pewsey Vale). Tours include visits to the Yalumba Cooperage, where barrels for storing their delicious wines are made, and guests are invited to picnic under the estate's many trees. Yalumba boasts over 160 years of family winemaking.
You're likely to run into gangs of local winemakers trying one another's newest -- or oldest -- bottles at Vintners Bar & Grill in Angaston. There's always a chance you will run into us as well; even though we have just released the first edition, we're already getting to work on the second. If you're in the mood for Eden Valley Riesling, go for the tuna sashimi with wasabi or prawn salad with chilies, but if a Barossa Valley Shiraz or Cabernet Sauvignon is more your style, than simply grilled locally-raised beef or lamb is sure to complement your choice perfectly.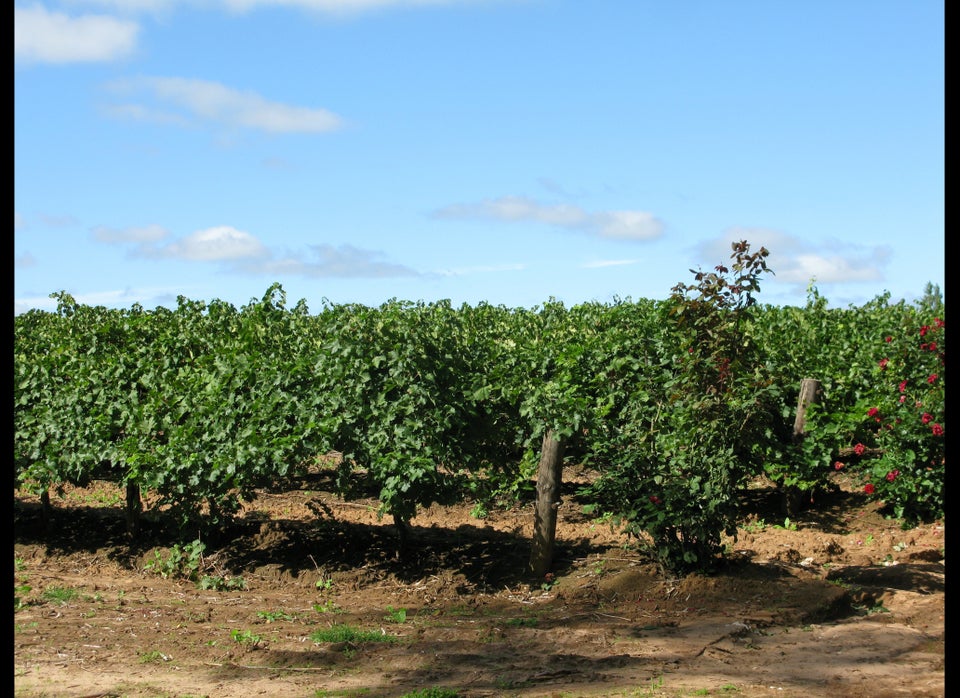 A Visit to South Australia's Barossa Valley