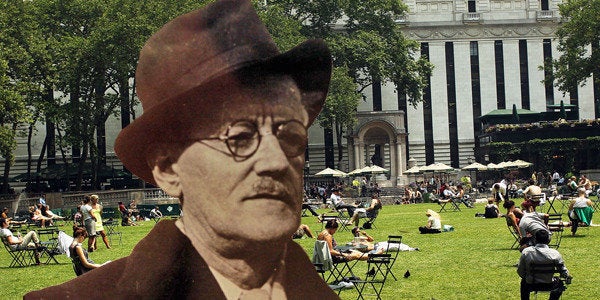 Bloomsday, the annual holiday commemorating the events of James Joyce's Ulysses (which takes place on June 16, 1904) is this Thursday. And New York is playing host to many nerdy Joycean events to satisfy the deep and strange desire to commune with the few others who actually finished, and understood, the book.
You could, if so inclined, reenact the epic novel on your own -- go to a funeral, buy a used romance novel at a bookstore, go to a pub and fight a one-eyed drunk, watch a gimpy woman at Tompkins Square Park (just don't get caught masturbating, though [fireworks a plus]).
Or, you can just do one of these things:
30th Annual Bloomsday On Broadway
Over 100 actors bring the book's 18 episodes to life with over twelve hours of staged readings and Q&A's.
Peter Jay Sharp Theatre

Thu, Jun 16 at 12 pm
$25; Member $20; 30 & Under $15
Radio Bloomsday
Or! You can stay in, and instead of meditating on your cuckoldry in the bathtub, turn on WBAI 99.5 FM and listen to a broadcast of the book from 7pm to 2am. Hudson Yards Cafe will also be broadcasting the event if you want to be among the Lotus Eaters.
99.5FM, 7pm-2am
The Bloom In Bloomsday
Leopold Bloom was, let's not forget, a Jew living in Dublin. Tablet, the Jewish blog, is hosting an event at Housing Works Bookstore at which Joshua Cohen, Deb Olin Unferth and actors from the New Yiddish Repertory Theater perform will read and perform, respectively. Drinks too! Not free, but for a good cause.
Housing Works Bookstore
126 Crosby Street
(212) 334-3324
A Bloomsday Breakfast in Bryant Park
How about some free Irish breakfast to accompany readings from the novel? Or maybe some music and dancing? Ok then! Then do this. Just RSVP first (if breakfasting).
Avenue of the Americas at 42nd Street.
8 to 10 a.m.
Reservations (212) 757-3318, Ext. 202
bloomsday@imagineireland.ie.
There are more events around the city, but you've probably already stopped reading this. If not, go here for more.