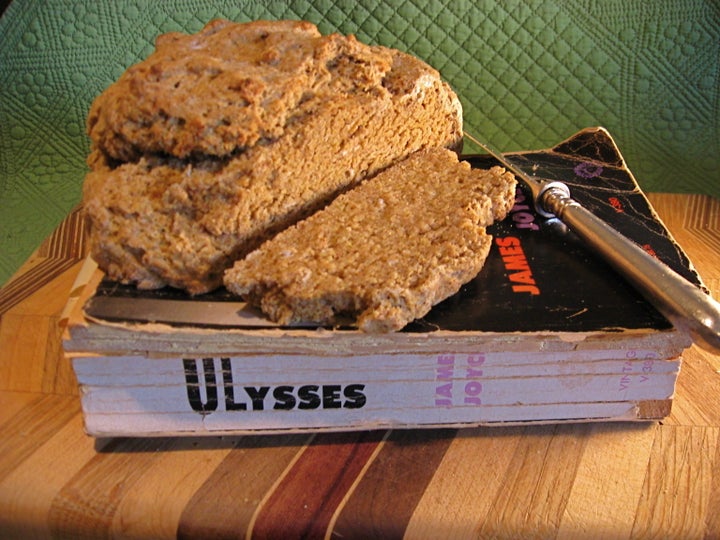 "Don't eat a beefsteak. If you do the eyes of that cow will pursue you through all eternity." This isn't me talking or even PETA's latest ad campaign. The line comes from James Joyce's 1922 classic Ulysses.
Ulysses takes place in the course of one day, June 16, 1904, when Leopold Bloom, Joyce's hapless hero walks around Dublin, overhears people on the street like the vegetarian quoted above, meets Stephan Dedalus, gets good, drunk and obstreperous, then comes home to his lusty wife, Molly. And you're thinking, what does this have to do with me?
Wednesday, June 16, is Bloomsday, celebrated all over Dublin and even on this side of the pond by lovers of literature and hibernophiles like me. Bloomsday features marathon readings of Ulysses and, being Irish in origin, involves a fair amount of beer. That's okay. Beer's vegetarian. Corned beef and cabbage is not. Nor is it Joycean. Leopold Bloom wouldn't have any part of it. He ventures into The Burton, a Duke Street pub for lunch, smells "pungent meatjuice," sees someone "chump chop from the grill. Bolting to get it over," hears a man order "One corned and cabbage," and leaves. "Couldn't eat a morsel here."
As we learn at the beginning, "Mr. Leopold Bloom ate with relish the inner organs of beasts and fowls. He liked thick giblet soup, nutty gizzards, a stuffed foast heart, liver slices fried with crustcrumbs, fried hencod's roes. Most of all he liked grilled mutton kidneys which gave to his palate a fine tang of faintly scented urine."
Clearly Bloom doesn't start out vegetarian, though "They say it's healthier." However, after witnessing the meatfest at The Burton, Bloom, like all great characters in fiction, has a change of heart. He heads to Davy Byrne's on Grafton Street, a very real establishment in business to this day. He orders a Gorgonzola sandwich, "a nice salad" and a glass of burgundy. "Mr. Bloom ate his strips of sandwich, fresh clean bread. . . pungeant mustard, the feety savour of green cheese. Sips of his wine soothed his palate." Thus restored, Bloom decides, "After all there's a lot in that vegetarian fine flavour of things from the earth."
Great literature can inspire. Let Ulysses inspire you to go meatless. For your health, for the environment, for compassion or even for Bloomsday. Celebrate June 16 with beer, by all means, but also with "weggebobbles and fruit," as Bloom puts it. "It's healthier." As his wife Molly puts it at the novel's orgasmic conclusion, yes.

Irish Soda Bread

One of Ireland's true culinary treasures, soda bread is greater than the sum of its parts, with an almost Zenlike complexity. The delicate tang of the bread plays off the rustic crunch of the crust. It's so easy that many Irish households make it fresh every day -- or they used to, back in Joyce's day. There's no yeast, so there's no aggravation.

1-1/4 cups all-purpose flour (work in more if necessary)
1 cup whole wheat flour
1/2 cup oatmeal
1/4 cup toasted wheat germ
1-1/2 teaspoons baking soda
1/4 cup (1/2 stick) butter, softened
1-1/3 cups plain yogurt

Preheat oven to 425.

Grease a 9" pie pan. Soda bread is traditionally baked in a round. If it's a loaf you're after, grease a 9 x 5" loaf pan.

Sift together dry ingredients. Work in softened butter until just combined and the mixture has the texture of coarse crumbs. Using a wooden spoon or your hand, mix in yogurt. Knead just so it all comes together, no more than a minute. Add another handful of flour if dough is sticky. Dough will be thick.

Press into shape in greased pan. Resist urge to smooth dough. Irish soda bread is rustic and not meant to be prettified.

Bake for 30 minutes, until top is brown and crusty. Slice thin.

Note: A perfectly creditable vegan version of soda bread can be made by substituting
vegan margarine for butter and plain soy or rice milk with 1 tablespoon apple cider vinegar for the yogurt.

Gorgonzola Sandwich, Davy Byrne's Pub-Style

1 loaf Irish soda bread, sliced
1 pound Gorgonzola cheese
kickass Dijon mustard
lettuce
tomato
unsalted butter, softened
fresh ground pepper to taste

Butter the bread lightly and add a layer of mustard. Don't skimp here. Bloom doesn't. "A warm shock of heat of mustard haunched on Mr. Bloom's heart."
Lay on lettuce leaves, thinly sliced tomato and cheese. Top with a grind of pepper and top with another layer of bread.
Popular in the Community