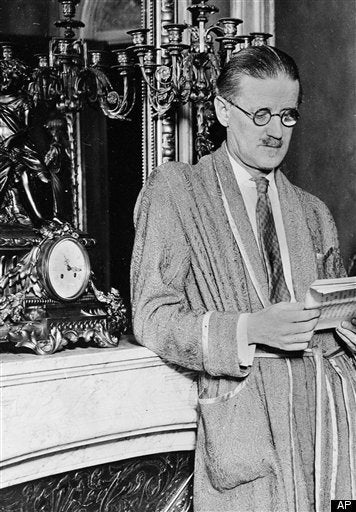 What does a Joycean look like? The best possible answer could have been could witnessed yesterday morning at 2 AM when a marathon seven-hour Bloomsday event finally ended at the Symphony Space Arts Center on the Upper West Side.
Bloomsday is a celebratory date for the literary world, an annual celebration of Irish author James Joyce and his massively influential modernist novel, Ulysses. The novel takes place during the course of one day in Dublin, following a man named Leopold Bloom. The novel's innovation, revolutionary structure, scope, and ambition have earned it a title as one of the most important works of all time. Symphony Space has held one of New York's premier Bloomsday events for the last 26 years.
This year's "Bloomsday on Broadway" animated the purposeful parallels between Joyce's novel and Homer's Odyssey through live readings and performances. Among those who spoke were Stephen Colbert, Ira Glass, Colum McCann, and Fionnula Flanagan who traditionally closes the event with a prodigious reading of the novel's final chapter, Molly Bloom's two-hour monologue. Audience members furtively followed the performances in their large worn texts, and looked up references in accompanying novel guides. Intermissions were musical, accompanied by soft Irish ballads.
People often say that Ulysses is a work best read aloud, as it is easy to get lost in the complexities on the page. One of the book's most difficult chapters, "Circe," was adapted into a short play, with actors personifying the thoughts and fantasies that appear throughout the chapter. Eilin O'Dea brought the novel's notorious "Nausicaa" chapter to life. Seated on a stool she passionately acted Gerty MacDowell, sitting on the beach observing Leopold Bloom, her perverted admirer, as he watches her.
Stephen Colbert performed the Cyclops scene from the Odyssey, a scene that gets paralleled as a pub fight in Ulysses. As Odysseus, he rose to intensity when the chapter's violence climaxed and he told of "boring a stake through the Cyclops' eye until boiling blood rushed around it."
The night progressed and the performances continued. As midnight approached the packed auditorium began to empty. After a performance of Ulysses' Ithaca chapter the stage was cleared and a small carpet was placed onto the center of the stage. On it were placed a couch and a footrest. Fionnula Flanagan took the stage barefoot and seated herself. In her hand was a tome of pages. She began reading Molly Bloom's monologue and only the most devout Joyceans remained.
Calling all HuffPost superfans!
Sign up for membership to become a founding member and help shape HuffPost's next chapter