The manufacturing executives and local officials at my table at the Cleveland City Club know what they need from an energy system. They want power that is affordable, reliable -- and they understand that long term means clean. They don't want a war between their communities and the generating facilities that serves their plants -- and they have a suspicion that much of what they pay for in their utility bills is wasted.
What they don't understand is why these wishes seem so unattainable. They watched their utility bills drop with the price of gas -- which made sense -- but now rates are going up, because their power company, First Energy, doesn't deliver power reliably so something called the "capacity rate" is soaring 273 percent, where elsewhere in the region these rates crept up only 10 percent. They are excited that Cleveland -- and the federal government -- are pioneering an off-shore wind farm on the shallow but very windy waters of Lake Erie. But they are puzzled that after the three business members of the states "Third Frontier Commission" voted for Ohio to join federal and local government, their four state government represented voted the idea down, 4-3.
They know that with technical support and access to finance they could save a lot of the electricity they currently pay for -- and that John Kasich, their conservative Republican government favored such a program. But they also know that the same utility -- First Energy -- that is raising their rates because it can't guarantee enough power opposed energy conservation funding and tried, over business, labor and environmental protests, to gut the program. So it cannot deliver power, but doesn't want to help them save it.

As the Ohio Environmental Council warned the Governor of this assault, "Weakening Ohio's standard will increase energy costs for all ratepayers and reverse your efforts to enhance the competitiveness of Ohio's manufacturers through industrial efficiency."
(They may not know that, according to calculations by Ohio Sierra Club energy consultant Ned Ford, every dollar Ohio has invested in energy conservation has returned over $14 in saved power, reduced bills for new generation, and lower fuel bills. But it still makes sense to them.)
They know something is wrong. They have come for the launch of the book tour for Remaking America, the second volume in the Alliance for American Manufacturing's campaign to restore America's manufacturing pre-eminence. We begin with a lunch featuring a conversation among four of the book's authors - myself, AMA President Scott Paul, Penn State's Dr. Irene Petrick, and Professor Sridar Kota from the University of Michigan. The conversation, typified by Dr. Petrick's comment that "Manufacturing is sexy again" was, overall, optimistic. All four panelists arguing that once the public understands that America's manufacturing doldrums came not from excessive wages or unionization -- both Germany and Japan pay higher wages than the U.S. -- the country is motivated to go after the real problems, issues like chaotic and patchwork tax policy, poor workforce preparation, dilapidated infrastructure, hostile trade policy.
Our panel also argues that the U.S. has real opportunities -- the coming emergence of additive, manufacturing -- what Petrick calls "Internet manufacturing" -- the breakaway of American oil and gas prices from OPEC cartel control, and overwhelming public support for a manufacturing comeback.
After the formal City Club event, the authors each host a table, mine of Cleveland civic leaders concerned with energy and manufacturing. In this less formal table talk, the imperative need to fix America's utility sector stands out like a sore thumb.
The manufacturers at the table don't know what they can do affordably to back up their all too-frequent black-outs or why First Energy should charge them more for poorer service. The city officials report that too often when a new manufacturing plant seeks to locate in their area the utilities queer the deal by saying they simply can't handle the load with the present grid. The prospects for modernizing the grid seem dim -- Friday's New York Times quotes a former federal energy regulation as saying that calling the grid "Balkanized" is "an insult to the Macedonians." The U.S. electric system has hundreds of owners and thousands of major players, and each one is determined -- and seemingly empowered -- to stop investments in modernization if progress will reduce some unfair advantage or special interest.
The utilities are clinging to their old monopolies. AEP is trying to shift outmoded coal plants which it deregulated back into its rate base in Kentucky and West Virginia, so that it can continue to make profits on assets which are no longer useful. First Energy shuts down plants in Ohio in precisely the places where it has the least reliability, so it can profit from higher rates. (This kind of monopolistic "rent-taking" is, according to Nobel Prize laureate Joe Stiglitz, one of the principal sources of inequality in the world and one of the major features of current "incumbent" capitalism.)
When a conservative Republican governor like John Kasich tries to encourage industrial energy efficiency, the utility fights back, and when the Obama Administration and Cleveland opt for reliable, innovative Lake Erie wind, Kasich tries to get in their way.
America's manufacturing revival, which should be turbocharged by cleaner and cheaper energy, and leaner, more efficient production processes, twists in the wind helplessly, even though none of the parties admits that they want anything other than its rebirth.
The coal industry runs advertising campaigns blaming EPA regulations for the outrageous monopoly behavior of America's power titans. And the utilities, threatened with the arrival of a new generation of distributed, non-monopoly sources of clean electricity, ignore the tell tails in Lake Erie's gusts -- the times they are a changing.
Can we still do something as big as create a 21st-century clean power economy?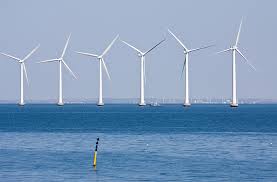 A veteran leader in the environmental movement, Carl Pope spent the last 18 years of his career at the Sierra Club as CEO and chairman. He's now the principal advisor at Inside Straight Strategies, looking for the underlying economics that link sustainability and economic development. Mr. Pope is co-author -- along with Paul Rauber --of Strategic Ignorance: Why the Bush Administration Is Recklessly Destroying a Century of Environmental Progress, which the New York Review of Books called "a splendidly fierce book."
REAL LIFE. REAL NEWS. REAL VOICES.
Help us tell more of the stories that matter from voices that too often remain unheard.