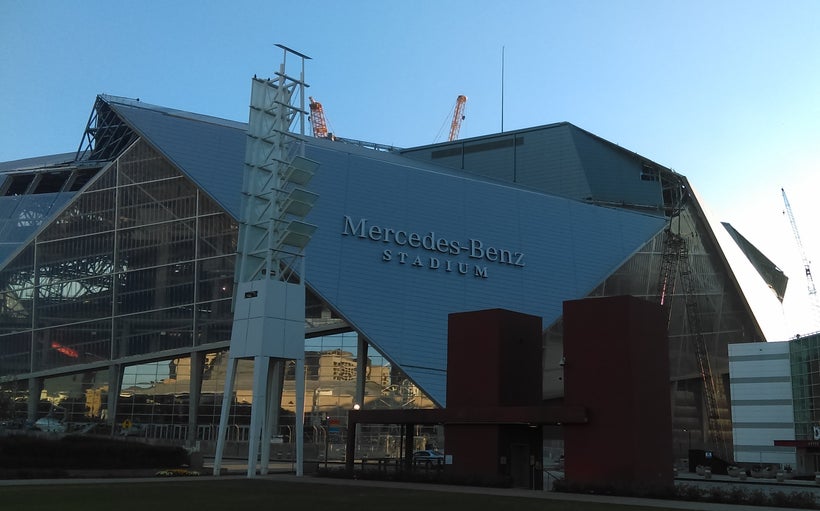 It's hard to say which was tougher for President Donald J. Trump: the weak reception from the crowd at the College Football Championship, or the flack he received for not knowing the National Anthem that he claims to love so much.
But people aren't singling out Trump for unfair treatment. Poor singers of the National Anthem have been skewered in the past, and Democratic Presidents and First Ladies have also been booed in other sporting events. The question is whether one learns from the event.
Remembering Robert Goulet
Most of you know Muhammad Ali. Some may even know that he knocked out Sonny Liston to win the Heavyweight Championship. Few perhaps know about the train-wreck the Ali-Liston rematch was, as well as one of the most disastrous singings of the National Anthem.
The match was originally supposed to be in Boston, Massachusetts, but fears of organized crime cutting in prompted officials to move it to Lewiston, Maine, of all places. Few paid, but many found a way to sneak in for free. Some allege that Liston was knocked out very early with a "phantom punch."
But nothing could top the horrible rendition of the National Anthem by noted American-born, Canadian-bred singer Robert Goulet. Whether he had one drink too many, or whether he sweated the lyrics off his hand where he had scrawled them, or just plain nerves, Goulet seemed to make up the words as he went along, with lines such as "The Dawn's Early Night."
One wonders whether Leslie Nielsen's humorously bad rendition of the Star-Spangled Banner, while masquerading as "famous opera singer Enrico Palazzo," was inspired by this in the film "Naked Gun." Given that Goulet played the villain in the sequel, Naked Gun 2½, it's likely that it was no coincidence.
President Donald Trump may not have been that bad, but it was clear from the way his mouth moved only occasionally, and his body language, that he didn't know the National Anthem either. Of course, a majority of Americans don't either, but not all have wrapped themselves in the National Anthem over the last year. It would have made sense to have at least known the words, knowing that national television would cover his much publicized visit to the College Football National Championship Game between Georgia and Alabama. But that wasn't the case. Donald Trump Jr. tried the defense that "It's what everyone does." It didn't work.
Booing Bill, Michelle, and Jill
Even before he mouthed a few words of the National Anthem, President Trump received a decidedly mixed reaction from the crowd. From the conservatives I was watching the event with, there was open speculation on whether the crowd was booing or not. After listening to the reception the Zac Brown Band got before they sang, we could all tell they got a lot more cheers than Trump did.
"When you lose, don't lose the lesson." This quote, sometimes attributed to the Dalai Lama, is instructive for politicians who get less than a rousing reception at public events. Lady Bird's ordeal showed President Johnson that he would need to work hard to keep the South. While GOP candidate Barry Goldwater won five Electoral College states with 47 votes, Johnson took the other six Southern states for 81 Electoral College votes (winning Virginia and Florida, which heckled Lady Bird the most), ensuring Goldwater's defeat.
Clinton may have seen South Carolina as a lost cause in 1992, but the Obama-Biden team learned that Florida was not yet in the bag. They would have to hustle to win the state, which they narrowly did in 2012.
Trump may grouse about getting few cheers in Atlanta, in a crowd of Crimson tide and Bulldog fans. But if he's smart, he'll realize that endorsing two candidates who lost statewide races in Alabama was no aberration. And the near win by Jon Ossoff in a Georgia congressional district held by Republicans for decades wasn't a fluke. The South isn't the pro-Trump place it was in 2016, and may not be in 2018 and 2020 unless he cleans up his act.
John A. Tures is a professor of political science at LaGrange College in LaGrange, Georgia. He can be reached at jtures@lagrange.edu. His Twitter account is JohnTures2.
Calling all HuffPost superfans!
Sign up for membership to become a founding member and help shape HuffPost's next chapter
This post was published on the now-closed HuffPost Contributor platform. Contributors control their own work and posted freely to our site. If you need to flag this entry as abusive,
send us an email
.