Just in time for National BLT Sandwich Month (April), Lay's has nationally released a new potato chip flavor: Classic BLT.
HuffPost Food gladly sampled a bag and we have to hand it to Lay's -- these taste pretty much like a chip version of a BLT. It's eerie that a potato chip can emulate the taste of a sandwich. The flavors of toasted bread, bacon, lettuce, tomato and mayonnaise are all evident.
The thing that makes a Lay's classic potato chip so addictive is that it isn't too complicated. Adding a frighteningly accurate BLT flavor forces you to stop and examine each chip, which gets tiresome. Once you get over the fact that it tastes pretty authentic (well, as authentic as a sandwich turned into a potato chip can be), you won't necessarily feel compelled to eat the whole bag.
Here's the nutrition label: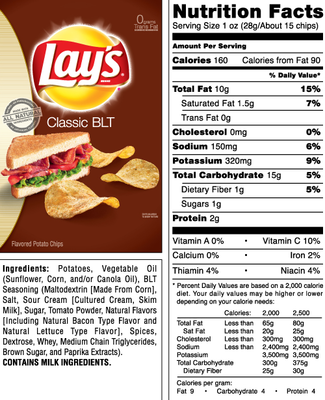 And here's how a chip looks: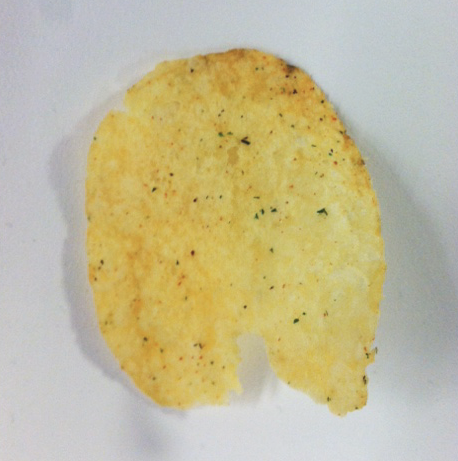 While people might enjoy a BLT sandwich, and people definitely enjoy potato chips, it remains to be seen if the two items should be combined. Perhaps these BLT chips are another example of the desire to modernize traditional American food to something else completely (see: hot dogs + delivery pizza). And, actually, 7-Eleven launched hot dog potato chips last year. If this trend continues, the creation of a single food that has the flavor of 10 different dishes seems imminent. All hail the hamburger-flavored, hot dog-topped, bacon-sprinkled Subway 12-inch Thanksgiving turkey sandwich (with a side of pizza-flavored ribs).
REAL LIFE. REAL NEWS. REAL VOICES.
Help us tell more of the stories that matter from voices that too often remain unheard.
BEFORE YOU GO