U.S. Marine Corps Capt. Katie Higgins' dream as a little girl was to follow in her family's footsteps and become a pilot.
Her dream came true in 2011, when she received her wings. But last weekend, she flew even higher when she became the first female pilot with the prestigious Blue Angels.
"I saw the Blue Angels fly when I was a young kid," Higgins, a third-generation military aviator, told CBS News. "I was definitely inspired by that."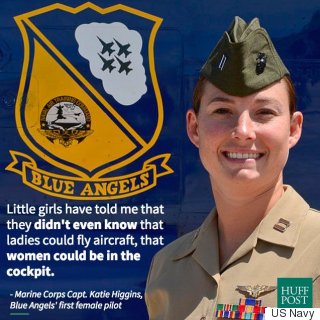 "I think by including a lady on the team, that just shows little girls and guys that women can do whatever they put their mind to," Higgins told CBS News. "Little girls have told me that they didn't even know that ladies could fly aircraft, that women could be in the cockpit."
Adding a woman to the flight roster of "one of the most elite outfits in U.S military aviation" is historically significant, said Robert Thomas, curator of Indiana's National Military History Center.
"To get added to that group is extraordinary, seeing how far the military has come," Thomas told The Baltimore Sun last year when Higgins' addition to the team was initially announced.
Higgins told CBS News she didn't join the team with the idea of breaking barriers in mind.
"It just so happened that I was the first female to perform in a demo here, and if that is inspiring to people, if that's inspiring to little girls around the country, then I'm doing my job," she said.
Higgins, who has flown over 400 flight hours in combat and almost 1,000 since she joined the Blue Angels last September, said her goals of being a pilot didn't truly manifest until her second-class midshipman year at the Naval Academy when she flew her first non-commercial aircraft.
"It was really intimidating but one of the best experiences I've ever had," Higgins told The Baltimore Sun last year. "I could say I had a goal to do it because of my dad, but until I did it I didn't know. It was a really cool experience."
The Blue Angels has been retooling its culture and image since last year, when the Navy found that the commanding officer at the time fostered a workplace environment that condoned pornography and allowed sexual harassment.
REAL LIFE. REAL NEWS. REAL VOICES.
Help us tell more of the stories that matter from voices that too often remain unheard.
BEFORE YOU GO
PHOTO GALLERY
U.S. Service Women Through The Years