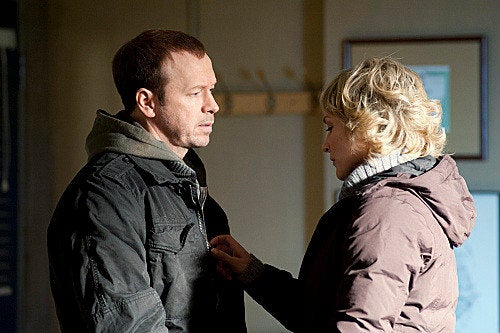 Being a part of the Reagan family on CBS' cop drama "Blue Bloods" isn't easy, but it looks like things are going to get even tougher for the TV cop clan after an unexpected death shakes up the family.
On the Feb. 24 episode, "The Life We Chose," a close friend of the Reagan family, an undercover detective, is killed in the line of duty. Linda (Amy Carlson) and the kids begin to worry about Danny (Donnie Wahlberg), whose relentless search for the killer starts to take a toll on his emotional state.
"It's always personal for cops when another cop goes down," Wahlberg told HuffPost TV during a February set visit. "Especially for this family because Henry is a former police commissioner and Frank is the current police commissioner. There's a brotherhood among all police officers. When one goes down, it affects them all. It always hits home with the Reagans, but this one hits even closer to home because it's Danny's friend."
When Danny starts to unravel, he'll have to rely on his family to help him put the pieces back together.
"I think we can come to expect certain things from Danny when he goes on these one-man missions, but those missions are starting to evolve into something more," Wahlberg said. "Ultimately, he has to get help, not just from his partner, but from his family as well. I think that's one of the strengths of the show this season. There were times last year where we could do an episode where Danny goes ballistic, and that's it, but it's not just that anymore. The show has really matured. Everyone is affected by these situations now; it's not just Danny."
In fact, Amy Carlson, who plays Danny's wife Linda, was bumped from a recurring character to a series regular for Season 2. As Carlson said herself, Linda is no longer a "pass the beans" character amidst the Reagan family drama.
"There's a lot of struggle and strife for Danny and Linda this season," Carlson told HuffPost TV on set. "We've really seen their relationship tested, but we haven't really seen Linda come out and show who she really is in a while, so it was nice for me to finally come home to Linda and who she is. She's a woman who's in love with her husband, completely supports him as a cop's wife, and she's a very strong support system for Danny. It was refreshing to return to her roots."
As for Police Commissioner Frank Reagan (Tom Selleck), he'll have his hands full in a later episode in March when he's introduced to a new love interest Melanie, played by "Gossip Girl's" Margaret Colin.
Melanie is a high profile investigative reporter for an international cable news network who has been involved with New York's top cop in a largely long-distance and very discreet romance. The couples' private and professional lives collide when a dangerous assailant targets Melanie and Frank is tasked with hunting him down.
"This isn't Frank's first love interest, but I don't think that we did Andrea [Roth]'s character justice in the first season," Selleck told HuffPost TV of his character's former girlfriend, reporter Kelly Davidson. "It all felt kind of rushed, and while I can't say whether or not Margaret will be recurring, I can say that this relationship says a certain thing about Frank. When I walked on the set for the first time, props gave Frank a wedding ring. He lost his wife five years ago. That's a clue to who he is. He's still wearing his wedding ring. He's got some issues. He's still beat up by that."
For Selleck, however, he'll continue to make Frank as flawed as he can. In an age where bumbling fathers rule the small screen, Selleck sees Frank Reagan as one of the more realistic dads on TV.
"A lot of fathers on TV now are idiots," said Selleck. "Frank is flawed, and I will continue to make him flawed, but he's not an idiot. He tries to be a good dad. I think of my dad a lot while playing Frank. As an adult, it's a unique prospective to have now."
"Blue Bloods" airs Fridays at 10 p.m. EST on CBS. Watch the promo for the Feb. 24 episode, "The Life We Chose," below.
Related
Popular in the Community