Yes, absolutely, a blue cheese is going to be strong, but that ain't the half of it.

A well made strong cheese should communicate much more than an impact to your palate, and in the last five to seven years or so, the American marketplace has been blessed with a wealth of different blue cheeses, each offering a wide range of unique flavors.

All current blue cheeses get their look and strength from the introduction of a strain of penicillin that is added to the cheese either by injection once the cheese has taken shape or to the curds early on in the cheesemaking process. This gives each of them a distinctive overtone of earth and pepper, which is the calling card of most quality blues, but there's much more to them than that.

It's worth noting that penicillin has been around for less than 85 years, and the three best known classic blues, Roquefort from France, Gorgonzola from Italy and Stilton from England have been around for several centuries. Before penicillin, bluing came naturally from the humidity in the caves where cheeses were aged.

Gorgonzola, Roquefort and Stilton are still three of the best blues, but many, many cheeses are made by those names and it's crucial to look for high-end varieties; otherwise you might get a cheese that imparts nothing but a wallop to your palate. The gorgonzolas from Luigi Guffanti, the Carles or Vieux Berger Roqueforts are an echelon about most of the rest, and Colston Basset Stilton if the true king of the English blues. A great Roquefort will be sweet to an almost potent degree owing in part to being made from sheep's milk. Gorgonzolas are rich and have a creamy mouthfeel. Stilton is chockful of stout grassy overtones.

Some of the better other blues from Europe have almost as illustrious history as th classic counterparts. Bleu D'Auvergne and Fourme D'Ambert from France have been around for centuries but aren't as well known as Roquefort. Others like Stichelton, Beenleigh Blue and Harbourne Blue from England are relatively new. Harbourne and Beenliegh are made at a farm in Devon that began in the early '80s, and Stichelton arrived in America only four years ago. It's a cheese made from the original recipe of Stilton (recipes for cheese evolve over time and in contrast to its original form in the 18th Century, Stilton is now made from pasteurized milk). Stichelton by contrast is made from raw milk and in addition to the flavors of Stilton, it has a wonderful gaminess.

For years the discussion of blue cheesemaking in America began and ended with Maytag Blue, the stalwart Iowan blue that has a distinctive but concise flavor. Now cheeses like the Rogue River Blue from Oregon and Bayley Hazen Blue from Vermont head a growing roster of domestic blues that can stand shoulder to shoulder with their old world counterparts. The Bayley Hazen is made at Jasper Hill Farms in Greensboro, and it is an enticing combination of intensity and butteriness. The Rogue River Blue is a complex cheese that may evoke sense memories of wild mushrooms, woods and grapes as it moves across your palate.

The assertiveness of these cheeses make them ideal pairing companions for sweeter beverages. All but the driest ciders pair well with them, and blues make a stellar match for sweet wines of all varieties. Ports, sherries, sauternes, Auslese Rieslings pair wonderfully with most blues. Pairing blues and beers is vastly misunderstood. Too often publications assume that its best to pair the intense flavors of the blues with the strong, bitter flavors of an India Pale Ale. In my experience, blues go better with the sweetness offered by some stouts like the Brooklyn Black Chocolate Stout or the sugarcane-ish overtones of many fine Belgian beers like Hoften Dormaal Amber.

Until recently, blue cheeses were often the token strong cheese on a cheese plate, but with so much variety available some experts have gone so far to create a different sort of blue plate special. In his book, "Mastering Cheese: Lessons for Connoisseurship From a Maitre Fromager" (Potter), author Max McCalman suggests an all blue cheese plate consisting of Roquefort, Stilton, Fourme D'Ambert, Beenleigh Blue and Rogue River Blue. It's proof that in cheese as in music, getting the blues is actually a very good thing.
About the author: Martin Johnson runs The Joy of Cheese, a series of informal cheese tastings that take place at several New York City bars and at the 92nd Street Y. He has worked in and around cheese for 28 years. He blogs at www.thejoyofcheese.com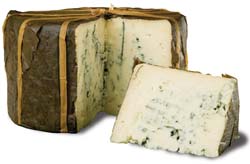 REAL LIFE. REAL NEWS. REAL VOICES.
Help us tell more of the stories that matter from voices that too often remain unheard.