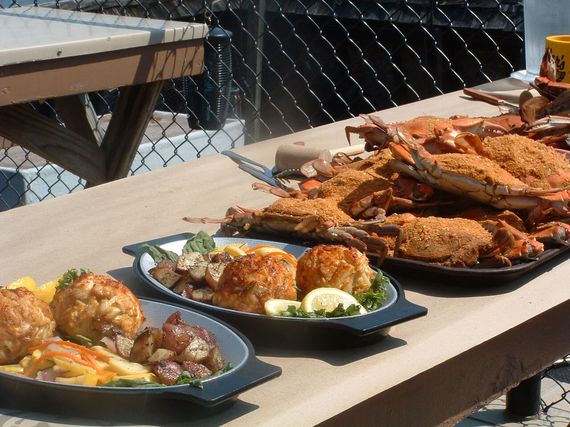 I suspect I am not alone in being helpless to resist ordering crab in every form when eating around Annapolis. Even though the fat Maryland blue crabs--including softshells--are just now coming into season, the restaurateurs of Annapolis are able to maintain a steady supply of the best blue crab from down the coast and the Gulf of Mexico pretty much year round. Thus, did I find myself ordering crab dishes at almost every meal--including breakfast--while visiting the historic city set on the Chesapeake. Here are some of the places, all quite casual but with food far better than you might expect, where I enjoyed them and much else.
Opened in 1998, Galway Bay has all the trappings of a stereotypical Irish pub without seeming in the least kitschy. The brick walls, bare wooden tables and booths, the beer signs, banjos, fiddles, and Irish whiskies--38 of them behind a long polished bar--are key to the genial ambiance, but it's all a lot cleaner and kempt than so many rougher versions of the genre. The owners make a good deal about their being, with no pun intended, green, which is to say it is the first restaurant in Maryland to be certified by Maryland Green Travel.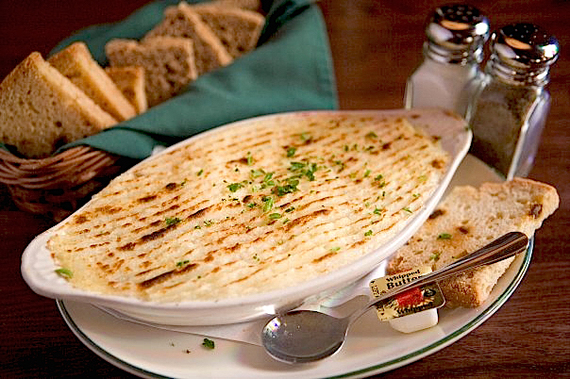 The menu copies the traditions of Irish-American fare, including first-rate corned beef and cabbage with champ mashed potatoes ($18.99), a hearty lamb stew generous with meat ($13.99) and a shepherd's pie ($12.99) that will convince you that this is one of the homiest of dishes when well made with fresh mashed potatoes, seasonings and good butter (above). Of course, there are crab cakes, and they are terrific. In line with its location, there are also daily specials like Chincoteague oysters with a Naptown Brown Ale mignonette ($10) and San Patricio's Porter-laced chili ($11).
For dessert there is a currant-studded bread pudding ($5.99), but you must not fail to have a shot of Galway Bay's proprietary imported egg nog, which has become so famous that they run out of shipments because so many people order it by the bottle.
Open daily for lunch and dinner.


CHICK & RUTH'S DELLY
165 Main Street
410-269-6737
chickandruths.com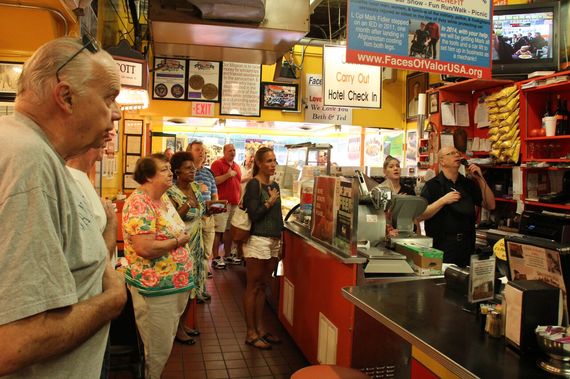 You may think you've seen places similar to Chick & Ruth's, but you've never met anyone like owner Ted Levitt, who can build, dis-assemble, weld, wire, fit, anchor, brick up, light up, and do anything and everything to keep his magnificent folly going after 50 years. Proudly patriotic--everyone stands up to recite the "Pledge of Allegiance" at 8:30 a.m. --familial to his employees and heavily involved with local charities, Ted is a Renaissance Man who has chosen as his life's work to carry on his mom and pop's legacy here by making people happy with good, honest food culled from the best ingredients he can find, no matter what it costs him.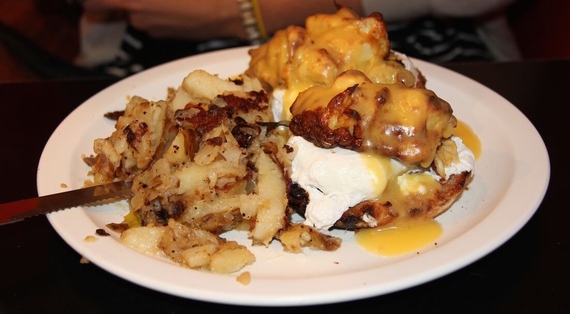 Chick & Ruth's menu is something like a flea market: If you look long enough you'll find exactly what you want, in this case any of 23 just-baked pies ($3.99 a slice), myriad cookies, apple fritters, donuts, 20-ounce shakes ($4.99), and some of the best half-pound crab cakes ($16.99 to $27.99)--all lump crabmeat--in the city. The vast number of sandwiches are all named after politicians (the "Congressman" is made with corned beef and pastrami), and then there are the huge platters of eggs Benedict (right) with crabmeat ($10.99), Belgian waffles ($6.29), nachos ($6.79), Maryland crab soup ($5.99), pizza ($8.50), flatiron steak ($14.99), country fried steak with sausage gravy ($10.99), and just about everything else you could think of.
Open daily for breakfast, lunch and dinner.
BOATYARD BAR &GRILL
400 Fourth Street
410-336-8880
boatyardbarandgrill.comhttp://www.boatyardbarandgrill.com
Photos by John Bildahl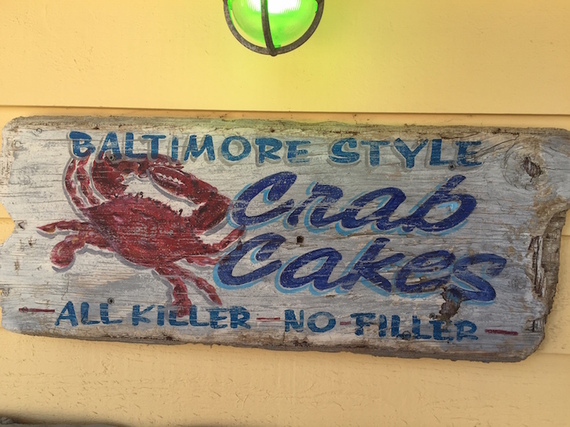 In terms of sheer enthusiasm and customer care, Dick Franyo, owner of the immensely popular Boatyard Bar & Grill, would go arm and arm with Ted Levitt as exponents of Annapolis hospitality. The whole atmosphere, which does indeed resemble a boatyard clubhouse with its flags, marine art and varnished wood, draws you right in, sits you right down and makes you hungrier than you were just a minute ago.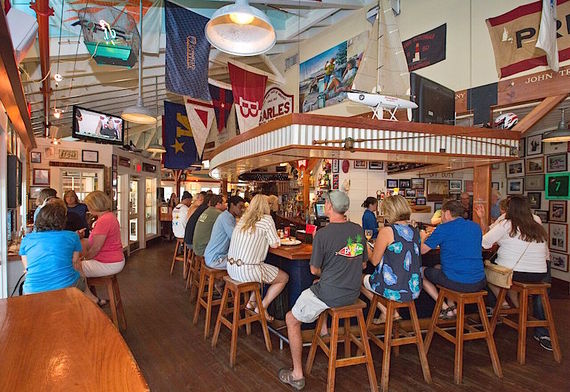 A lot of Maryland eateries claim to serve the best crab cakes in the Chesapeake, but The Boatyard makes a strong case, with the proclamation "ALL KILLER ~ NO FILLER!" The dish is fully six ounces of lump crabmeat, barely coaxed into the form of a cake, served with housemade tartar sauce, fresh vegetables and smashed redskin potatoes (market price). There's more crab done with artichokes, spinach, onion and Parmesan cheese served with crostini, and both the Maryland crab soup, which is tomato based with some bacon and potatoes, and the cream of crab soup laced with Sherry are paragons of those types ($7.99). (Have the "yin/yang" option--a half portion of each soup serve together in the same bowl.)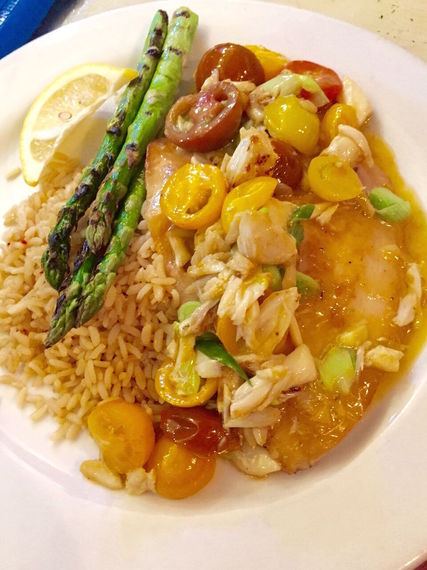 Chef George Betz does a splendid job grilling the local rockfish with mint, lime and rum butter, served with rice, ranchero beans, vegetables and fried plantain. Florida pompano (above) shows well here, sautéed in butter with garlic, cherry tomatoes, lump crab, white wine and a squeeze of lemon juice. West Ocean City mesquite-smoked whitefish takes on good flavor from whipped horseradish, sour cream, and Sriracha sauce served with flat bread crackers.
And while it looks daunting and quite messy, share one huge slice of Smith Island cake, a dense, 15-layer chocolate cake with a long tradition among home bakers in the region, now designated as Maryland's official dessert.
Open for breakfast, lunch and dinner daily.

Photos from Visitannapolis.org