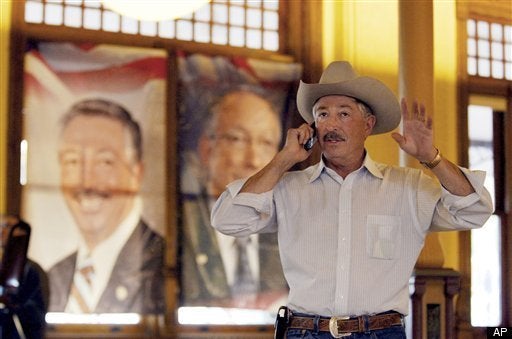 WASHINGTON -- Tuesday was a tough night for Democrats, as they watched Republicans win enough seats to take back the House in the next Congress and began to ponder life under a likely House Speaker John Boehner (R-Ohio). But one group hit especially hard was the Blue Dog Coalition, with half of its members losing their seats.
According to an analysis by The Huffington Post, 22 of the 46 Blue Dogs up for re-election went down on Tuesday. Notable losses included Rep. Stephanie Herseth-Sandlin (D-S.D.), the coalition's co-chair for administration, and Rep. Baron Hill (D-Ind.), the co-chair for policy. Two members were running for higher office (both lost), four were retiring and three races were still too close to call.
"Since they can vote with the Republicans in order to get their way around here, that doesn't sit well with progressives -- who don't want to vote with Republicans ever," Rep. Lynn Woolsey (D-Cali.), co-chair of the House Progressive Caucus, told the Wall Street Journal in July 2009.
In fact, some progressives blamed the Blue Dogs for losses on Tuesday across the ideological spectrum within the Democratic Party.
"From our perspective, our members did all that they could do and really left everything on the field," said Levana Layendecker, communications director of the progressive grassroots organization Democracy for America. "Of course we are disappointed with the results tonight, but not surprised. Unfortunately, progressive champions became collateral damage tonight in a toxic environment created by Blue Dogs who refused to stand up for real change."
The Blue Dog Coalition formed after the Republican Revolution of 1994, with some lawmakers believing that Democrats lost so many seats because the party drifted to the left. It remains to be seen whether the remaining lawmakers will be able to find new members, or whether the Progressive Caucus -- which lost far fewer members, in part because many of them are in solidly liberal districts -- will instead see its hand strengthened.
BLUE DOGS WHO LOST (22)
Mike Arcuri (NY)
Allen Boyd (FL)
Bobby Bright (AL)
Christopher Carney (PA)
Travis Childers (MS)
Kathy Dahlkemper (PA)
Lincoln Davis (TN)
Stephanie Herseth-Sandlin (SD)
Baron Hill (IN)
Frank Kratovil (MD)
Betsy Markey (CO)
Jim Marshall (GA)
Walt Minnick (ID)
Harry Mitchell (AZ)
Patrick Murphy (PA)
Scott Murphy (NY)
Glenn Nye (VA)
Earl Pomeroy (ND)
John Salazar (CO)
Zack Space (OH)
Gene Taylor (MS)
Charles Wilson (OH)
BLUE DOGS WHO STAYED (23)
Jason Altmire (PA)
Joe Baca (CA)
John Barrow (GA)
Dan Boren (OK)
Leonard Boswell (IA)
Dennis Cardoza (CA)
Ben Chandler (KY)
Jim Cooper (TN)
Henry Cuellar (TX)
Joe Donnelly (IN)
Jane Harman (CA)
Tim Holden (PA)
Mike McIntyre (NC)
Jim Matheson (UT)
Mike Michaud (ME)
Collin Peterson (MN)
Mike Ross (AR)
Loretta Sanchez (CA)
Adam Schiff (CA)
Kurt Schrader (OR)
David Scott (GA)
Heath Shuler (NC)
Mike Thompson (CA)
BLUE DOGS WHO RAN FOR HIGHER OFFICE (2)
Brad Ellsworth (IN) -- Lost Senate race
Charlie Melancon (LA) -- Lost Senate race
BLUE DOGS WHO RETIRED (4)
Marion Berry (AR)
Bart Gordon (TN)
Dennis Moore (KS)
John Tanner (TN)
BLUE DOGS IN RACES TOO CLOSE TO CALL (3)
Sanford Bishop (GA)
Jim Costa (CA)
Gabrielle Giffords (AZ)
CORRECTION: An earlier version of this story had Moore losing his seat. Moore is actually a retiring member. We regret the error.
Popular in the Community