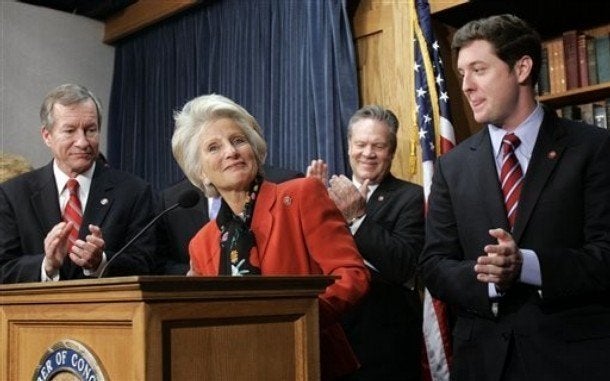 Call it service journalism. The updated membership list for the influential conservative Democratic group, the Blue Dog Coalition, is available below.

Progressive bloggers, who pound the group mercilessly, have been searching for an updated list of members online. By popular demand, then, we asked Blue Dog spokesperson Kristen Hawn to forward the list to the Huffington Post.
It includes 51 members in total.
Rep. Stephanie Herseth Sandlin (D-S.D.) is co-chair for administration, Baron Hill (D-Ind.) is co-chair for policy, and Charlie Melancon (D-La.) is co-chair for communications. Sophomore Rep. Heath Shuler (D-N.C.) rounds out the leadership list, serving as Blue Dog Whip.
The Blue Dog Coalition was founded in 1995, following the GOP sweep of Congress, with the intention of claiming the center for the Democratic Party. Its membership is largely made up of Democrats elected in districts that voted for Bush in 2004.
Democrats currently hold a 75-seat advantage over Republicans in the House -- 254 to 178. But 218 votes are needed to pass legislation, meaning that if the GOP stays united, Democrats can only lose 36 members on a given vote. Three seats are vacant, with a tightly contested race in upstate New York to take place Tuesday in a district that trends heavily Republican. The seat's former occupant, Sen. Kirsten Gillibrand (D-N.Y.), was a Blue Dog. Scott Murphy, the Democrat seeking to replace her, has said he will become a Blue Dog too.
Here's the full updated membership:
Blue Dog Leadership Team

Rep. Stephanie Herseth Sandlin, Blue Dog Co-Chair for Administration
Rep. Baron Hill, Blue Dog Co-Chair for Policy
Rep. Charlie Melancon, Blue Dog Co-Chair for Communications
Rep. Heath Shuler, Blue Dog Whip

Blue Dog Members

Altmire, Jason (PA-04)
Arcuri, Mike (NY-24)
Baca, Joe (CA-43)
Barrow, John (GA-12)
Berry, Marion (AR-01)
Bishop, Sanford (GA-02)
Boren, Dan (OK-02)
Boswell, Leonard (IA-03)
Boyd, Allen (FL-02)
Bright, Bobby (AL-02)
Cardoza, Dennis (CA-18)
Carney, Christopher (PA-10)
Chandler, Ben (KY-06)
Childers, Travis (MS-01)
Cooper, Jim (TN-05)
Costa, Jim (CA-20)
Henry Cuellar (TX-28)
Davis, Lincoln (TN-04)
Donnelly, Joe (IN-02)
Ellsworth, Brad (IN-08)
Giffords, Gabrielle (AZ-08)
Gordon, Bart (TN-06)
Griffith, Parker (AL-05)
Harman, Jane (CA-36)
Herseth Sandlin, Stephanie (SD)
Hill, Baron (IN-09)
Holden, Tim (PA-17)
Frank Kratovil, Jr. (MD-01)
McIntyre, Mike (NC-07)
Marshall, Jim (GA-03)
Matheson, Jim (UT-02)
Melancon, Charles (LA-03)
Michaud, Mike (ME-02)
Minnick, Walt (ID-01)
Mitchell, Harry (AZ-05)
Moore, Dennis (KS-03)
Murphy, Patrick (PA-08)
Nye, Glenn (VA-02)
Peterson, Collin (MN-07)
Pomeroy, Earl (ND)
Ross, Mike (AR-04)
Salazar, John (CO-03)
Sanchez, Loretta (CA-47)
Schiff, Adam (CA-29)
Scott, David (GA-13)
Shuler, Heath (NC-11)
Space, Zack (OH-18)
Tanner, John (TN-08)
Taylor, Gene (MS-04)
Thompson, Mike (CA-01)
Wilson, Charles (OH-06)
Calling all HuffPost superfans!
Sign up for membership to become a founding member and help shape HuffPost's next chapter