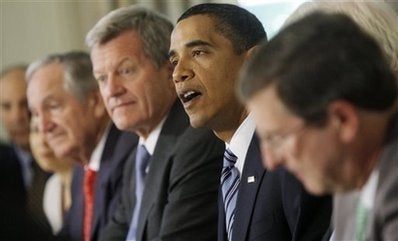 The Blue Dog Coalition issued a statement that said it would only support the public health care option as a fallback measure that would be triggered sometime down the road if private insurers don't meet a particular set of goals.
The backsliding took advocates of reform by surprise because 20 members of the coalition had previously signed a pledge expressing their support for a public option without a trigger. The statement was written and organized by the reform coalition Health Care for America Now (HCAN), which strongly opposes a trigger and sees it as an industry plot to strangle a public option in the crib.
Blue Dogs, by their charter, need two-thirds of their 51-member caucus to approve a position before it can be officially adopted. With 20 Blue Dogs backing a public option, they would be short several votes if everyone stuck to their pledge in the closed-door meeting.
A senior Blue Dog staffer, however, said that when the coalition first met to discuss the set of principles, they decided to stake out a negotiating position rather than draw a firm line.
"The sense in the room when these principles were drafted was that the coalition was shooting a bit past where they want to end up," said a top Blue Dog aide. "The final product is obviously going to be delivered through a negotiation and an ultimate compromise meaning the principles listed are much more of a starting place for the negotiation than they are an intractable position."
Another Blue Dog aide whose boss signed the HCAN pledge said that Blue Dogs have told staff that they are not against a public plan and want to see health care reform happen this year. The principles laid out last week are just the beginning of negotiations, the aide said, and an attempt to hold the industry accountable for its pledge to trim $2 trillion from health care spending. The trigger the Blue Dogs support would be pulled more readily than one the industry might prefer.
The Huffington Post contacted the 20 Blue Dogs who originally signed onto the public option but have begun to backtrack in the days since. Unfortunately, the calls yielded little response.
Rep. Patrick Murphy (Penn.) still backs a public plan without a trigger, said his spokeswoman Kate Hansen. "Congressman Murphy stands with President Obama in supporting the inclusion of a public option without a trigger in healthcare reform legislation, and believes it would be a good way to introduce transparency, competition, and cost-control into the insurance market," she said.
Rep. Loretta Sanchez (Calif.) said she is waiting to see what emerges from committee before taking a stand, though she didn't back off her HCAN pledge.
"I believe the ultimate goal of this health care debate is to help all Americans gain access to more affordable, higher quality care than they are currently getting," she said in a statement to Huffington Post. "I will continue working with local health care advocates in my district and my Blue Dog and Congressional colleagues to ensure we stabilize and strengthen health care in a fiscally responsible manner. However, this debate is still taking shape, and I will wait to judge the Ways and Means and Energy and Commerce Committees' final proposal on its merits."
Members of Congress are traveling from their districts to Washington, D.C. during the day on Monday and several were on plains for much of the day. If they comment when they land, we'll update this story.
Beyond Sanchez and Murphy, the 18 other Blue Dogs to sign the HCAN statement include Democratic Reps. Jason Altmire (Penn.), Michael Arcuri (N.Y.), Joe Baca (Calif.), Marion Berry (Ark.), Sanford Bishop (Ga.), Leonard Boswell (Iowa), Chris Carney (Penn.), Ben Chandler (Ky.), Jim Cooper (Tenn.), Jane Harman, (Calif.), Stephanie Herseth Sandlin (S.D.), Tim Holden (Penn.), Frank Kratovil (Md.), Mike Ross (Ark.), Adam Schiff (Calif.), Zack Space (Ohio), Mike Thompson (Calif.) and Charlie Wilson (Ohio).
Several of those members played an active role in the creation of the principles that go against the original pledge they signed for health care reform.
Ross, for instance, is chairman of the Blue Dog Health Care Task Force and an HCAN pledge-signer. "It is essential we pass a health care bill that would not disrupt the ability of families to keep their health care coverage and see their doctor," said Ross in a statement when announcing the principles. "We cannot create a public option that stacks the deck -- through
rate setting and forced participation -- against a system that currently provides coverage to 160
million Americans."
Pledge-signer Cooper put is also quoted in the announcement of the principles. "The key to successful health care reform is building as broad a coalition of support as possible," said Cooper, Blue Dog Health Care Task Force Vice Chairman. "The conditions we're laying out today ensure that Americans who like their current health insurance can keep it; that they will have access to their choice of quality, affordable health care plans; and that any public option exist on a level playing field. And of course, we strongly support President Obama's commitment to keep health care reform deficit-neutral."
The 20 Blue Dogs have taken a combined $6,849,273 from various segments of the health care industry, according to data from the Center for Responsive Politics.
Individually, they've taken a good chunk of change from the industry, but money isn't always the decisive factor. Murphy, in fact, has taken nearly $300,000 from health care interests but still reiterated his support for the public option with out a trigger. Here are the rest:
Leonard Boswell: $304,680
Stephanie Herseth Sandlin: $323,924
Loretta Sanchez: $183,162
Mike Thompson: $631, 532 (His take from the health care industry, was second only to beer/wine/liquor business, which gave him $1,009,370)
Read the principles here.
Jeff Muskus contributed reporting.
Popular in the Community