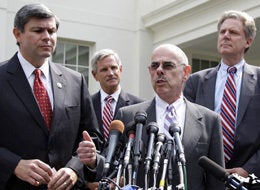 Henry Waxman is looking to resume health care negotiations Thursday night. Maybe.
Waxman (D-Calif.) heads the House Energy and Commerce Committee, the final obstacle to a full House vote on health care reform. Debate stalled early Tuesday after conservative Blue Dog Democrats, who account for seven swing votes on the committee, demanded that their concerns over total costs be met. Since then, the Blue Dogs have met with Waxman and President Obama, who is pushing for a reform bill before Congress takes its vacation next month, to try and hammer out those issues.
"We're getting close," Waxman said, though he added that further cost estimates from the Congressional Budget Office are necessary before work can resume on Thursday. "That may get delayed if we don't have all the scores and don't have everything agreed to."
The Blue Dogs expect further delays given the list of 10 major issues they have left to address, committee member and Blue Dog leader Charlie Melancon (D-La.) said.
"They haven't even started yet," Melancon said. Could a deal be struck by tomorrow? "No way," he said. "No way."
The White House is watching closely. Nancy Ann DeParle, who heads Obama's Office of Health Reform, sat in with Waxman and the Blue Dogs in their meeting Wednesday morning, Melancon said. He declined to specify what her priorities were, beyond "trying to reach agreement and get a good deal."
Getting the bill out of committee should be the hard part, House Speaker Nancy Pelosi said Wednesday morning. "I have no question that we have the votes on the floor of the House to pass this legislation," Pelosi said.
The committee's Blue Dogs, of course, challenge that assertion, too.
"The Speaker was well-intended, but I don't think the votes are there now," said Baron Hill (D-Ind.), a Blue Dog policy co-chair who sits on the energy committee. "We are making progress, albeit slowly, on trying to get a bill that we can vote out of committee, but we've got a whole lot of work to do."
Melancon and Blue Dog frontman Mike Ross (D-Ark.) echoed Hill's assertion that Pelosi lacks the support needed for full passage. "We're speaking for a silent majority within the Democratic caucus," Ross said. "No, I don't think they have the votes."
For his part, Waxman said he would like to see the bill reach the House floor next week, but other factors limit his control, from CBO scores to concurrent delay in the Senate Finance Committee and individuals' "general comfort."
"I'm an optimistic person," Waxman said. "But maybe we will, maybe not."

Popular in the Community