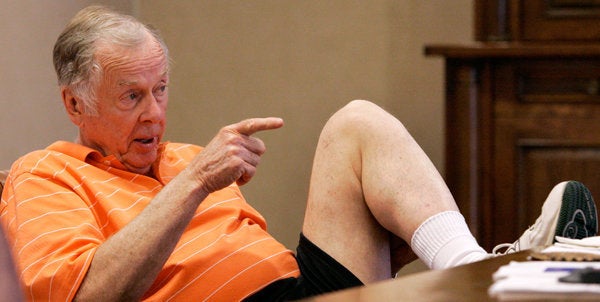 Roberts County is a neat square in a remote corner of the Texas Panhandle, a land of rolling hills, tall grass, oak trees, mesquite, and cattle. It has a desolate beauty, a striking sparseness. The county encompasses 924 square miles and is home to fewer than 900 people. One of them is T. Boone Pickens, the oilman and corporate raider, who first bought some property here in 1971 to hunt quail. He's now the largest landowner in the county: His Mesa Vista ranch sprawls across some 68,000 acres. Pickens has also bought up the rights to a considerable amount of water that lies below this part of the High Plains in a vast aquifer that came into existence millions of years ago.
If water is the new oil, T. Boone Pickens is a modern-day John D. Rockefeller. Pickens owns more water than any other individual in the U.S. and is looking to control even more. He hopes to sell the water he already has, some 65 billion gallons a year, to Dallas, transporting it over 250 miles, 11 counties, and about 650 tracts of private property. The electricity generated by an enormous wind farm he is setting up in the Panhandle would also flow along that corridor. As far as Pickens is concerned, he could be selling wind, water, natural gas, or uranium; it's all a matter of supply and demand. "There are people who will buy the water when they need it. And the people who have the water want to sell it. That's the blood, guts, and feathers of the thing," he says.
REAL LIFE. REAL NEWS. REAL VOICES.
Help us tell more of the stories that matter from voices that too often remain unheard.