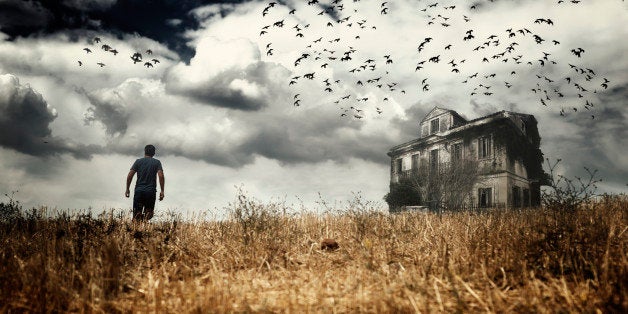 I have for some time been in possession of a ragged copy of Twenty Poems of George Trakl, translated by James Wright & Robert Bly, published by The Sixties Press in 1961. I bought the book around 1972 when, at 17, I was discovering poetry, though discovering isn't quite right as I was very ill and close to dying from anorexia, and poignant as it may seem, poetry was showing me a bridge back to life. It was fitting that one lane of that bridge would be Trakl, who saw battle in the first world war, attempted to shoot himself, and wrote Wittgenstein for solace. I remember reading these lines of Trakl's with amazement:
Once more following the blue grief of the evening
Down the hill, to the springtime fishpond--
As if the shadows of those dead for a long time were
hovering above,
The shadows of church dignitaries, of noble ladies--
Their flowers bloom so soon, the earnest violets
In the earth at evening, and the clear water washes
From the blue spring.
The oaks turn green
In such a ghostly way over the forgotten footsteps
of the dead
The golden clouds over the fishpond.
Note: this personal essay will shortly become a book review, but not yet. I must describe the 17 year old reader who found these lines--who read them with one functioning eye aided by a magnifying glass, read them in a hospital. The boy was experiencing his own ars moriendi but he knew how to concentrate. Everything was clear to him. Outside his window Boy Scouts raised and lowered the flag mornings and evenings and he thought of how clean and noble they were and he thought of ghost-patients hovering in shadows and the bright cruelty of springtime roses. He thought of the hospital as a palace of sorts with its high court and ceremonies. He was improbably alive in blue April.
Georg Trakl's work has never left me. In the forty plus years since I first read his poems with their aching precision--with images carrying tone, width, height, shade, blood, majesty, and despair--I've read many volumes of his work, necessarily in translation, always marveling at his mastery of immanence--of his abiding sense that souls and gods are invariably present in a fractured universe. These figures are as hopeful or abject as we are, as lost as we are, steeped in griefs as we are. For all his expressionistic and idiomatic imagism, Trakl is perhaps the greatest realist of all, for he feels the wounds of saints and ancestors as well as the living and renders the phenomenology of sorrow in lines that are unforgettable:
Black frost. The ground is hard, the air has a bitter taste. Your stars make unlucky figures.
With a stiff walk, you tramp along the railroad embankment with huge eyes, like a soldier charging a dark machinegun nest. Onward!
Bitter snow and moon.
A red wolf, that an angel is strangling. Your trouser legs rustle, as you walk, like blue ice, and a smile full of suffering and pride petrifies your face, and your forehead is white before the ripe desire of the frost; or else it bends down silently over the doze of the night watchman, slumped down in his wooden shack.
Frost and smoke. A white shirt of stars burns on your clothed shoulders, and the hawk of God strips flesh out of your hard heart.
Oh the stony hill. The cool body, forgotten and silent, is melting away in the silver snow.
Sleep is black. For a long time the ear follows the motion of the stars deep down in the ice.
When you woke, the churchbells were ringing in the town. Out of the door in the east the rose- colored day walked with silver light.

The lines above were translated by Robert Bly and James Wright, two American poets whose own work was influenced by what came to be called "the deep image"--a term meant to describe imagery in poetry that is as improbable and often disturbing as the psyche itself. It's certain that poets of the 20th century like Trakl or Lorca, just to name two masters of starkly expressionistic verse were concerned with images both from dreams and waking nightmares.
"A red wolf that an angel is strangling." One thinks of Lorca's famous "arsenic lobster" falling from the forbidding skies of New York--the human soul, the body, both are petrified before the dead and dying towns and villages of a barbarous century. Lorca again:
In the sky there is nobody asleep. Nobody, nobody.
Nobody is asleep.
The creatures of the moon sniff and prowl about their cabins.
The living iguanas will come and bite the men who do not dream,
and the man who rushes out with his spirit broken will meet on the
street corner
the unbelievable alligator quiet beneath the tender protest of the
stars.
Nobody is asleep on earth. Nobody, nobody.
Nobody is asleep.
In a graveyard far off there is a corpse
who has moaned for three years
because of a dry countryside on his knee;
and that boy they buried this morning cried so much
it was necessary to call out the dogs to keep him quiet.

--from "City That Does Not Sleep" translated by Robert Bly
Peacetime never came following World War I. Lorca and Trakl wrote poems with strictures and pins in their hearts. Modernity couldn't sustain the innocent. In literature the theme may have started with Dostoevsky but it in poetry it became a sustained animadversion by the Twenties and Thirties. Nobody sleeps on the earth. The dead cry out. The hawk of God eats even refractory hearts.
Now a new edition of Trakl's poems has been published by a small press in Syracuse, New York: Selected Late Poems of Georg Trakl, translated by Bob Herz, Nine Mile Press. (Disclosure: I am the co-publisher of Nine Mile Books and Nine Mile Magazine.) In a life as brief as Trakl's (he died at 27) is it fair to say all his poems were last poems? Perhaps, but in his openhanded introduction Herz makes clear Trakl's approach to language became phenomenologically resistant to custom--the rhetoric of war--and he embraced, in the hardest possible time, a purifying aesthetic:
"Heidegger has a beautiful essay--really a lecture--on Trakl and language in which he talks about the naming and calling functions of the poetry, by which he means that we hear the naming and calling of the poem in our physical space, but the poetry brings the things named and called no nearer to us. What comes near to us is the presence of things in language, a "presence sheltered in absence."
Our appreciation of the optic-world is steeper or richer outside of first sensation, a tenet of early phenomenologists. In Trakl's poems we feel keenly the meaning or content of experience must be distinct from what we see. In bringing forward Trakl's late work Bob Herz provides the opportunity for readers to gain a new appreciation for the lyric crisis of early 20th century poetry and what I'll call for lack of a better description, the reverse-intentionality of Trakl's poetics. As Herz points out Trakl's poems exemplify swings of consciousness in which the world is at once achingly clear and simultaneously remote--a moral man must essentially reside in the unaffiliated space of imagination. Things are not what they seem. Things are what they seem.
Herz's translations are evocative, accurate, and convey Trakl with perfect transparency:

Hohenburg
No one in the house. Autumn in all the rooms;
Moon-bright sonata
& the awakening edge of the twilit forest.
You always imagine the white face of man
Far from the turmoil of time;
Over a dreaming shape tending the green branches,
Cross & evening;
His star embraces with purple arms the one who makes sounds
Climbing up to uninhabited windows.
Thus the stranger trembles in his darkness
& quietly lifts his eyelids over a distant human shape;
There is the silver voice of the wind in the hallway.
You can order Selected Late Poems of Georg Trakl, translated by Bob Herz at:
http://www.ninemile.org/nine-mile-book-series.html
Calling all HuffPost superfans!
Sign up for membership to become a founding member and help shape HuffPost's next chapter