Shortly after it's opening in 2000, Blue Hill in New York City gained the attention of patron David Rockefeller. Just 25 miles north of NYC, the 80-acre not for profit Stone Barns Center for Food and Agriculture was in the works. In the 1990s, the Rockefellers began incubating a working farm to practice resiliency and transparency - a farm that would be open to the public as a hub of learning, creativity and experimentation. Noting the like-mindedness of Blue Hill and the owners' dedication to sourcing the finest local sustainable ingredients and showcasing the effects of everyday food choices, Dan and David Barber (Dan is chef and David operates Blue Hill) were invited to build a restaurant on its property. In fact, it was thanks to the collaboration with the Barbers that their vision began to expand.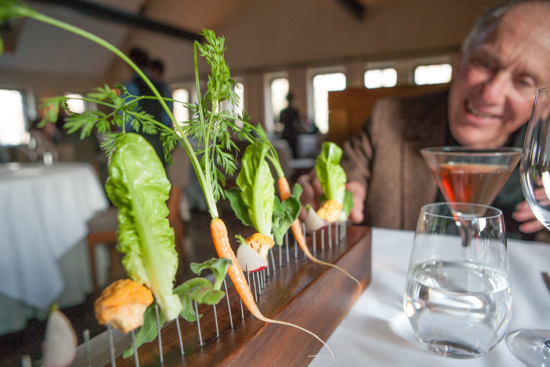 With my folks at Blue Hill at Stone Barnes photo: Julie Ann Fineman

The initial vision for the 2004 on-site opening was relatively modest. the Center's founders imagined an eatery with a typical greenhouse related to sustainable food and agriculture. The brothers, along with a brain trust of farmers, educators and thought leaders, expanded to greenhouse concept to cover half an acre and base its "year around" techniques on practices used by Four Season Farm in Maine, owned by Eliot Coleman and Barbara Damrosch. This laid the foundation for a highly diversified four-season farm, which was ideal because the Barbers wanted Blue Hill at Stone Barns to educate people on the relation between cooking and farming. "Together, we set out to demonstrate the concept of an ecological cuisine - seasonal and regionally appropriate food grown and raised in harmony with the ecosystem of which the farm is a part."
Last March, Blue Hill continued to push boundaries as they mounted a monumental demonstration appropriately titled "wastED " - dedicated to food waste and re-use.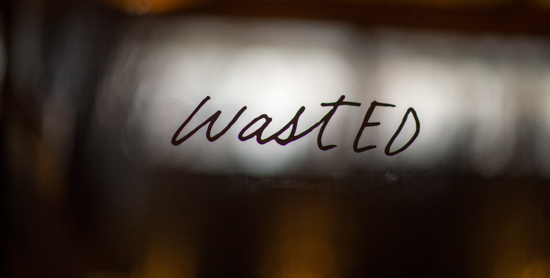 photo: Daniel Krieger
The premier wastED event was a collective of chefs, farmers, fishers, suppliers, processors and others focused on reinventing waste that naturally happens in the food chain. The wastED launch at Blue Hill in NYC featured 30 chefs preparing reclaimed, edible waste specials over a three-week period. Bruised fruits, stale bread and even fish heads were used to demonstrate the value of what many people would consider trash. Each night a different chef would offer a menu item, and all entrees were priced at just $15. Among the unique dishes was "Monkfish Wings" - brined from an olive bin with trial fish pepper hot sauce.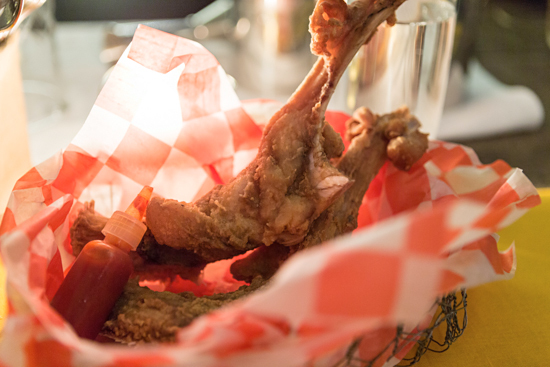 photo: Thomas Schauer
Blue Hill's own juice-pulp cheeseburgers has continued to be served, and has been offered at special events including Sweetlife festival and Shake Shake. The patty was made from leftover veggie pulp and other "secret" ingredients; the burger was topped with lettuce, melted cheese from Jasper Hill trimmings, ketchup from bruised beets, and honey mustard mayo and it was served between buns inspired by Balthazar Bakery, who mashed up stale bread and sprinkled "Dutch" rye crumbs on top.
Another wastED event this year was entitled, "Landfill Lunch" and took place at the UN's headquarters in New York City. There, forty world leaders enjoyed a feast wastED style. The Barbers collaborated with White House Chef, Sam Kass, for this food waste presentation. The renowned "Landfill Salad" - made strictly from veggie and fruit scraps - included chickpea water and discarded produce and was the highlight of the hour!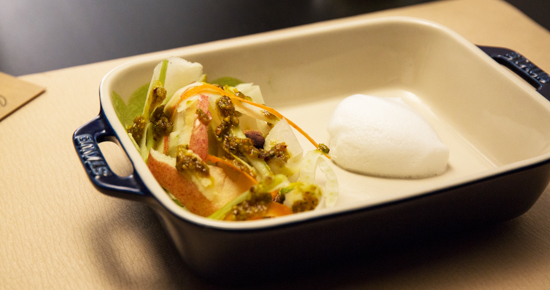 The event also featured wastED's juice-pulp cheeseburgers and was the perfect platform for the Barbers and Kass to propose solutions to global issues including hunger, poverty, and climate change through effective waste application.
I was fortunate to sit down with David Barber to discuss wastED. His brother, Dan, had just left on a tour to promote his new book "The Third Plate: Field Notes on the Future of Food." I asked David his take on the three-week extravaganza and he was thrilled with the outcome. For Barber, it was a get-together for friends and farmers he's known for a long time. Fortunately, he has an obsessive work ethic: the nearly month-long banquet required a great deal of manpower.
A few years ago, I was fortunate to intern at Rainbeau Ridge farm just a few miles away from Stone Barns. I sold award-winning Rainbeau Ridge goat cheese at Stone Barn's Farmers Market, and on my days off, I volunteered in the Stone Barns propagation room to learn cutting-edge winter seeding techniques. My folks came to visit during my internship and treated me to the most memorable dinner of my lifetime at Blue Hill at Stone Barns. Knowing the work required to prepare and serve a meal, I could only imagine how the three-week event impacted the restaurant's operations in NYC.
Despite the difficulties, David says, "Before we started this, there were a lot of people trying to raise awareness of what's really involved in the food-waste issue and its potential impact to change things. It was worth it."
For the UN event, David waxes, "Forty heads of state were definitely a special audience." Blue Hill continues to contribute ideas to those who will spread the issues and educate the public. They've also received numerous catering requests to re-create the wastED pop up event.
David says "a real business opportunity" is juicing, especially when taking into consideration the potential of pulp renewal. He continued by explaining how "cold press is an industry" and that vegetable juicing creates a byproduct filled with nutrient-rich pulp. However, this generally gets tossed as waste or compost. It can be considered waste ripe for new industry.
Is wastED a big reach? Food waste renewal presents promising career paths, plus its implications could potentially bridge food waste and hunger issues solutions across the globe.
Born from extraordinary, innovative thinking, Barber believes this momentum will ensure a "massive change in food in the next five or ten years." The restaurant is in a perfect position for growth because, "The tastes...desires and focus of the consumer market are changing rapidly. It's a pretty exciting time to be in food and around food, and it's going to be a delicious decade of ideas."
Scroll to the bottom of this link to try Blue Hill Restaurant's recipe for Root Vegetable Peel Chips for a delicious food waste snacks at home.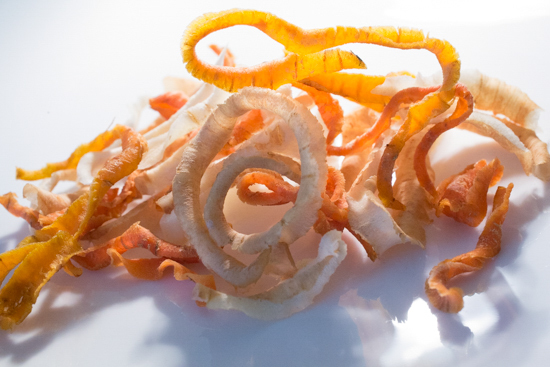 photo: Julie Ann Fineman
PS: Do you know you can take a cup of Blue Hill Savory Yogurt home with you when you visit Whole Foods? It's another new culinary experience compliments of the Barbers.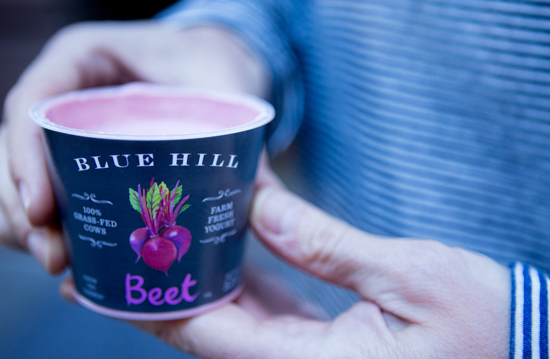 photo: Julie Ann Fineman
REAL LIFE. REAL NEWS. REAL VOICES.
Help us tell more of the stories that matter from voices that too often remain unheard.