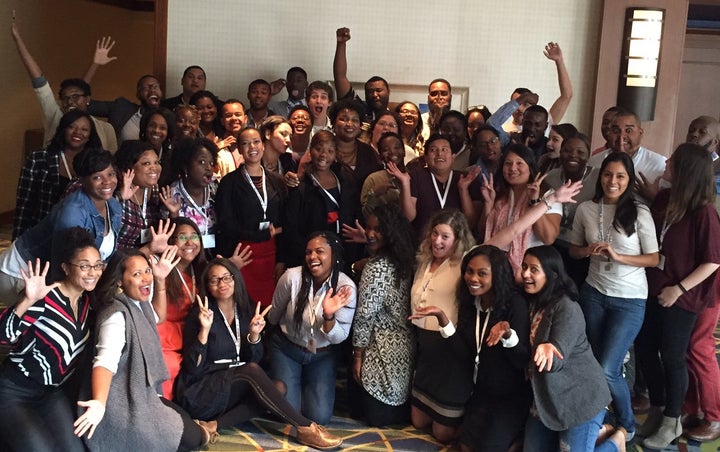 Though Democrats depend on people of color to win elections, the makeup of the party's campaign teams often doesn't reflect the diversity of their electorate. A new program in Georgia aims to address this disconnect by teaching young people of color the skills needed to land campaign jobs as the 2016 election gets underway.
The first B.L.U.E. Institute -- which stands for Building Leaders and Uplifting the Electorate -- was held last week in Atlanta. The five-day program trained 40 African-American and Latino participants in how to write a campaign plan and develop a message, fundraise, target voters, deal with the press, and recruit and manage volunteers. It concluded with a job fair featuring major Democratic organizations.
Georgia state House Minority Leader Stacey Abrams (D) hosted the program in partnership with the Service Employees International Union, Power PAC and Inclusv.
"If we want to have sustained and meaningful engagement with people of color, and if we want to create a diversity in how the staffing looks as a diverse rising American electorate gains prominence in the South and Southwest, then we have to start now," Abrams told The Huffington Post. "Too often, staffers of color are moved into field positions, which are important, but they don't get the full experience of what it means to be involved in a campaign, and they're not often groomed to run campaigns."
Alejandra Pablos, 30, arrived in Atlanta thinking that the opportunity would be valuable for networking, but left with the added benefit of making "lifelong connections" with the other young people who attended. Pablos, who currently works for Habitat for Humanity in Tucson, Arizona, previously did get-out-the-vote work with Mi Familia Vota, a Latino civic engagement organization.
One of the program's trainers was Jessica Byrd, a political consultant and veteran of EMILY's List who is working on a project to encourage more people of color to run for office. Byrd and Pablos had met at the progressive Netroots Nation conference earlier this year, where Pablos participated in the Black Lives Matter protest that interrupted Democratic presidential candidates Sen. Bernie Sanders (I-Vt.) and former Maryland Gov. Martin O'Malley. Pablos applied to the program after seeing one of Byrd's tweets about it.
"There's a huge need to get more people of color into campaigns. We are getting some jobs, but it may not be high-paying jobs," Pablos said. "And you're almost always working for a white person. We want to make sure that we see people like ourselves working on campaigns, that our mentors look like us."
Another participant, 28-year-old Danny Glover, echoed the sentiment that people of color often serve as the token members of their minority on a campaign staff and are placed into field positions interfacing with voters, rather than given the opportunity to work in other roles.
"For first time, I'm in a room with 40-plus individuals who are all brilliant, all talented, who all look like me, who all share some of the same cultural values, who often have found ourselves the lone representative of all that is African-American or Latino on a campaign," he said.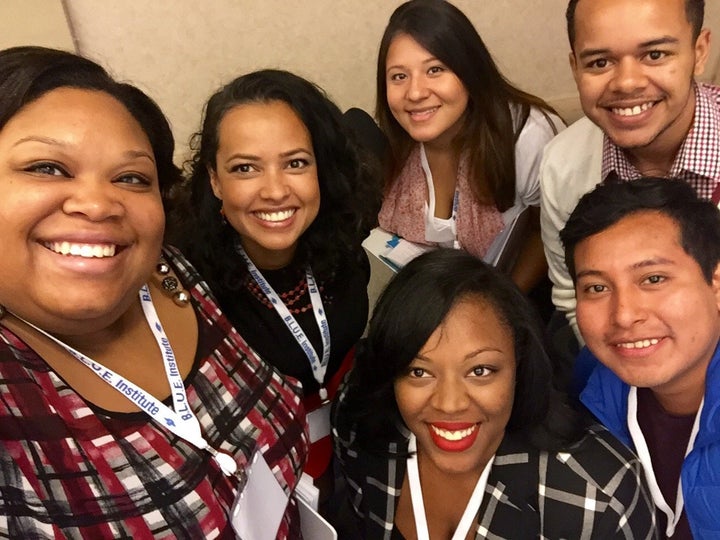 Abrams has been leading the charge to get national Democrats to see Georgia as a state worthy of their attention and investment. Eighty percent of the people who moved to Georgia between 2000 and 2010 were members of a racial minority, making it a state where more victories for Democrats could be in reach. In 2013, Abrams founded a nonpartisan voter registration group, called The New Georgia Project, to reach tens of thousands of unregistered, mostly minority residents.
"We want to make certain that when those campaigns look at Georgia, they understand that we are ready, they understand that we are a state that is quickly becoming a blue state," she said. "We are an exciting opportunity, up and down the ballot, and we are a fairly inexpensive state to play in."
Turning a state -- not to mention a region -- into more hospitable territory for Democratic campaigns is a long-term project. So Abrams sees the B.L.U.E. Institute as a means to cultivate a pipeline of people of color with progressive values who can be a part of that effort.
"If we've done this well, this will be the beginning of a long-term institute," she said. "If we can develop it and build the reputation, it can have a stand-alone capacity and become the go-to place for young people of color who want to be trained and known as the cream of the crop, and the place where campaigns look to find staffers."
The success of the program was immediately apparent to Rebecca DeHart, the executive director of the Georgia Democratic Party. She pointed out that many hires in politics are made on the basis of referrals, making it tough for people to get their foot in the door.
And there's a catch-22. "You have to do campaign work to develop the skill set to be hired to do the campaign work," she said.
At the job fair, various organizations -- such as the Democratic Congressional Campaign Committee, EMILY's List, Planned Parenthood and state parties -- accepted newly workshopped resumes and made offers to participants. DeHart said she was "blown away" and felt inspired to go back to her office and fundraise so she could "snag a bunch of them up" next year.