Blue Ivy Carter is the best thing about Beyoncé's Renaissance World Tour.
And that's no shade to Bey who creates a Wiz-like world in her two-and-a-half hour show, performing music that spans her career and gives her fans a once in a lifetime experience that feels like the crown jewel to the superstar's lengthy career. We all know the infectious impact "Renaissance" continues to have on the culture so I won't get into that. We're here to talk about the music industry's second coming, Blue Ivy.
At just 11 years old, Blue made her stage debut early on during the Paris stop of the tour. It was a monumental moment for both Blue and the BeyHive, as she hit her counts as her mom performed "Power" and "Black Parade."
It's never been a secret that Blue was destined for greatness. I mean, look at her mama and daddy. We've gotten sneak peeks throughout the years of her talents through her freestyling on Jay Z's "4:44," singing on Bey's "Homecoming" film or dancing at her school recitals. But what she's done on this tour has us all feeling like proud aunties and uncles.
To see the young phenom's ascension in just a few short months has felt like such a privilege. Not even because we're seeing a celebrity couple's child perform ― that feels surface-level and secondary ― but moreso because we're seeing a little Black girl grow into her confidence and inspire other little Black girls (and grown ones) along the way.
You can tell she's having fun up there. Her passion and youthfulness light up the stadium as she dances and wraps each performance throwing peace signs and kisses at the audience. At the second New Jersey tour date I attended, the crowd roared as Blue appeared when Bey sang "this my bloodline on the frontline."
It was such a triumphant moment to witness. Especially considering the hate and vitriol that grown ass people have had toward Blue since she was just a baby, making anti-Black comments (and a gross petition) about her hair and appearance, and generally criticizing this child as if they aren't grown with business of their own to mind. The thought sent chills down my spine as I watched Blue pour her heart into the choreography as the track played "they will never take away, my power, my power." And she looks cool as hell doing it.
Seeing fan-made posters reading "so proud of u Blue" and crowds of tens of thousands rooting for this little Black girl every other night never gets old. What's really special, however, has been seeing videos of other little Black girls lighting up and dancing along as they watch Blue kill it. In one video, a little girl shouts "Blue Ivy!" and immediately starts hitting each move of her choreography.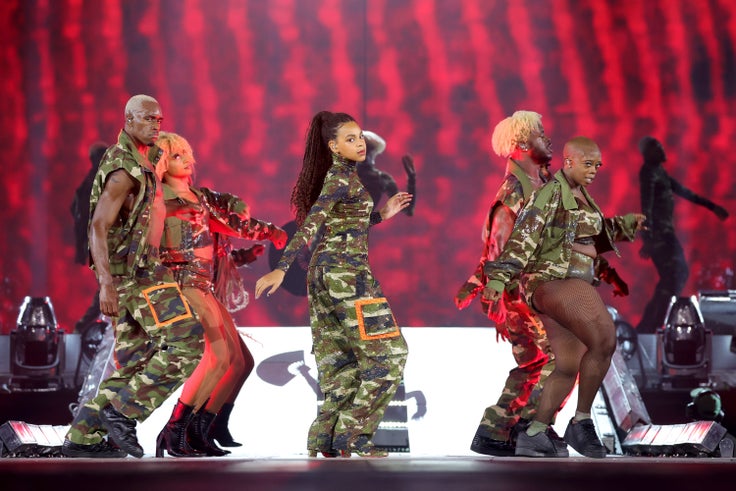 Not all social media comments have been positive, but seeing the overwhelming support for the rising star has been beautiful. And Blue growing in her comfortability on stage has been apparent. She went from being a bit more reserved at her first show in Paris to getting deep in her bag and putting her own swag on the routine in more recent shows like Las Vegas and Phoenix. Even if she decides to change her mind about performing and become an accountant, it's truly been a treat watching her grow and have genuine fun on stage.
Of course, Blue Ivy's family has an endless amount of resources and access to make sure her parents can pour endlessly into her dreams, and that's just not a reality for most of us. But I do look at the love and support that Blue has widely received this year alone, even with her brief appearance during Beyoncé's Dubai performance, and wonder what it would look like if we supported all little Black girls to our fullest extent. Because, frankly, that's not the reality for most of them.
Whether they're on a world tour with their superstar mom, double dutching on their block or drawing with their magic markers, that unwavering support from family, community and strangers could make a world of difference for little Black girls on their journeys.