When Beyonce finally gave birth on Saturday night, the biggest topic of conversation was the name: Blue Ivy. Over the last few months -- which felt like years -- there were several predictions for what this baby would be called: Brooklyn (after the popular Jay-Z lyric "If we had a daughter, guess what I'm a call her? Brooklyn Carter), Sasha (as in Fierce, Beyonce's alter ego), Babyonce (har har), the list goes on.
So, why Blue Ivy? Though the new parents have now confirmed that's the name, through Jay-Z in rap, they haven't given out any reasons. Instead, the Twitterverse piped up with several 140-character explanations.
Conspiracy theorists drew a connection between Blue Ivy and "Eulb Yvi", claiming it was Latin for Lucifer's daughter, and that exploded on Twitter. The Examiner debunked that interpretation by saying that the Bible makes no mention of Lucifer having a daughter and that there's no match to Eulb Yvi in the Latin dictionary. (Fun fact: Did you know it's illegal to name your child Lucifer in New Zealand?)
There are several more logical explanations for the choices. Good Morning America suggested that Ivy is a play on the Roman numeral IV. The number four is significant to the power couple -- they married on April 4th, (4/4), both of their birthdays are on the 4th (September and December), and Beyonce's fourth studio album was called "4."
"Ivy, a symbol of fertility, is an old-fashioned name enjoying a resurgence," Pamela Satran, naming expert and co-founder of Nameberry.com told The Huffington Post. "It's just cracked the Top 300 for the first time since the 1890s, making it a stylish steampunk choice."
Linda Rosenkrankrantz, co-founder of Nameberry, adds that there was a jazz singer Ivy (aka Ivie) Anderson who sang with Duke Ellington. Do Beyonce and Jay-Z know her?
"Uncertain. But when I heard the name Blue I did think of Billie Holiday and Lady Sings the Blues," said Satran.
As for the baby's first name, according to International Business Times, it's simple: Jay-Z's favorite color. But, Satran and Rosenkrantz point out that Mr. and Mrs. Z aren't the first celebrities to use it. Satran said:
"Blue is one of the new color names that's been most enthusiastically embraced by celebrities, sometimes spelled the French way, Bleu, which might have been expected for Beyonce whose own name along with sister Solange's has French origins."
Cher and Gregg Allman may have started it all with their son Elijah Blue. John Travolta and Kelly Preston's daughter is Ella Bleu, Geri Halliwell's daughter is Bluebell, and last May, Alicia Silverstone chose "Blu" as the middle name to her highly critiqued baby boy name, Bear.
Satran also notes the other famous little girl who shares the name with Blue Ivy is the precocious heroine of the hip 2006 novel "Special Topics in Calamity" physics.
Here at HuffPost Parents, we're fans of the name. But what do you think?

PLUS: Have you weighed in on our Tournament of Baby Names yet? Vote for America's Favorite name right here.
Blue Ivy will most likely hold the title of "most memorable baby name of 2012", but click through this gallery of 2011 names we just can't forget:
Support HuffPost
A No-B.S. Guide To Life
Related
Before You Go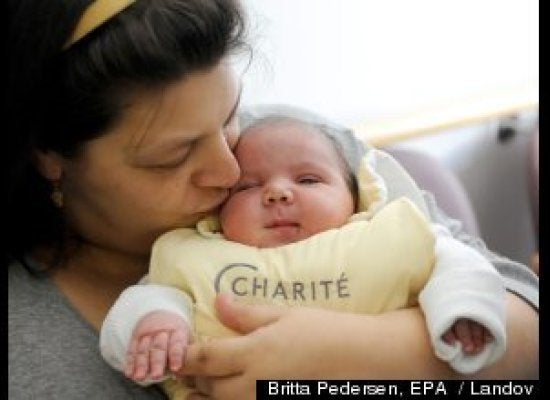 11 Most Memorable Baby Names Of 2011
Popular in the Community