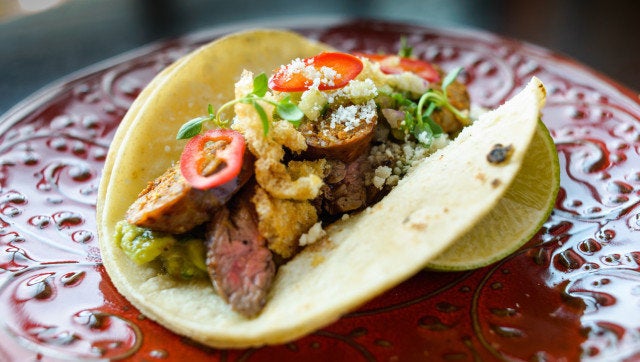 For several years I have been frequenting two small storefront restaurants in Santa Monica owned by a charming woman named Jennifer Rush Morton, whom I first met years ago when she owned an artisanal pasta company called Divine and I wrote about their superb products. She first opened Blue Plate at 14th St. and Montana (1415 Montana (310) 260-8877) 12 years ago and it immediately caught on as a wonderful breakfast/lunch (now dinner) spot serving comfort food of the highest order (brioche French toast and the like.)
Then three years ago Jenny opened Blue Plate Oysterette at 1355 Ocean Avenue, at the beach in Santa Monica, and it immediately became a huge, huge hit among knowledgeable food people and anyone seeking an exquisite oyster/seafood experience. The daily fish catch is posted on a blackboard and updated hourly. Neither of her restaurants will take reservations, but they do have a call-ahead policy, which allows you to phone an hour or two before your arrival and you will be put on a list, which reduces the wait time considerably or they will take your cell phone number when you arrive and call you when your table is ready. I have deliberately not written about either of these gems because it would not have been fair to my readers (I almost never review a restaurant which doesn't take reservations) and the restaurants, to flood them with customers they can't handle.
But I am breaking all my rules 'cause Jen has opened a third restaurant which I am crazy about... and I can't keep it a secret from my Huffington readers. Blue Plate Taco (1515 Ocean Avenue, Santa Monica, (310) 458-2985) is located in front of and is part of the newly refurbished Shore Hotel, steps away from the Santa Monica Pier and next to the venerable Ivy at the Shore.
You can valet your car there for $7 with a validation, which I recommend, or self-park in the Shore Hotel garage -- $7 for two hours, and there's some street parking. However you get there, check in at the front desk and you will find that the tables move quickly. I strongly suggest you sit on the 50-seat patio and gaze out at the azure-blue ocean and reflect on how lucky you are to be on the American Riviera at this time in the world. But a tequila (or mezcal) drink will call to you, and they have a fine selection of custom cocktails to augment their mind blowing tequila choices... some vintage, heritage blends not seen elsewhere. On Wednesday evening I settled for a Margarita ($12) on the rocks, no salt, made with Don Julio tequila.
My first meal there, a long lunch with legendary TV writer Allan Burns, saw me ordering one of the signature non-alcoholic drinks, the house Limeaid ($4) while Allan ordered a Mexican Coke ($4, and yes, there is a difference.) Our charming waitress, Taryn, brought a platter of freshly-made chips and salsas without being prompted, and then we asked for guacamole ($9), which came with more chips and salsa. She then brought two small bottles to the table, explaining they were house-made hot sauces, the brown one mildly spicy and the clear one vinegarly-hot. They got much usage during the meal. Most of the food is mildly seasoned and I like it hot.
I had asked Jennifer 'Why tacos?' and her answer was interesting: "Because tacos are becoming the hot new fashionable casual fast-food of this era, following hamburgers and pizza in popularity. People who are not into Mexican food are ordering them in increasing numbers, since they are easy to hold, delicious to eat, and offer innumerable interesting fillings." As she said this, I was holding a Lobster Taco ($10 for two smallish ones). It was made with a crispy corn tortilla shell filled with chunks of Maine lobster, panella cheese, shreds of cabbage ....and the menu says it had truffle oil, though fortunately I could not taste it. (I find that most places overwhelm some dishes with a strong dose of industrial-quality truffle oil, not here.) I have now sampled most of the tacos on the menu, and found them to be delicious, though under-spiced. (Remember those bottles of hot sauce on the table, they come in handy.) There's a unique Brisket Taco ($3.50 for two) filled with juicy beef brisket, cabbage, pickled onions and cilantro. (I'm assured that, for those patrons who dislike cilantro -- like my ex -- it can be omitted from any dish.) There's a Taco del Dia ($4) where Exec Chef Scott Garrett picks an ingredient for the daily special, and I enjoyed the Taco Carnitas, pulled pork with a cup of au jus on the side. Loved it. The Fish Taco ($4) is usually grilled Mahi Mahi, with cabbage, cilantro aioli and bits of scallion. There's a chicken one, which I haven't yet tried, and a veggie one, which I will never try. I am told that you can also order any taco "flaco" style, which is in a lettuce cup. (But then it really isn't a taco.) The corn tortillas used are currently from an outside artisan source, while the flour tortillas are made in-house.
However, be aware that tacos are only one small element of this interesting one-page menu. I have sampled a half-dozen startling good dishes here which make it more of a cosmopolitan, sophisticated restaurant than you would expect at its beachside location. I have eaten a delicious bowl of mussels at her Oysterette location made with a fiery chile sauce, but the mussels here ($16) are totally unique and absolutely wonderful. They come in a pasilla chile-and-beer sauce, but it is infused with corn kernels which give it a rich, creamy unique flavor. I asked if they were Prince Edward Island mussels, since they are smaller than the huge New Zealand ones, but was told they are 'Mediterranean' mussels...so be it, the dish is a wonder. Allan and I shared a dish of Swordfish Mole ($15), slices of sashimi-style fish abetted with dried chile, grapefruit, abuelita chocolate, shaved walnut and lime juice. It needed a dash of spice. I am a fan of traditional Tortilla Soup as served at the Hotel Bel-Air for generations, but this bowl of deeply-flavored broth-'n-stuff was oceans better, with sliced avocado in the bottom. My waitress, Nicole, said they go through five cases of avocados each day (and, at $4, the soup is a real bargain.); it could have chicken added ($9, but why?) At lunch the 'crudo' of the day was swordfish sashimi ($15) with a chamoy sauce of apricots and chile.
As I mentioned, the Taco of the Day was with carnitas, pulled pork, au jus on the side. A veggie appetizer is Huaracha ($13), grilled masa bread filled with squash, tomatoes, ancho chiles and a dash of truffle oil, still to be tried. Pan-seared salmon ($23) was offered, and the Baha fish of the day was a terrific lightly-fried, butterflied Loup de Mer ($28). Ceviche ($18) is of shrimp, octopus and lobster, fine with a dash of hot sauce, and Flautas ($13) are hand-rolled and filled with a daily selection. Go for a Cheese Quesadilla ($8) if you are still hungry. On Wednesday I had the Baja Lobster ($32), a grilled one-and-a-half pound Maine lobster, with corns salsa on the side. (Got lucky and it was a female, with its roe and tamale intact.) While I usually prefer my lobster to be steamed and served with butter, this charred version -- not overcooked -- was a perfect dish for a summer evening. My date had the Camarones ($23), grilled prawns on a skewer, and when I finally persuaded her to let me have one, it was delicious. Our tablemate ordered the Carne Asada ($19), a smallish hanger steak which had been marinated and grilled. Good, but stick with the seafood.
Pollo a la Parrilla ($16), is a half of Jidori chicken marinated and grilled. Jidori, of course, is the exquisite fresh fowl supplied by my buddy, Dennis Mao, to select restaurants, an indication of the care with which Jenn and her chefs, Niko and Scott, select their local ingredients. I have not gone into detail on the half-dozen interesting salads, but know that there is a luscious Chopped Mexican Salad ($7/10) and a Beet Salad ($13, and ask for more of that pomegranate dressing) along with the usual House and Caesar (though nothing here is 'usual.'). Chicken can be added to any for $6, while $9 will get you steak or shrimp as an add-on. Thusfar, until tonight I have never had any other dessert than the scrumptious Fried Churro ($8), a cruller-like pastry which puts every donut in the world to shame, especially when dipped into the whipped custard which accompanies it. Except there is a Dulce De Leche Milkshake ($8), vanilla frozen yogurt with caramel, which many readers have mentioned to me. Tonight I had the Mexican shaved ice, and it was a refreshing change, but still go for the churro.
The restaurant is an open, airy seaside dream which will remind you of being at a spot along the Mexican coast. The two hard-working managers, Salvatore and Heather, run a smooth operation and will meet any need. Tim Clarke designed it, as at her other places, and has done a smashing job, with its hanging woven-basket chandelier, open kitchen, glass walls, and chairs of saddle-leather. In these days of ever-larger restaurants with massive menus, it is delightful to find a small, exquisitely executed eatery, which pays great attention to every detail, offering imaginative, delicious food. As Tom Thumb said, "Small can be beautiful." Kudos to Jennifer Rush Morton and her three Blue Plates for confirming that male premise.
Blue Plate Taco is open daily from 11:30 a.m. to 10 p.m. Sunday to Thursday and to 11 p.m. on Friday and Saturday.
To subscribe to Jay Weston's Restaurant Newsletter ($70 for 12 monthly issues) email him at jayweston@sbcglobal.net.
Calling all HuffPost superfans!
Sign up for membership to become a founding member and help shape HuffPost's next chapter