"But mom, that soda is natural."
That was the battle cry that rang out in aisles of New Mexico grocery store after New Mexico grocery store in my youth, anytime I happened upon a six-pack of Blue Sky Soda's Cherry Vanilla Creme flavor, probably my favorite soda on this earth. My mother was born in New York. Her Dr. Brown's Black Cherry heart rolled its eyes at my simple palate every time. Who would want to drink a soda that tasted like an ice cream sundae? Well, me. And I'm pretty sure I still do.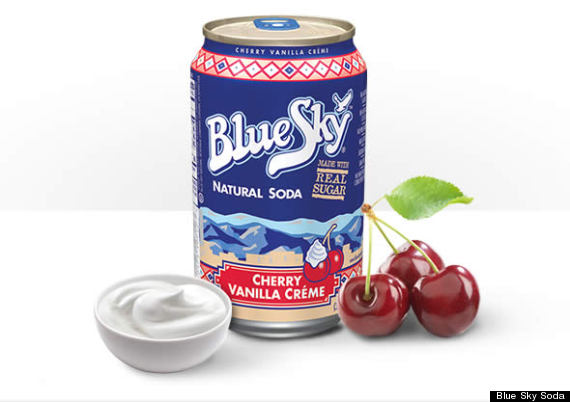 Blue Sky started around 1980 in Santa Fe, New Mexico -- so, whether I knew it or not, I was already trying to drink local. It has since been sold to Hansen's (a California soda producer), which subsequently became Monster Beverage Corporation, which means that the hippie-dippy natural soda of my youth is now being produced by one of the most aggressively advertised energy drinks on the market. Earth is weird.
As you may or may not be able to tell from looking at the can above, this stuff is all New Mexico. The looming mountains in the distance, the sweeping open sky, the vaguely southwestern-blankety pattern around the top of the can -- it all makes me feel nostalgic. The amazing thing about this soda is that it just isn't as sweet as you'd expect (and it uses real sugar, not high fructose corn syrup). It tastes like you introduced a can of seltzer to a cream soda and a cherry, they shared an afternoon and went their separate ways, forever imprinted on each other. Hippie soda, see?
Blue Sky now enjoys a fairly wide distribution. It's even rumored to be sold in Whole Foods in New York City. I have a few recommendations: the black cherry is pretty good, I remember the root beer being pretty tasty as well, but really I'm in it for the Cherry Vanilla Creme. Now, if you'll excuse me, I have a six-pack of soda to buy.