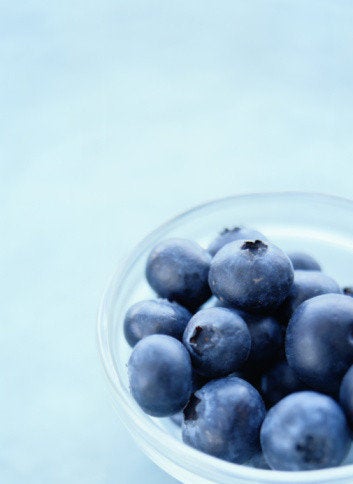 You know that blueberries are good for you. But did you know that blueberries could help fight aging, combat disease, lower blood pressure, protect the heart and brain and even boost your memory?
Intensive research by scientists working in the U.S., Canada, Europe and Asia continues to reveal the amazing health benefits of blueberries.
Blueberries are divided into two major species: the wild ones, which are called "low bush," and the farmed berries that are "high bush." Both types have received a great deal of favorable attention from scientists over the past several years.
Researchers at the University of Cincinnati Academic Health Center achieved very interesting results when they studied the connection between blueberries and memory. Their study on older adults with early memory decline found that memory function was boosted by drinking the juice of wild blueberries for 12 weeks. The University of Cincinnati researchers noted: "To our knowledge, this is the first human trial assessing the potential benefit of blueberry supplementation on neurocognitive function in older adults with increased risk for dementia."
It should be noted that this study involved a small group who consumed blueberry juice with breakfast, lunch and dinner. Given the interest in finding solutions to the growing problem of cognitive decline in aging, larger studies on blueberries and the mind should follow.
What gives blueberries their nutritional power
Blueberries are a good source of vitamin C, vitamin K and fiber. The color of blueberries, from deep blue to purple, is caused by a group of flavonoids called anthocyanins, which have remarkable antioxidant power.
Laboratory tests suggest that anthocyanins may help to prevent degenerative diseases, including cancer, heart disease, stroke and memory loss.
Blueberry anthocyanins may protect humans and animals from the effects of a condition known as oxidative stress, which underlies the common disorders associated with aging. Oxidative stress increases with high fat meals and with exposure to environmental toxins.
Blueberries support heart health
Recent research supported by the United States Department of Agriculture-Research, Education and Economics shows that eating blueberries may help combat cardiovascular disease.

Scientists at the University of Arkansas fed mice a diet enhanced with blueberry powder, and found that it helped reduce atherosclerosis.

Publishing their findings in the Journal of Nutrition, the researchers indicate that the benefit may be from the antioxidant effect of the blueberries, reducing the oxidative stress that leads to heart disease.
Here's what eating blueberries can do for oxidative stress:
When healthy volunteers ate blueberry powder along with a high fat meal, the blueberries produced a significant increase in the antioxidant status of their blood, compared to the high fat meal alone.
When mice stressed by aging or by toxins were fed blueberries at a dose that would equal one cup a day for a human, their brains revealed a decrease in damage from oxidative stress. Blueberry-fed mice performed better than "control" mice (not fed blueberries) on tests of learning, memory and coordination.
Preventing urinary tract infections (UTIs)
Like their cousins, cranberries, blueberries contain flavonoids that can possibly prevent urinary tract infections. Blueberry flavonoids prevent bacteria that cause urinary infections from binding to the lining of the bladder and can even inhibit the growth of bacteria.
Research on blueberries, cancer and cholesterol
In addition to fighting oxidative stress, eating blueberries may potentially help to prevent cancer and heart disease through other mechanisms.
Blueberry anthocyanins have shown the potential to possibly help inhibit the growth of colon cancer cells in certain research studies.
A group of chemicals that are found in blueberries called stilbenes have possible cholesterol-lowering effects.
In season, it is easy to find luscious blueberries with a sweet and tart flavor from the farmer's market, farm stand or supermarket.
Before storing fresh berries, remove crushed, unripe or moldy fruit, and stems and leaves. Wash the berries just before you serve them.
You can eat delicious blueberries as a snack or dessert anytime.
Toss a handful of blueberries on your favorite foods, like cereal or granola, hot oatmeal, smoothies and yogurt.
Frozen blueberries are a great way to enjoy berries all year round. The study on memory improvement from the University of Cincinnati used juice made from frozen wild blueberries, which indicates that frozen blueberries also have nutritional potency.
Enjoying blueberries is a great way to boost consumption of fruit and vegetables to nine to 10 servings per day. That is the amount of fruit and vegetables I recommend in my healthy weight loss program. My son Jonathan Galland wrote this blueberry recipe for my book, The Fat Resistance Diet, an anti-inflammatory program.
An update on a morning tradition, here is a quick and easy hot breakfast. The aroma of blueberries and cinnamon rising from the bowl makes this a special treat. Oatmeal is a great source of cholesterol lowering fiber and cinnamon reduces insulin levels.
1/2 Cup rolled oats
1/2 Cup fresh or frozen blueberries
1 Tablespoon freshly ground flaxseeds
1/2 Tablespoon ground walnuts
Dash of cinnamon
Bring 1 cup of water to a boil in a small saucepan, then stir in the oats. Cook for 4 minutes, then add the blueberries and cook until piping hot. Mix in the flaxseeds, walnuts, and cinnamon. Serves 1.
I hope you enjoy the healthy pleasure of blueberries now and throughout the year.
Now I'd like to hear from you:
Do you enjoy blueberries?
Where do you shop for them?
How do you usually eat them?
Please let me know your thoughts by posting a comment below.
Important: Share the health with your friends and family by forwarding this article to them, and sharing on Facebook.
Leo Galland, MD is a board-certified internist, author and internationally recognized leader in integrated medicine. Dr. Galland is the founder of Pill Advised, a web application for learning about medications, supplements and food. Sign up for FREE to discover how your medications and vitamins interact. Watch his videos on YouTube and join the Pill Advised Facebook page.
References and Further Reading
J Nutr. 2010 Sep;140(9):1628-32. Epub 2010 Jul 21. "Dietary blueberries attenuate atherosclerosis in apolipoprotein E-deficient mice by upregulating antioxidant enzyme expression." Wu X, Kang J, Xie C, Burris R, Ferguson ME, Badger TM, Nagarajan S. USDA Arkansas Children's Nutrition Center, University of Arkansas for Medical Sciences, Little Rock, AR 72202, USA.
Nutr Rev. 2010 Mar;68(3):168-77. "Berries: emerging impact on cardiovascular health." Basu A, Rhone M, Lyons TJ. Department of Nutritional Sciences, Oklahoma State University (OSU), Stillwater, Oklahoma 74078-6141, USA.
Mol Nutr Food Res. 2007 Jun;51(6):652-64. "Cranberry and blueberry: evidence for protective effects against cancer and vascular diseases." Neto CC. Department of Chemistry and Biochemistry, University of Massachusetts Dartmouth, North Dartmouth, MA 02747, USA.
Yao Xue Xue Bao. 2010 Apr;45(4):422-9."Chemical principles and bioactivities of blueberry" Chen CF, Li YD, Xu Z. Institute of Pharmacology, National Yang-Ming University, Taipei, Taiwan.
Behav Brain Res. 2009 Mar 17;198(2):352-8. Epub 2008 Nov 17. "Effect of a polyphenol-rich wild blueberry extract on cognitive performance of mice, brain antioxidant markers and acetylcholinesterase activity." Papandreou MA, Dimakopoulou A, Linardaki ZI, Cordopatis P, Klimis-Zacas D, Margarity M, Lamari FN. Laboratory of Human & Animal Physiology, Department of Biology, University of Patras, Greece.
Neurobiol Aging. 2006 Feb;27(2):344-50. "Blueberry supplemented diet reverses age-related decline in hippocampal HSP70 neuroprotection." Galli RL, Bielinski DF, Szprengiel A, Shukitt-Hale B, Joseph JA. Neuroscience Laboratory, USDA-ARS Human Nutrition Research Center on Aging at Tufts University, 711 Washington St., Boston, MA 02111, USA.
Br J Nutr. 2002 Oct;88(4):389-98. "The effect of wild blueberry (Vaccinium angustifolium) consumption on postprandial serum antioxidant status in human subjects." Kay CD, Holub BJ. Department of Human Biology and Nutritional Sciences, University of Guelph, Ontario, Canada.
J Agric Food Chem. 2010 Apr 14;58(7):3996-4000.
"Blueberry supplementation improves memory in older adults." Krikorian R, Shidler MD, Nash TA, Kalt W, Vinqvist-Tymchuk MR, Shukitt-Hale B, Joseph JA. Department of Psychiatry, University of Cincinnati Academic Health Center, Cincinnati, Ohio 45267-0559, USA.
J Agric Food Chem. 2006 Dec 13;54(25):9329-39."Blackberry, black raspberry, blueberry, cranberry, red raspberry, and strawberry extracts inhibit growth and stimulate apoptosis of human cancer cells in vitro." Seeram NP, Adams LS, Zhang Y, Lee R, Sand D, Scheuller HS, Heber D. Center for Human Nutrition, David Geffen School of Medicine, University of California, Los Angeles, CA 90095, USA.
Chin Med J (Engl). 2010 Oct;123(19):2714-9. "Anthocyanins extracted from Chinese blueberry (Vaccinium uliginosum L.) and its anticancer effects on DLD-1 and COLO205 cells." Zu XY, Zhang ZY, Zhang XW, Yoshioka M, Yang YN, Li J. Graduate School of Life and Environmental Sciences, Tsukuba University, Tsukuba 305-8572, Japan.
Full Text: "Diet and Inflammation" Leo Galland, MD, Nutr Clin Pract December 7, 2010 vol. 25 no. 6 634-640
This information is provided for general educational purposes only and is not intended to constitute (i) medical advice or counseling, (ii) the practice of medicine or the provision of health care diagnosis or treatment, (iii) or the creation of a physician--patient relationship. If you have or suspect that you have a medical problem, contact your doctor promptly.
Related