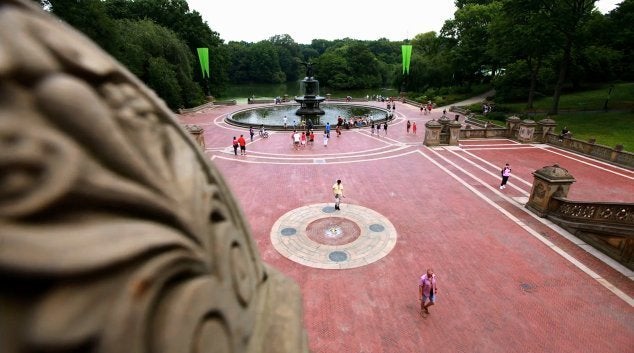 WASHINGTON -- Following up on an interactive musical experience designed for the National Mall, D.C.'s experimental-pop duo Bluebrain on Tuesday released "Listen to the Light," a mobile app that uses a phone's GPS location to weave together musical themes inspired by New York City's Central Park.
Here's how the app works: As you approach one area, you hear one piece of music. As you move, the music changes -- the melody could be generally the same, but the piece may begin incorporating different instruments, different volume levels and other variations. As you move to other areas of the park, the melodies may change completely. How it changes is up to you and how you move through the park, but it's designed to always blend seamlessly.
Brothers Hays and Ryan Holladay, who together make up Bluebrain, went to college in New York City and were inspired by Central Park. The "location-aware album" follows a similar project by the pair, an interactive musical experience designed for the district's National Mall that was released in March.
Since the app is determined by a person's movements, there are countless musical journeys from which to choose. Ryan prefers to begin at the southern edge of the park and work his way north, "mainly because it starts where you're surrounded by people and it kind of becomes more and more of an isolated walk as you get further along."
Like the National Mall project, "Listen to the Light" incorporates both musical and non-musical sounds, though it steers away from literal ones. In contrast to the National Mall piece, in which a person can hear real horses as he or she approaches the wooden horses on the Mall's carousel, "Listen to the Light" reinterprets animal cries at the Central Park Zoo, warping non-organic sounds into strange, but oddly pleasing, animalistic music.
"As you walk through the zoo, you're seeing the normal animals, but you're hearing these sounds that don't exist," Ryan said. "It's kind of like walking through this alien zoo." The sounds, he revealed, are created by layering a number of seemingly unrelated ones: The whirring of a hairdryer, the ripping of a piece of paper and traditional instrumentals. The final effect is achieved by "mutating that sound again and again and again," which transforms it into something "more akin to an organism."
"Listen to the Light" is Bluebrain's first foray into any arts scene beyond the District of Columbia, and Ryan credits the success of the National Mall project as a confidence builder. "D.C. has been this incredible testing ground for a lot of ideas," he said, and heading north to New York City could mean big things for the Holladays.
"It's a step for us, because we've never done this before. But we'll see what the rest of the world thinks of these weirdo ideas, weirdo projects we've been doing," he said.
Future projects on the horizon include a similar GPS-based piece for California's Route 1, a state highway that runs along the state's Pacific coast. Different from the Central Park and National Mall works, the Route 1 project would feature a linear piece of music to be experienced by drivers. That's still a ways down the road, so to speak -- Bluebrain plans to take a break from apps for a while.
For now, both the Central Park and National Mall works are available for free in the iTunes app store.
WATCH: Bluebrain's "Listen to the Light"
Calling all HuffPost superfans!
Sign up for membership to become a founding member and help shape HuffPost's next chapter