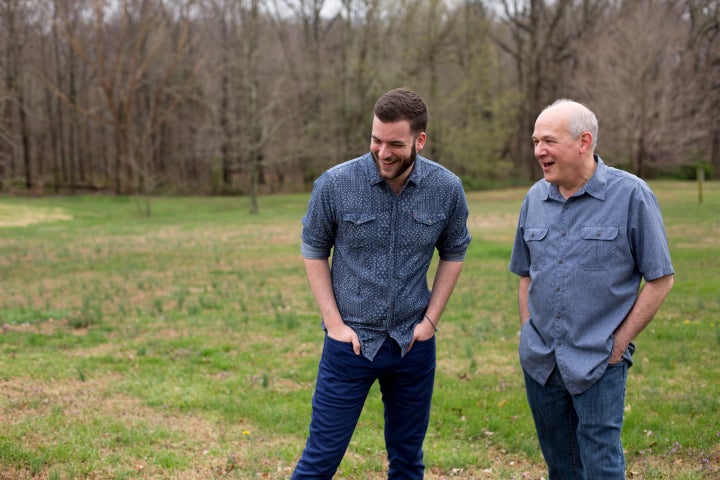 Banjo player, singer and songwriter Justin Hiltner touches on many time-honored themes on his new bluegrass album, "Watch It Burn."
Loneliness, heartbreak and nostalgia are cornerstones of "Watch It Burn," due out Friday. But the album, which Hiltner wrote and recorded with fellow musician and pal Jon Weisberger, is poised to shift listeners' long-held perceptions of bluegrass, too. Nowhere is that more apparent than on its third single, "I'm Not in Love With You."
HuffPost got an exclusive first listen to "I'm Not in Love With You" (see below). If the song feels traditional in its denial-of-heartbreak motif, consider this: The 26-year-old Hiltner, who is openly gay, says the lyrics were inspired by his "horrible habit of falling in love with straight men."
"There's a lot of autobiographical content on the album," Hiltner told HuffPost. As "I'm Not in Love With You" demonstrates, however, references to his sexuality come through as "Easter eggs" scattered throughout the record's 12 tracks. So while "Watch It Burn" doesn't necessarily relay an overt message about diversity or LGBTQ inclusion, its co-creator is hopeful it will be "the beginning of true representation for queer people in bluegrass."
"I want this to be a moment where anyone who doesn't feel like bluegrass is a place where they can be themselves can feel there is a community here where they can be celebrated for who they are," Hiltner said. "That's what this record can accomplish."
Though Hiltner and Weisberger have performed together for years, they began writing material for "Watch It Burn" a year ago. Initially, their plan was to make a "songwriter album," or a collection of demo tracks they'd pitch to other artists to perform and record. In the end, however, the project "took on its own artistic perspective," Hiltner said, and with the help of a crowdfunding campaign and Mitch Collman of North Carolina's Robust Records, the men decided to record the album themselves.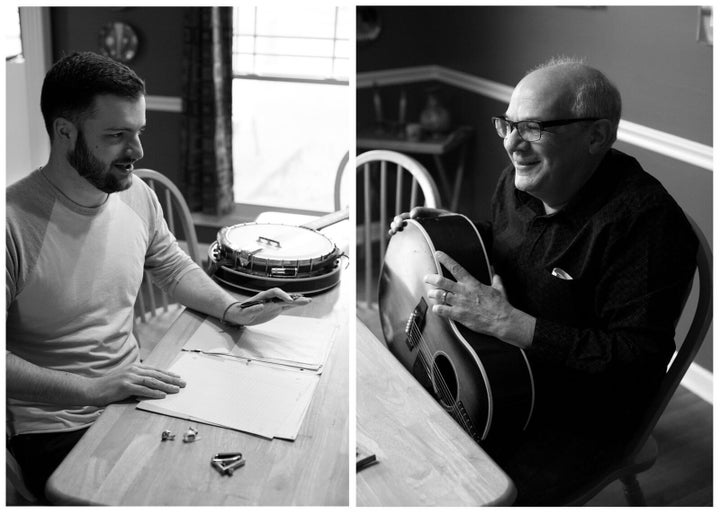 In some respects, "Watch It Burn" marks the latest chapter in a creative journey beset by personal challenges. Like many aspiring artists, Hiltner relocated to Nashville ― coming from Newark, Ohio, in 2011 in hopes of establishing himself as a singer-songwriter. But he had another impetus in fleeing his hometown, too ― namely, his evangelical Christian family's refusal to come to terms with his sexuality after he came out.
"I literally packed up all [my things] and left in the middle of the night without saying goodbye," Hiltner recalled. Though he'd been playing the banjo since age 7, he also feared coming out meant he "wouldn't have the same ownership of the music as I did before. Bluegrass is so intertwined with cultural and social aspects of the [traditional] South, where being queer overtly isn't really a thing."
Once in Nashville, however, Hiltner began building a circle of "really supportive people ... strong allies and friends of queer people," including Weisberger, whom he described as a fellow "scandal-maker and rabble-rouser."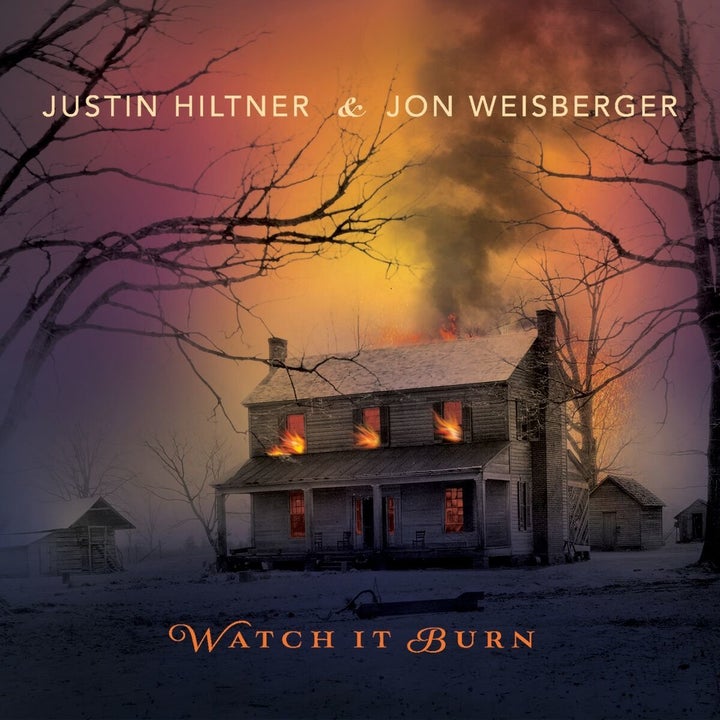 "I never thought that a 26-year-old gay banjo player and a 65-year-old Jewish bassist would be friends and co-writers," he said. "But we are, and it works." On Aug. 9, Weisberger scored two International Bluegrass Music Awards nominations for Songwriter of the Year and the Mentor Momentum Award, while Hiltner received a nod for Industry Involvement.
Meanwhile, the musician's relationship with his family has improved in the seven years since his move.
"Being 400 miles away was enough to realize that we missed each other, loved each other," he said. "Getting to have that clarity was a fortuitous side effect of me moving to Nashville. It's not like they're PFLAG chapter founders or anything, but ... they're very supportive of the record and of my career choices. We're on good terms."
Looking ahead, Hiltner would like to follow up "Watch It Burn" with a number of singles with his vocals and banjo accompaniment, to be released over the course of next year. He'd like to take his act on the road, too, with a series of "one-man, one-banjo shows" that illustrate his unusual story.
"I want this to be a moment where anyone who doesn't feel like bluegrass is a place where they can be themselves can feel there is a community here where they can be celebrated for who they are."
Noting that the best forms of art can transcend the barriers of politics, Hiltner hopes that being an outspoken member of the LGBTQ community in a musical genre associated with the country's most conservative regions can "bridge a few gaps" along the way.
"Divisions like urban vs. rural, 'coastal' vs. 'flyover' are not as black and white as we think they are, and I think it's important to remind people that queer people will always be here in these communities," he said. "If my literal existence stands for anything, it's that people can stand at the center of these kinds of disparate halves and hold them together in a way that honors themselves and humanity."