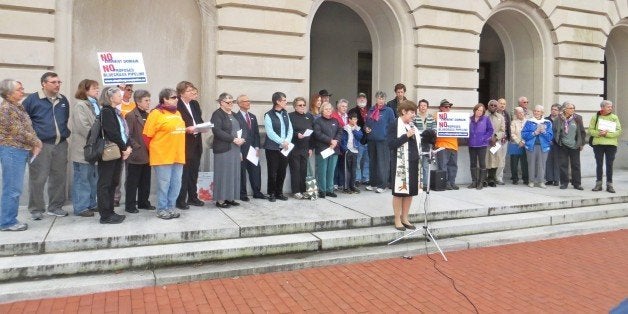 The petition asked Gov. Beshear to oppose the use of eminent domain by Tulsa-based Williams Partners, L.P., and the Houston-based Boardwalk Pipeline Partners, which have teamed up to build the pressurized pipe through 150 miles of rural Kentucky.
(Story continues below.)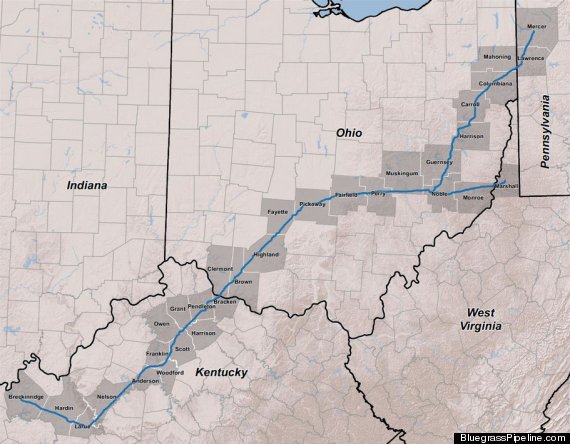 The proposed pipeline would extend through 13 counties in northern Kentucky. (Image: BluegrassPipeline.com)
Natural gas liquids are flammable hydrocarbon byproducts of fracking that include butane, methane and propane. Natural gas liquid pipelines like the one proposed in Kentucky have proved dangerous in the past. In August, an ethane/propane pipeline burst under a western Illinois cornfield, causing a 300-foot-high fire that could be seen 20 miles away.
"We oppose this project because this is a hazardous liquids pipeline. It does not have the regulatory oversight that other pipelines have," Classen told The Huffington Post over the phone. "It's not safe and it's not right."
Classen added that an environmental assessment still has not been completed by the U.S. Army Corps of Engineers, the federal agency whose job it is to examine potential damage the project could do to the land. A spokesperson for the Army Corps of Engineers in Kentucky told HuffPost the agency is waiting for Bluegrass Pipeline to submit an application for the assessment.
Classen said Tuesday's protest included Kentucky Baptist, Presbyterian, Unitarian and other local religious groups, in addition to the half a dozen members of the Roman Catholic Sisters of Loretto, who have already successfully blocked the fracking pipeline from crossing their land in Marion County.
The petition was spearheaded by Faithful America, an online religious group committed to faith in social justice, and included an unspecified number of signatures from out of state.
But it's unclear if the effort will force state lawmakers to act.
While a spokeswoman for the governor acknowledged in an email to The Huffington Post that there's been "a great deal of concern" about the project and that Beshear is "monitoring the situation" and gathering information on the matter, she declined to say whether any specific course of action would be taken.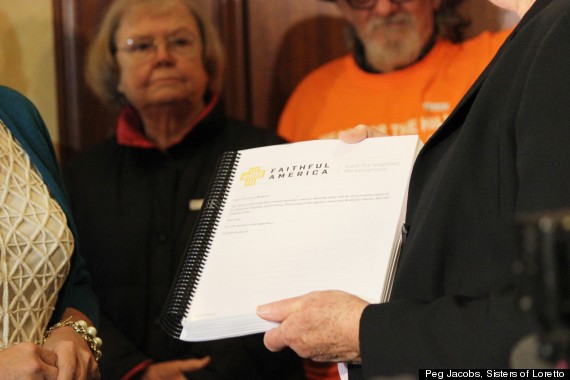 A group of dozens of religious leaders and concerned citizens handed a 36,000-signature petition to Gov. Beshear on Tuesday, asking him to oppose a planned gas pipeline that would run through Kentucky's rural north.
A spokesman for the Bluegrass Pipeline brushed off the petition's importance.
"If others want to solicit opinions and support for their point of view from around the world through an online petition, we certainly respect their right to do so, but we're continuing to focus on direct contact with Kentucky landowners about this project," Tom Droege, a rep for Williams, told HuffPost in an email.
"This project will help America move closer to energy independence while providing new property tax revenue to Kentucky counties and communities in the path of the pipeline to benefit their schools and other municipal and county needs," Droege went on to say. "And this will occur while using the safest method there is to transport natural gas liquids."
So far, the gas companies heading up the project appear to be making progress. In just a month of buying easements from Kentucky landowners, Droege said, they've accumulated 50 miles of land to build the pipe on. "We've had to hire additional land agents in Kentucky to keep up with the demand of landowners in the Commonwealth interested in discussing the easement process," he added.
The two energy giants estimate they will spend a combined $30-$50 million buying easements from Kentucky residents in order to access the land needed to complete construction on the project.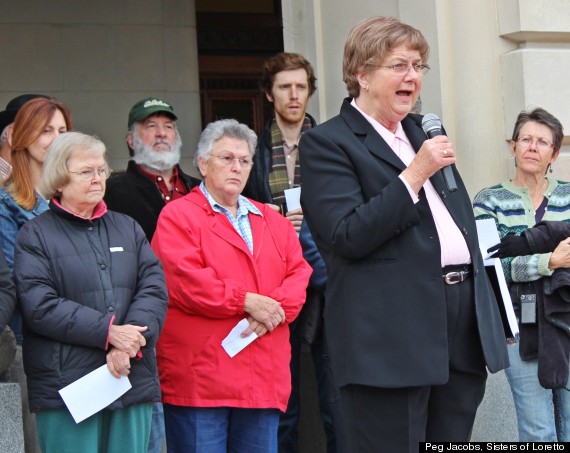 Sister Claire McGowan of the Dominican Sisters of Peace speaks at Tuesday's pipeline protest in Frankfort. (photo: Peg Jacobs, Sisters of Loretto)
Related
Popular in the Community