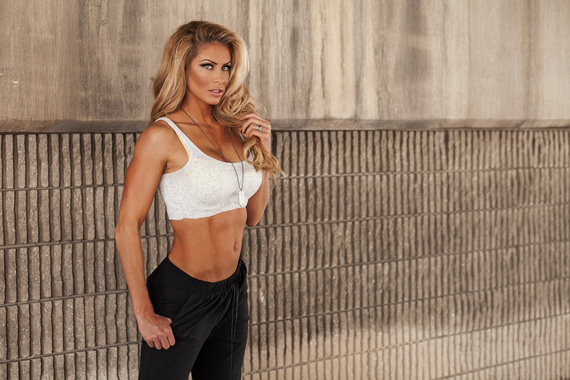 Vincent Pierce Photography 2015, Courtesy of Theresa DePasquale
The Olympic games always cause me to ponder what human beings are capable of, once the mind has been convinced. Simone Manuel, Michael Phelps and Usain Bolt among others, allowed us to witness unbelievable demonstrations of mental and physical strength, this summer. The average person may not possess Olympic-caliber ability, but consider the countless feats possible once we fully commit to a goal.
My first introduction to Theresa DePasquale was through her book, BOSS to Bikini, because at some point when I wasn't paying attention (life!), "lady rolls" surreptitiously took up permanent residence on my back and I decided a structured workout plan might be a good idea. What I discovered was not only a guide for nutrition, but also practical, hilarious tips for goal setting and thriving in life. People unapologetically living at a high frequency and using their knowledge to inspire others, are my favorite kinds of humans. I had to pick her brain for more.
Theresa, what got you into fitness training and how do you stay motivated?
Growing up I was really unhealthy and ate a lot of awful, processed food. I started smoking at the age of 16, developed eczema, asthma and a host of other health problems. In college I was required to take a human biology course, which forced me to learn about digestion, how the body works and realized that I had been poisoning myself with such a poor diet. From that day onward, I started a serious workout regimen, stopped drinking soda, changed my whole lifestyle and became passionate about promoting food and fitness as a tool to heal the body.
You highlight goal setting in five categories: Family, Career, Health/ Fitness, Social and Spiritual. What do you say to the person who thinks that is too regimented?
I would first recommend that anyone considering beginning a new project sit and really thing about what they want. To achieve anything in life, it has to be taken seriously and centered around a strategy. People winning at life aren't perfect, but they are consistent. I don't follow a fitness routine to the letter, but having clearly defined goals helps to keep me accountable and will get me at least 70% there, which is better than nothing.

You have over 600,000 followers online and I am personally a big fan of your Instagram workouts, because my biggest challenge is time and space -- what makes the the videos and tutorials so popular?
I'm just transparent and real, I talk about how hard sticking to a program can be and remind people on their fitness journey of why it is so important to focus on their goals, with real life methods of getting it done.
Your term B.Y.O.B, "Becoming Your Own Boss," refers to taking ownership for your life. How does a person struggling with feeling empowered, do this?
The main tip I share with anyone experiencing anxiety or feeling stuck is...just frickin' start. Put your shoes on, lace them up and start moving. Go for a walk in your neighborhood, head to the gym, try a new class, once you start it has a positive snow ball effect. Not only does it become easier to get up and go, you begin enjoying the satisfaction of taking control of your time and choices with food, fitness and life.
You run a 90-day challenge with mothers and working women, why do you think that period of time is so successful in transforming the way people look and feel?
I receive a lot of requests for 21- and 29-day plans, because people still believe a quick fix exists. The reality is, it doesn't. To safely adjust your metabolism and properly teach new ways of managing fitness and food choices, it takes at least 12 weeks. The benefit to this approach is it that it allows for a fitness paradigm shift to occur, and people walk away with training to permanently improve their health.
Schools are back in session, workloads increase and many have anxiety about how to maintain a fitness regimen during this busy season. Do you have any recommendations?
Absolutely, as a wife and mom of two, it is exactly what I'm dealing with myself but there are five things I live by:
1. Avoid morning craziness by prepping the night before. Planning ahead at least nightly, makes everything run smoother.
2. Eat breakfast! Mothers and women in general are notorious for skipping this meal because they are busy taking care of everyone and everything else. Fuel your body each morning, my go-to morning meal is an egg white omelet and protein shake smoothie.
3. Mark your gym time on your calendar, schedule your workout as an appointment with yourself and consider it just as important as work obligations or your children's events.
4. Eliminate afternoon cravings by packing healthy snacks in advance, this will also help prevent overeating at dinner.
5. Get moving! Even if all you can get in is 15 - 30 minutes on a consistent basis, it is great for your heart and will help to burn fat.
We all strive to be healthier, more productive versions of ourselves but don't always know how to get started. Thanks for the fitness kick in the pants and showing us how to boss up, Theresa.